Reviewed by NEAL GENDLER
Being pursued by two women may sound like a bachelor's dream, but for Yitzhak Goldah, a Czech Shoah survivor restarting his life in America, it's a nightmare.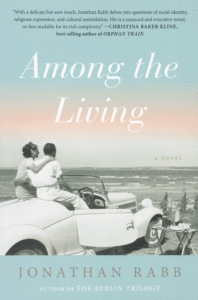 In Among the Living, Goldah, 31, has been brought to Savannah, Ga., by older cousins Abe and Pearl Jesler. Good-hearted people who always remember they started out poor, they house and feed Goldah, get him clothes and a used car for $1 from Savannah's Jewish merchants, give him a job in Abe's shoe store and make him something of a local celebrity.
They also insist on a nickname to ease Yitzhak's path in still anti-Semitic 1947: Ike.
Arriving by train, Ike looked better than his gaunt death-camp-survivor photo.
"Standing there, Goldah looked perfectly human," writes Jonathan Rabb, professor of writing at the Savannah College of Art and Design. "His suit hung crisply on his frame and lent it a heft that wasn't his. He was like a sail still holding its shape even after the wind has died away."
In this gem of a novel, Rabb, whose previous books include The Berlin Trilogy, tells a small, compelling story of love while quietly evoking the postwar South and its Jews, their mores, speech and dress and the South's caste system, with "Negroes" at the bottom — household and back-of-store help who address their employers as "Mr. Abe" and "Miss Pearl."
The polite Jewish community throbs with undercurrents. Descendants of Savannah's first Jews, Sephardim, go to the German Jews' Temple. Abe and Pearl, who keep kosher, descend from eastern Europeans and go every Shabbat to the Conservative shul. Social circles are separate, with a hint of mutual disdain. (A three-page author's note supplies historical context.)
Ike seems to function in semi-detachment from his surroundings, saying little and keeping his reactions to his life in a new world largely to himself.
Getting acquainted with Abe's shoe store, Ike spots an attractive young woman who buys two pairs. She is Eva De la Parra.
One day, Eva appears in the store with a large envelope of newspaper clippings — editorials by her father, Temple member Arthur Weiss. They stroll to a nearby square for Ike to read them. Ike is confused about her name. She explains that De la Parra was the name of her husband, killed in Germany just before VE Day.
Their public meeting sets the Jewish community abuzz and meets with mild disapproval from Pearl and her friends. Then Eva invites Ike on a picnic. They start seeing each other frequently, affection blossoming into love — to the disapproval also of Eva's mother, who warns Ike away.
Weiss has looked into Ike's prewar writing as the Herald Tribune's Prague correspondent, which explains Ike's excellent English, among five languages. Weiss persuades Ike to write some pieces for him. They attract reprint requests from larger papers.
Meantime, Ike has been asked to come to the State Department's Atlanta office. Back then, people rode trains, some with names; Ike and Abe take Georgia Central's 7 a.m. Nancy Hanks. Ike retains composure as the State official tells him that a survivor in a sanatorium, with physical and psychological damage, claims to be a Malke Posner, who knows Ike.
Some days later, Malke shows up in Savannah and takes a taxi to the Jeslers. Ike now lives alone, and Pearl takes Malke in, thinking she, too, is Ike's cousin. "No," Malke says. "I was to be his wife."
Oy.
That's all I'll disclose except for two subplots. One is Abe's ace salesman, Jacob, 15, clawing his way up from the slum where Abe and Pearl began.
The other is that one of Weiss' reporters is onto goods being imported illegally, courtesy of bribed dockworker bosses. Abe gets hot Italian shoes and into hot water, leading to his drinking and tragedy for one of his two black employees, a decorated veteran whose potential is being smothered by segregation.
Despite a bit too neat an ending, Among the Living is spellbinding and restrained, its subtlety cloaking powerful messages that linger.
***
Neal Gendler is a Minneapolis writer and editor.
(American Jewish World, 3.9.18)