Don't miss Words By: Ira Gershwin and the Great American Songbook, by Joe Vass, onstage at Park Square Theatre
Reviewed by MORDECAI SPECKTOR
Joe Vass has followed his immensely clever and enjoyable musical play about George Gershwin, The Soul of Gershwin, with an insightful look at the elder brother, lyricist Ira Gershwin, in the renowned songwriting team.
Words By: Ira Gershwin and the Great American Songbook, running through Dec. 29 at Park Square Theatre in St. Paul, features local actor Ari Hoptman playing the role of Ira Gershwin (né Israel Gershowitz).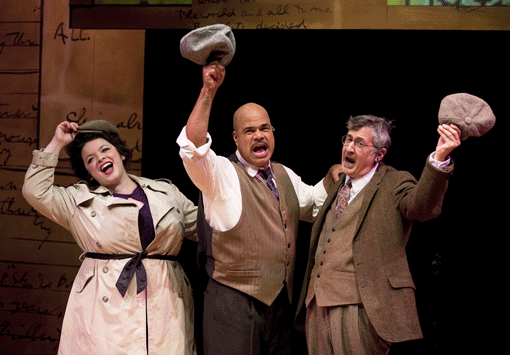 Gershwin tells his life story, in two acts, interspersed with more than two dozen musical numbers performed by "Crooner" (T. Mychael Rambo) and "Chanteuse" (Jennifer Grimm). Both Rambo and Grimm are strong, expressive vocalists. Hoptman also can carry a tune, when he croons "They Can't Take That Away from Me" and other numbers.
Early on, Ira Gershwin proclaims, regarding his partnership with brother George: "We created the Great American Songbook." He adds that musicians call their songs "the standards."
It's no idle boast; from 1924 to George Gershwin's death, at the age of 38, in 1937, the duo wrote a sheaf of enduring tunes, including "I Got Rhythm," "'S Wonderful," "Shall We Dance," "Let's Call the Whole Thing Off" and "They Can't Take That Away from Me." In addition, Ira Gershwin polished the work of DuBose Heyward and added song lyrics for the classic American stage musical Porgy and Bess. And he also penned lyrics for music composed by such luminaries as Harold Arlen, Jerome Kern and Kurt Weill.
At the end of the first act of Words By, I was thinking that this show didn't have the sparkle of The Soul of Gershwin. Perhaps it was because the lyricist brother was a more retiring character, compared to George Gershwin, who was said to be the life of any party that featured a piano in the room — an incandescent personality and a musical genius.
However, the second act poured on the charm. Hoptman grew into his role, and fleshed out Ira Gershwin's collaborations with Arlen and Weill — who were just names and projected faces in the first act. There also was more about Ira Gershwin's approach to writing lyrics, including his revelation that he helped out his high school buddy, lyricist Yip Harburg, for the final stanza of "Over the Rainbow": "If happy little bluebirds fly / Beyond the rainbow / Why, oh why can't I?"
And in the second act, Rambo's rendition of "Love Walked In" is a knockout.
Joe Vass plays piano and leads a talented jazz quartet, which features Christopher J. Bates on bass, Jay Epstein on drums, and Christopher Olson on guitar.
Robert Jensen's effective set design features panels with Ira's handwritten lyrics, and the motif extends to the decoration of the bandstand riser and stage floor. Ira Gershwin sits to one side of the stage, as if in his den at home, in a leather easy chair, with a side table and floor lamp. Lighting designer Michael P. Kittel creates a warm mood throughout the production; and projection designer Todd F. Edwards gets the credit for the archival photos of the Gershwins, and Ira's other collaborators that occasionally appear above the stage.
Sound designer Evan Middlesworth's work in Words By is flawless; and costume designer A. Emily Heaney evokes the bygone era with the right amount of flare.
The house was just half full for the Sunday matinee performance, which is a great shame. Those who appreciate the artistry of George and Ira Gershwin, and their fellow tunesmiths of the 20th century, will be well satisfied by the music and the stories in Words By. It's an affectionate look at Ira Gershwin and his world, and the talented cast and musicians put their hearts into the show.
* * *
Here's a trailer for the show: