Beloved musical's run has been extended through Feb. 22
By JOEL RIPPEL
Since first appearing on Broadway in 1964, Fiddler on the Roof has been one of the most popular musicals of the last 50 years.
The enduring classic, which was the first musical to surpass 3,000 stage performances and held the record for the longest-running Broadway musical for almost 10 years, has a lot of fans in Minnesota. Over the last 10 years, Fiddler has been the most requested show for the Chanhassen Dinner Theatres.
In September, the Chanhassen Dinner Theatres began production of the show for the fifth time — but the first time in 20 years. It's the only show that Chanhassen has produced that many times in the theater's 45-year history.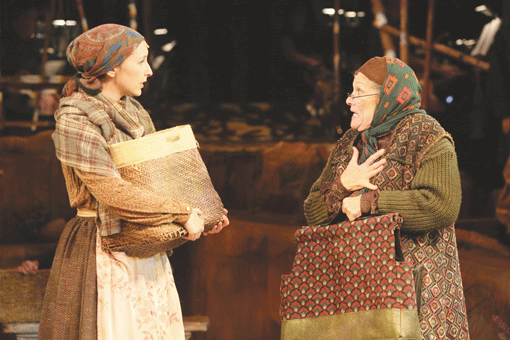 Two actors with ties to Minnesota and to Fiddler on the Roof have prominent roles in the Chanhassen production, which has been extended through Feb. 22.
Serena Brook, an Eagan High School and University of Minnesota-Duluth graduate, is making her Chanhassen Dinner Theater debut in the role of Tzeitel. Minnesotan Nancy Marvy, a graduate of the University of Minnesota, plays Yente, the matchmaker.
Brook, a member of Shir Tikvah Congregation who has lived in New York the last four years, also has a family connection to the original Broadway production of Fiddler. Her great-uncle, Zvee Scooler, played Mordcha the innkeeper in that production and played the Rabbi in the musical's 1971 film version.
"I grew up seeing shows at the Chanhassen Dinner Theatre," Brook told the AJW, "on kids-eat-free Sundays. I remember seeing Keith (Rice, who plays Tevye in this production) in Brigadoon and My Fair Lady. We used to ask my grandmother on Passover and the holidays, 'Where's Zvee?' And, she'd say, 'He's got a show.'"
Scooler also appeared in Woody Allen's film Love and Death.
"I went to Eagan High School which had a great theater program, that did five productions a year," Brook said. "Two other Eagan High School graduates are in this production."
Marvy, who has worked in TV and films, said she feels fortunate to be in this production.
"It's such a joy to do," Marvy told the AJW. "I'm so blessed. It's such a wonderful show and production. I'm so proud of it."
Brook and Marvy agree that the production has wide appeal.
"It's set in Russia in 1905 just before the Revolution," said Marvy. "It's very specific. But the story is really a story of the immigrant experience. Keith's Tevye is a force of nature."
Brook said, "My brother came to a show and he said he thought he was the only Jewish person in the audience. The show is written so specific, without being exclusive."
The production schedule includes eight performances each week. Despite the demanding schedule (Tuesday through Sunday, with matinees on Wednesday and Saturday), Brook and Marvy are enjoying the production.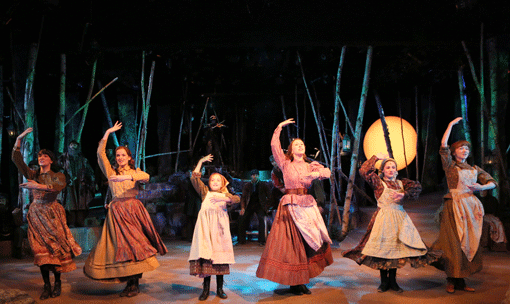 "This is not only my first show at the Chanhassen," said Brook, "it's my first eight-show week. But it's so enjoyable. I'm working with others, who were in the last [Chanhassen] production of Fiddler. That gives you a deep sense of community. The review in the [Minneapolis] Star Tribune said we had a sense of teamwork."
Marvy agreed, "That makes it believable."
An added benefit for Brook has been that family members and people from her synagogue have been able to attend.
"It's so nice that they connect," Brook said.
(American Jewish World, 12.20.13)