Scattered Among the Nations: Photographs and Stories of the World's Most Isolated Jewish Communities, by Bryan Schwartz, with Jay Sand and Sandy Carter, Weldon Owen, 252 pages, $60
AJW Staff Report
Scattered Among the Nations by Bryan Schwartz, with Jay Sand and Sandy Carter, is the first of its kind: a fascinating work of research and storytelling, and a visual documentation of the planet's most isolated Jewish communities.
The large-format book is the culmination of more than 16 years of collaboration between writers and photographers. It will be available Dec. 8 from Weldon Owen.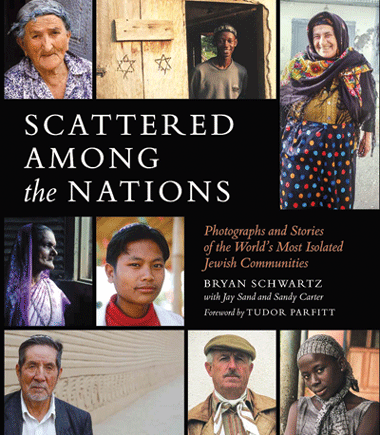 From the last Jewish shtetl in Azerbaijan to a Zimbabwean synagogue with its own Jewish gospel choir to a home on the range with Argentina's Jewish cowboys, Scattered Among the Nations offers a wealth of surprises, delights and revelations. Schwartz, a California-based civil rights attorney, conceived Scattered Among the Nations in the spring of 1999. He then visited with Jews in 30 countries and more than 100 towns and villages on five continents.
"Our hope is that through these pages you will realize that no racial, ethnic or socioeconomic stereotype defines all Jewish people, but that many values and traditions do," Schwartz writes. "We have faith that this millennium will take the Jewish world to new frontiers. As we look forward, let us also cup our hands a moment and gaze at what we have captured in them. To us, it is more precious than rubies."
Schwartz also led the effort to create Scattered Among the Nations, Inc., a nonprofit organization designed to educate the world about Jewish diversity and assist isolated Jewish communities in gaining recognition and resources. For information, go: HERE.
To see four photos from the book, CLICK.