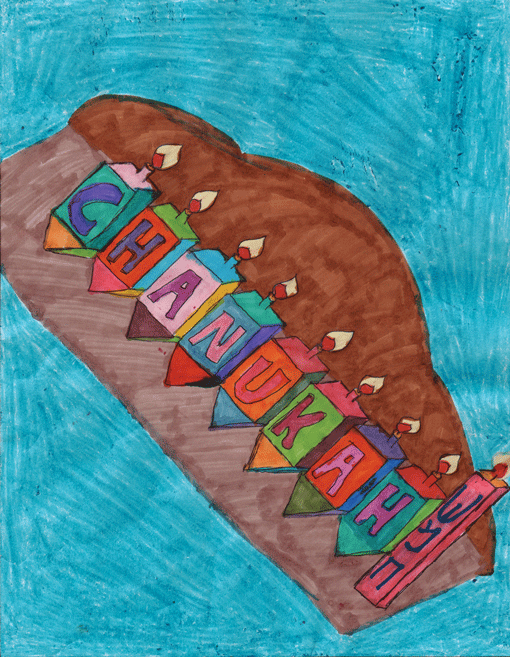 This year marked the 24th annual AJW Hanuka Cover Contest, for students in grades 1-8, which inspired young artists in the community to reflect on the meaning of the Festival of Lights. The judges had an especially difficult task this year, choosing a winner from a number of very strong entries that creatively reflected our suggestion that drawings "should be visual representations of the meaning of Hanuka."
We are proud to announce that Chana Goldberg is the winner of this year's Hanuka Cover Contest.
Chana, 11, is in the sixth grade at Lubavitch Cheder Day School in St. Paul.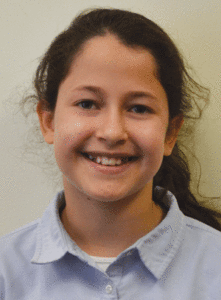 In an unprecedented turn of events, three winners of the contest this year are siblings: Chana; her older sister, Chaya Mushka; and her younger sister, Zlata Risha. It's a family of budding artists. Chana has four sisters and three brothers, and she's the second oldest.
(We also should note that four of the five winners this year are students at Lubavitch Cheder Day School.)
During an interview at the school this week, Chana explained that she decided "to make one big thing, the menora with dreidels." The colorful dreidels, which spell out "Chanukah," the shamash with the Hebrew word sameach (happy), and the hanukia frame are done in pen and markers. And Chana completed the piece by filling in the background with bright blue crayon.
At cheder, Chana says she like Hebrew class. And at school and home, of course, she likes to create art.
As this year's winner, Chana receives a gift card, chocolate Hanuka gelt and a certificate suitable for framing courtesy of the American Jewish World.
And the AJW also thanks JBrick for donating a prize.
We congratulate all of the artists who entered our contest this year. You're all winners in our book. We hope to see your work again next year!
— Mordecai Specktor
* * *
Hanuka Cover Contest Runners-Up:
1st RUNNER UP
Emi Stiefel Alperin, 8th grade
Amos and Celia Heilicher Minneapolis Jewish Day School
2nd RUNNER UP
Chaya Mushka Goldberg, 7th grade
Lubavitch Cheder Day School
3rd RUNNER UP
Chana Feller, 7th grade
Lubavitch Cheder Day School
YOUNG LIGHTS HONOREE
Zlata Risha Goldberg, 2nd grade
Lubavitch Cheder Day School
Click HERE to see artworks by the runners-up.
(American Jewish World, 12.4.15)