Reviewed by NEAL GENDLER
Five years ago, a newspaper editor interviewing Rebecca Bender about her plans to preserve a rural North Dakota Jewish cemetery asked her: "Are you still Jewish?"
Sadly, the question was reasonable in today's context of Jewish disaffiliation and the majority of young American Jews marrying gentiles.
She answered "yes," but the contents of Still, Bender's interesting family, personal and Jewish farming history suggest a better reply: "Of course!" Her Jewish commitment and knowledge resonate throughout her book.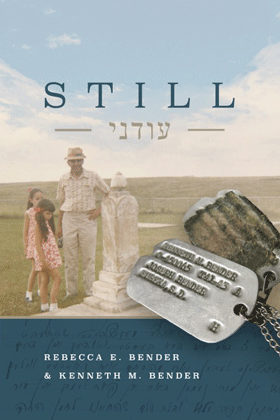 Bender is the great-granddaughter of Kiva and Rebecka Bender, who came from Odessa, Russia, in 1906, to live in a sod house on the prairie near Ashley, No.Dak. Like their Jewish farmer neighbors, they were determined to keep Jewish law and traditions as best they could.
"About 1,200 Jewish farmers and their families lived in North Dakota on around 250 farms in at least 50 settlements spread out over 27 North Dakota counties between the 1800s and the 1920s," Bender says. In 1910, they owned about 86,000 acres.
A 1913 Ashley Tribune told Bender that the North Dakota Development League reported "7,500 Jewish families on farms in the United States,with 37,000 Jews engaged in agriculture."
Telling some of this in Still "is a welcome byproduct of my attempts to preserve and retell my ancestors' history," says Bender, a former big-city attorney now living 32 miles from Ashley in Eureka, S.D., where her grandfather Joe opened a store after selling his farm before World War I.
Most of their years in Eureka, the Benders were the only Jewish family, she says. Joe, known for kindness, honesty and generosity, became an alderman, then mayor.
Still has three themes: The first is about her family's and neighbors' prairie experiences. She includes her father Kenneth's time at the University of Minnesota, drawing on the 2017 exhibition, "A Campus Divided," co-curated by anthropologist Riv-Ellen Prell and Sarah Atwood, which exposed institutionalized racism and anti-Semitism at the university.
The second theme is about and mostly by her father, who left a law practice in 1940 to enlist. Rising from private to company commander, he left the Army as a major with Silver Star and Bronze Star decorations for bravery and two Purple Hearts for wounds.
Much of this section comes from wartime letters and his memoir, From the Prairies to the Beaches. Postwar, he owned a Federated department store on Minneapolis' West Broadway, closing it in 2005.
The third theme is the author's life, growing up in St. Louis Park, practicing law for 18 years, and moving to Eureka in 2013, where she helped coach her teenage son to win a National Bible Contest.
(Disclosure: I don't know the author, but I'm acquainted through shul with some of her relatives.)
Extensively researched, footnoted and indexed, Still is written clearly, if a little wordier than necessary. A family tree would have been helpful. Photos abound, but many seem printed too darkly, diminishing details. One page displays the cover of a 1963 Passover edition of the Jewish World.
An epilogue describes Bender's long, successful effort to get Ashley's Jewish cemetery, where Kiva is buried, onto the National Register of Historic Places.
Jews came to the American prairie to escape poverty, pogroms and restrictions, but also to do something forbidden in Russia: acquire land and farm it.
"There is no doubt that without the help of other Jews, very few of the farming North Dakota Jews would have gotten their start," Bender says. Aid came from local synagogues and charities, the Hebrew Immigrant Aid Society and the Jewish Agricultural and Industrial Aid Society, part of the Baron Maurice de Hirsch Fund helping European Jews escape harsh conditions.
Jews became homesteaders, the only way they could afford land, Bender says, acknowledging that these "unclaimed lands" once belonged to Native Americans. The farming Jews lived in close proximity and harmony with other Russians émigrés, particularly German speakers fleeing oppression, Bender says.
Kiva helped found the Federation of Jewish Farmers in America, around 1909, soon after The Jewish Agricultural Society began publishing a monthly magazine in English and Yiddish.
Most Jews near Ashley had left their farms by the 1930s, she says. The 1920s were terrible years for U.S. farm income, then came the Depression.
If little known elsewhere, this chapter of Jewish immigrant history is remembered in Ashley, which in 2016 held a Jewish Heritage Celebration Day — 30 years after the last Jewish resident, dentist Leo Cohen, had died.
Bender, invited to speak, arrived like a Jewish mother — bringing three buttermilk kugels. She found that "the Ashley Arts Council, without a single Jewish member, had graciously made potato latkes."
***
Neal Gendler is a Minneapolis writer and editor.
Rebecca Bender will read from Still and sign copies of the book: 7 p.m. Tuesday, May 28 at Adath Jeshurun Congregation, 10500 Hillside Lane W., Minnetonka; 1 p.m. Saturday, June 1 at Barnes & Noble, Calhoun Village, 3216 W. Lake St., Minneapolis; 7 p.m. Monday, June 3 at Sabes JCC, 4330 S. Cedar Lake Rd., St. Louis Park, sponsored by the Jewish Historical Society of the Upper Midwest; and 7 p.m. Thursday, June 6 (75th anniversary of D-Day) at Fort Snelling Visitors Center, 200 Tower Ave., Minneapolis, sponsored by Minnesota Historical Society (bit.ly/still-fort-snelling).