By ADRIAN GLASS-MOORE
The intense backlash that Rep. Ilhan Omar has faced in her first months in office has led her Jewish supporters in the Twin Cities to believe she's been unfairly vilified and wrongly labeled as anti-Semitic.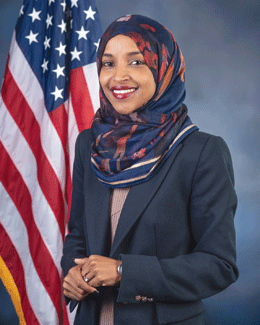 Though some have found certain of Omar's remarks offensive, they are excited by her progressive activism and see criticism of Israel as important.
Claire Halpert, 33, of Minneapolis, said she feels a "duty" to defend Omar, "because I haven't agreed with a lot of the ways her remarks have been characterized."
Halpert, an associate professor of linguistics at the University of Minnesota, is one of several Minnesotans who signed a widely shared open letter of "Jews who support Representative Ilhan Omar." Other signatories include the author Naomi Klein and Israeli historian Ilan Pappé.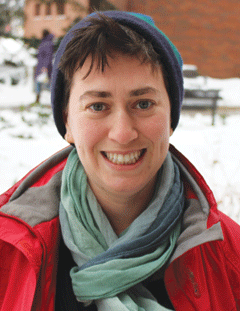 The supportive open letter came after Omar's controversial remark in February about money driving U.S. support for Israel — "It's all about the Benjamins baby," she wrote on Twitter. She then added her view that the pro-Israel lobby AIPAC sways politicians with money, which drew accusations that she was spreading an "anti-Semitic trope" about Jews and money.
She quickly apologized, after having already apologized earlier in the year for writing on Twitter in 2012 that "Israel has hypnotized the world." She also said that she won't stop going after "the problematic role of" AIPAC and other lobbyists such as the National Rifle Association.
Halpert said she has written to Omar to say "I'm a constituent, I'm Jewish, I don't see anti-Semitism in your actions and I support your policies. And I want you to keep speaking out."
Halpert said the "Benjamins" tweet "wasn't the best way to convey" Omar's point about money in politics, but she added that Omar is being scrutinized at an unusually high level. "I don't want her to feel like everything that she puts forward has to be this completely vetted, guaranteed-to-land-the-right-way sort of statement."
Maya Greifer, 25, of Minneapolis, said of the "Benjamins" tweet, "You've got to know that that's an anti-Semitic trope and just maybe not the smartest thing to say."
But Greifer, a graduate student, also said many of the attacks on Omar have been disingenuous; as a black, Muslim woman, Omar has been an "easy scapegoat."
Omar not hateful
Omar's local Jewish supporters say some of her statements contained Jewish stereotypes, but they appreciate her apology and agree that Omar herself is not an anti-Semite.
The congresswoman's critics, however, say she's been reckless and hateful. In February, President Donald Trump called on her to resign, saying "anti-Semitism has no place in the United States Congress."
Steve Hunegs, executive director of the Jewish Community Relations Council of Minnesota and the Dakotas (JCRC), told NPR in March that certain of Omar's remarks were "difficult and dangerous." He was referring specifically to a speech Omar made where she talked about "the political influence in this country that says it is OK for people to push for allegiance to a foreign country. I want to ask why is it OK for me to talk about the influence of the NRA, of fossil fuels or Big Pharma, and not talk about a powerful lobbying group that is influencing policies?"
"Accusing Jews of harboring dual loyalty has a long, violent, sordid history," Hunegs told NPR.
However, Jewish supporters of Omar don't necessarily interpret her remarks that way.
"She was talking about lobbyists specifically," said Ezra Ishman, 28, of Minneapolis. "She wasn't talking about the average Jew on the street."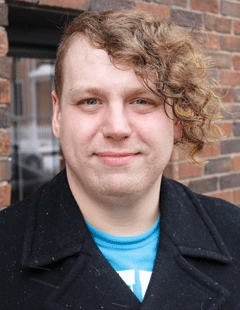 Ishman, an accountant who's also an organizer in the local chapter of Democratic Socialists of America, said Trump provided an authentic example of promoting the "dual loyalty" stereotype in an April speech to Jewish Republicans in Las Vegas, where he referred to Israel's Benjamin Netanyahu as "your prime minister." The president was speaking to a crowd of mainly American Jews.
That's not to say that Ishman agrees with all of Omar's language. Her tweet about Israel hypnotizing the world, for example — made in the context of Israel's war against Hamas in Gaza at the time — was "some dicey language, although I don't consider it anti-Semitic because she has acknowledged that that was not the best word choice."
Opening the debate on Israel?
With some reservations, local Jews who support Omar say her criticism of Israel is a positive step. They point to Israel's human rights abuses and the recent reelection of Netanyahu as reasons why vigorous debate on Israel should be encouraged.
"I think she's opened up space for other people to speak out," Ishman said.
Regarding Netanyahu, Ishman said that despite his "pretense of being king of world Jewry, he certainly does not speak for me."
Melissa Feinman, 23, of Minneapolis, said the Trump administration's unquestioning support of Israel "throws a lot of Jewish Americans into a light that we don't want to be in."
"I think it's really important that she's paving the way for more criticism," Feinman, a high school guidance counselor, said of Omar.
"A lot of us see that there's a lot of problematic things," Feinman added about Israel. "It's not just this safe haven for Jewish people, it is stolen land" because Palestinians "were already living there."
Naomi Kritzer, 46, of St. Paul, laments Netanyahu's re-election. "He's an awful, awful person."
Criticism of Israeli policy is needed, she said, but "right now I feel like it is the goal of the lobbyists for Israel" to make any dissent seem "toxic."
Kritzer, a science fiction author, added: "They want to make it impossible to talk about U.S. support for Israel in any way."
A progressive voice
Of course, Omar's political platform involves much more than Israel. As a progressive, she advocates for debt-free college, Medicare for all, immigration reform and action on climate change.
"She's not on the fence; she is unapologetically progressive, she is unapologetically left-wing," Kritzer said approvingly, adding that Omar's identity as a hijab-wearing Muslim makes her even more of an asset in Congress.
"I think that's important and I'm glad she's there," Kritzer commented.
Feinman agreed: "Now more than ever we need people with progressive views, especially women of color, in the House."
Ricardo Levins Morales, 62, of Minneapolis, said Omar represents everything Republicans "hate these days: black woman, immigrant, African."
Despite the intense opposition Omar has faced, Levins Morales, an artist who runs a storefront studio and shop in South Minneapolis, is confident she can make tangible progress. "If she were not threatening to do things that are effective and have that capacity, they would simply ignore her," he said, referring to her critics.
Omar shows no signs of being ignored anytime soon. Halpert, the linguistics professor, has one piece of advice for the congresswoman: "Keep on keeping on."