Reviewed by NEAL GENDLER
When Jews were dispersed among the nations and defenseless, they were easy to blame for their nations' problems; and now that Jews have their own land and strong defense, they get blamed for world problems.
Why Jews get condemned either way is examined by Harvard professor emerita Ruth Wisse in Jews and Power, reissued this year because the problems it addressed in 2007 "have gained urgency," Wisse says in a new introduction.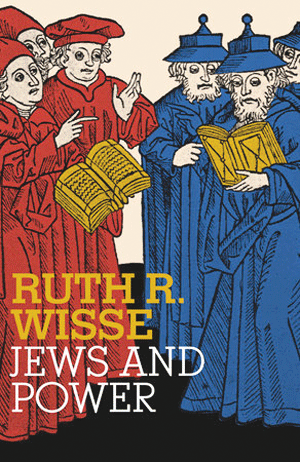 Unable to defeat Israel militarily, Arabs charged Israel with their own crimes and accused it of "waging elimination warfare against Palestinian Arabs," a "political repositioning that made anti-Zionism palatable to Western and American elites," Wisse says.
Jews and Power "explains how and why the Jews continue to serve as a political target whether dispersed or sovereign, militarily helpless or resolutely armed," she says.
In clear declarative prose, Wisse contrasts "how the politics of Jews occasions the politics of anti-Jews," examining them in tandem "because that is the way they coexist…"
She explains: "Some readers may be concerned that such linkage would appear to hold Jews responsible for the aggression leveled against them. Rather, the tendency of Jews to seek fault in themselves is part of the harmful pattern I hope to expose."
Wisse cites the Babylonian conquest, when prophets blamed the people's sins for the loss of the Temple and said "Jews would be restored to their Zion once they won back God's favor."
Jews didn't assimilate away like other conquered peoples because of their relationship to God, who "would be the guarantor of Jewish power as long as [Jews] obeyed His laws," she says.
The ancient rabbis attributed Rome's conquest to internal Jewish dissention, she says. "Crediting defeat to their own mistakes rather than the superiority of their assailants was a way of preserving moral independence, since it ascribed agency to Jews or God rather to the victors."
Jews adapted to extended exile through accommodation to their lands' laws and behaviors while also following their own "constitution" — Torah and Talmud. Accommodation would work until the ruler wanted to blame Jews or drive them out.
Wisse says that knowledge of Torah and Talmud made Jews a nation without owning a land or defense force, an "autonomous civilization from the academies of Yavneh to the courtyards of Poland," experiencing themselves as a unified people bound by the same laws, liturgy, national history and attachment to Zion.
With European emancipation and 19th century modernization, Jews thrived, but "the more perceptibly Jews benefited from modernity, the simpler it was to blame them for its disturbances," Wisse says.
Returning to Zion seemed a solution, but the problem just changed form: "Once damned for their lack of power, Jews would now be accused of being too strong."
Although evidently disapproving of the Oslo agreement, or at least its results, Wisse's arguments remain relevant, if open to debate.
She says that "the creation of Israel had inadvertently reproduced in the Middle East a political imbalance almost identical to the one that Jews had experienced in the Diaspora. Israelis were no more inclined or able to subdue the Arabs than the nations among whom Jews had sojourned in exile."
So "in apparent exhaustion and desperation," it did what no other people had done: arming its enemy "with the expectation of gaining security." It transferred responsibility for combating terror from Israel to Arafat's PLO. Greater terrorism followed, she says.
"Most American Jews and all too many Israelis, at no one's command but their own, reverted to the Diaspora strategy of accommodation in a situation guaranteed to quicken and prolong the war against them," Wisse says.
But there is one important difference from exile, she says. In 1939, intervention directly to save Jews didn't suggest any benefit to the western allies, and it didn't happen. Now, "Jews have something to offer as an acknowledged ally." Jews' military capability "affects the security of other nations as much as their own," Wisse says.
"Jews always believed that they were meant to help repair the world, but now that belief has turned into plain political fact, albeit in the form they least expected and least desired."
***
Neal Gendler is a Minneapolis writer and editor.
(American Jewish World, July 2020)