Single-Handed: The Inspiring True Story of Tibor (Teddy) Rubin — Holocaust Survivor, Korean War Hero and Medal of Honor Recipient, by Daniel M. Cohen, Berkley Caliber, 442 pages, $27.95
Reviewed by NEAL GENDLER
In September 2005, Hungarian-born Tibor Rubin became the only Shoah survivor to be awarded the United States' highest, rarest decoration for bravery: the Medal of Honor.
Before an East Room crowd of about 200, President George W. Bush presented the medal more than half a century after Rubin twice was recommended for it for heroism early in the Korean War — and after a quarter-century of effort by his former platoon sergeant, fellow veterans, the Jewish War Veterans, congressmen, other supporters and an initially reluctant Rubin.
The citation also addressed Rubin's efforts for his fellow prisoners of war during nearly three years of captivity, saving the lives of about 40.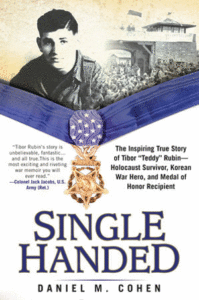 Rubin, then 20, didn't have to serve.
But he considered the United States "the champion of freedom and the enemy of the despots in Russia," says author Daniel M. Cohen, a 30-year filmmaker, journalist and critic.
In New York, where Rubin arrived in 1948, he astonished two fellow Shoah survivors with his intention to enlist: "Ever since the Army saved me from the Nazis, I promised myself to pay them back." One thought he was joking. The other replied: "You aren't a citizen. You can't read English. You hardly speak it."
His fractured syntax would frustrate and amuse his fellow soldiers, and the first two times he tried to enlist, he flunked the exam because he couldn't read the questions. The third time, he sat between two veterans and copied their answers.
Single-Handed opens with Rubin's childhood in Pásztό and the fate of his family after Germany occupied Hungary in 1944, when he was 13. He fled west with seven adults, becoming their provisioner by foraging and stealing food. At the Swiss border, they were arrested.
Betrayed by their circumcisions, they were sent to Mauthausen, where Rubin scavenged food and avoided the attention of the guards. He'd do the same as a POW, keeping himself and others alive by raiding the Chinese guards' gardens and supply sheds, and by treating men's wounds.
His first Medal of Honor recommendation was for single-handedly stopping a North Korean attack. A master sergeant — who referred to Rubin in profane and anti-Semitic terms and often gave him the most dangerous jobs — left him alone on a front-line hill to guard a supply of ammunition. After sunset, Rubin dug into the supply, distributing ammunition so he might appear to be more than one defender.
The North Koreans attacked after 4 a.m. Rubin crawled from foxhole to foxhole, shooting and throwing grenades, firing a machine gun until it seared his hands, then squirming to the second machine gun. At dawn, U.S. aircraft drove off the surviving enemy.
Later, Rubin was wounded in the leg — seriously enough to be sent from Korea. But he insisted on rejoining his unit, and that was a decision that nearly cost him the leg and left him with lifelong pain.
The second recommendation came after Rubin was patrolling alone and came upon several hundred North Korean soldiers who surrendered to him.
After each action, Rubin's company commander instructed the master sergeant to prepare paperwork for the Medal of Honor. But the bigot never completed any. Each commander later was killed.
Freed with other wounded men, Rubin's mention of Nazi captivity made him national news. For a few years, he basked in celebrity, then shunned it. Cohen says Rubin didn't think about medals — including a recommended Silver Star — until his former platoon sergeant asked about them at a POW reunion and got another POW to persuade Rubin to pursue them to call attention to those unrecognized for their Korean service.
A 25-year campaign of letters, affidavits, legal representation and congressional requests was met with Army refusal. Rubin's supporters, including an ex-GI who wrote almost 200 letters on his behalf, knocked down Army excuses, finding examples of others honored so belatedly.
Cohen worked more than two years to produce a compelling story. A good deal of reconstructed dialog and a few careless errors don't affect the value of the account. Oddly, photos don't include Rubin being decorated.
Single-Handed is easy to read and worth the time.
***
Neal Gendler is a Minneapolis writer and editor.
(American Jewish World, 6.5.15)