Titcher has served as assistant rabbi at Adath Jeshurun Congregation since 2011
By ERIN ELLIOTT BRYAN / Community News Editor
Rabbi Adam Titcher and his family are fulfilling a "lifelong dream" as they prepare to move to Israel. Titcher, an assistant rabbi at Adath Jeshurun Congregation, will depart from Newark, N.J., on June 30; his final day at the synagogue will be June 24.
"Since I can remember my first trip to Israel when I was 17, I was posed with the question from one of the counselors, Do you think you could live here?" Titcher told the AJW. "And my answer then was yes. As a 17-year-old, I was really enjoying my time, but as I continued going there throughout college and making trips almost every year, I very much felt connected to the land itself, in the same way our ancestors have for the last couple thousand years."
Titcher grew up in Los Angeles and graduated from UCLA. He received his ordination from the Ziegler School of Rabbinic Studies in L.A.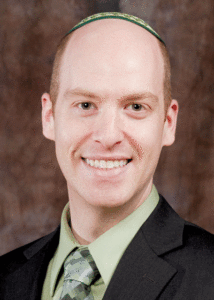 He also spent a lot of time working with youth and adults at Camp Ramah in California — where he met his wife, Galia, who is a native Israeli. The Titchers have two daughters, five-year-old Ofek and two-year-old Geffen.
Titcher came to Adath Jeshurun Congregation in 2011, first as the director of Jewish learning and then as assistant rabbi. Among the highlights of his time here is the establishment of Mishpacha Plus, a social and educational group for young families, many of whom are now committed to Camp Ramah and will send their children there for the first time.
Additionally, Titcher is proud of the work he did to create a positive experience for youth engagement, particularly with the synagogue's USY program.
"We're helping young teens find a love for being in synagogue, that's not just about being in services on Saturday, but really enjoying being here during the week, in the company of the staff and the entire community," Titcher said. "I worked really hard with those teens. Now they're seniors graduating; they were ninth graders when I first got here. Seeing that transformation take place is really cool."
Outside of Adath Jeshurun, Titcher has taught with an Introduction to Judaism program, in partnership with Beth El Synagogue and Sharei Chesed Congregation, for the last three years.
"I've felt like I've made an impact on the future Jews of our community from multiple synagogues," Titcher said. "I've shared my Torah, my personal Torah, the spiritual guide I've wanted to be. I feel like I've connected with many people."
Titcher said he has always appreciated the collaborative nature of the greater Twin Cities Jewish community.
"You may be affiliated at this synagogue or that synagogue, but the community of rabbis support one another to keep the overall Jewish community strong," Titcher said. "It's a real reassurance to know that the [Minnesota Rabbinical Association] is a group of rabbis who are committed to doing things together and promoting collaborative Judaism, which is just fantastic to see."
In Israel, the Titchers will settle in Rosh HaAyin, a community in the center district of Israel that translates to "fountainhead." The community is at the source of the Yarkon River.
Titcher plans to help people "find the Judaism they are comfortable with," either through teaching or community building with a nonprofit organization. He is also looking at opportunities with the Conservative/Masorti movement.
"One could always see moving as a transition and a difficult time because you're relocating and you don't really know what's ahead. There's a sense of anxiety at times, but this is such a positive move for us," Titcher said. "It's exciting in really deep ways, and one of the highest mitzvot and commandments one can fulfill is moving and living in Israel. It feels very right and we're just very happy about it."
(American Jewish World, 6.5.15)