The festival's 2014 lineup offers an over-abundance of performances with Jewish connections
By DORIS RUBENSTEIN
The Minnesota Fringe Festival organizers have a random approach to selecting their annual offerings, and the 2014 program seems to have an over-abundance of performances with Jewish connections.
To preview them all would require a special edition of the American Jewish World, so this reporter has bowed to the Fringe organizers' method and chosen a random sample of "Jewish" selections in this article for the reader's consideration.
Twin Cities resident David Morris hit the jackpot with his first attempt at play writing, A Christmas Carol Passover: This Seder Never Sounded So Good!
An avid amateur parody writer, Morris has spliced his many creations written for his own Passover seder into a storyline that should be familiar to many Jewish families. The Goldstein family's child is marrying out of the faith and this year's seder will be the first meeting between the future machatunim (in-laws). To make their new Christian family members feel comfortable, father Marvin (played by Cantor Mitch Kowitz) has rewritten the Haggada with the melodies of familiar Christmas carols. Members of Congregation Or Emet may find some of this material familiar.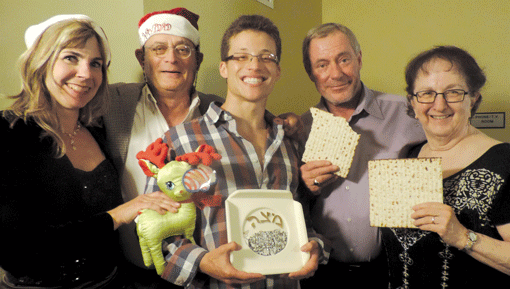 Vying with A Christmas Carol Seder for the "most Jewish" presentation is probably Stien Stein written by Robert Marcus, who splits his time between the Twin Cities and New York. In the past, Marcus has been known to make non-theatrical appearances at Beth Jacob and Mayim Rabim, where his son became a Bar Mitzva.
Stien Stein, or Holy Moyl, I Married a Monster is a must-see for members of the Minneapolis Yiddish Vinkl. Marcus wrote this family farce specifically with the joys of Yiddish in mind as the ultimate expression of Jewishness for the principal characters. Several of those principal players can be found in local Jewish homes; in addition to Marcus, the cast features Tom Glaser and Karen Bix.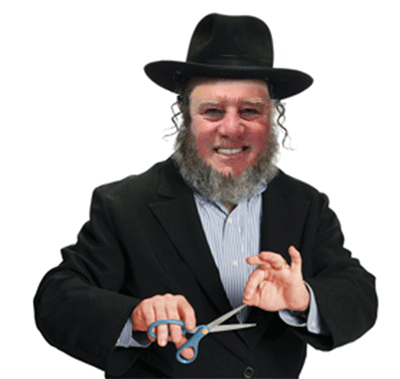 Jonathan Goldberg, who wrote Real Dead Ghosts, has been a regular presence at the Minnesota Fringe for years. Goldberg is an accomplished playwright and a winner of the Rita and Burton Goldberg (no relation) Prize at New York University's Tisch School for his play The Jew and the Demon.
"I find audiences in Minnesota to be very open and welcoming to new theater," Goldberg said. "They are excited to see and support new works and I'm always happy to bring my shows here. I think the community is hungry for the arts, and they are smart, thoughtful and kind to emerging writers."
Real Dead Ghosts deals with serious questions of death and our place in the universe. But Goldberg thinks that these "can be viewed through the Jewish lens of finding our purpose in this world. Also the play deals a lot with the past and our obligations to it, which I think we Jews often have to struggle with."
Not all is death and wailing, and the Jewish audience will certainly enjoy the comic relief when Goldberg's characters reminisce about a game of "strip dreidel" during the third night of Hanuka.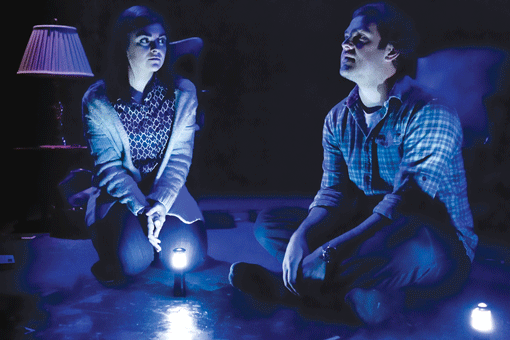 Not all Fringe performances are plays. Twin Cities dancers Eileen Goren and Miriam Samuels-Schwartz are part of the Jawaahir Dance Company. Jawaahir specializes in the dance traditions of the Middle East and North Africa, which does not include Israeli horas.
Jawaahir's suite of dances at the Fringe, titled Djinn & Tonic, include Zar dancing from Morocco; this form also figures in the culture of the large Jewish community in that country. Twin Cities native Samuels-Schwartz, daughter of Nina Samuels and Earl Schwartz, is one of the featured dancers in a piece choreographed to the music of the Arabian coffee maidens from Tchaikovsky's Nutcracker. Goren, a native New Yorker who studied in the studio of Martha Graham, has been part of the Twin Cities community since 1977.
"I met my husband at an Israeli dance class with Shira Schwartz," Goren said.
How much more Twin Cities Jewish can you get?
***
For information and a complete performance schedule, visit: www.fringefestival.org.
(American Jewish World, 7.4.14)