Sean Carmeli and Max Steinberg were among the 13 Israeli soldiers killed in heavy fighting on Sunday
By HILLEL KUTTLER
BALTIMORE (JTA) — Sean Carmeli, a sergeant in the Israeli army, was stationed in Israel's South awaiting possible orders to enter Gaza.
He was exchanging Facebook messages with his friend Ian Benisti, a U.S. Marine reservist who was visiting Israel from California. The two had planned to get together, maybe go to the beach. But Israel was in the midst of an escalating conflict with Hamas.
"Bro', hope this'll be over soon, so we can meet up," the Texas-born Carmeli wrote to Benisti in their last Facebook exchange on July 15.
The wish went unfulfilled. Two days later, Israel launched a ground invasion of Gaza.
Carmeli, 21, and another American, Max Steinberg, a 24-year-old from Woodland Hills, Calif., were among the 13 Israeli soldiers — all members of the Golani Brigade — killed during heavy fighting in Gaza on Sunday.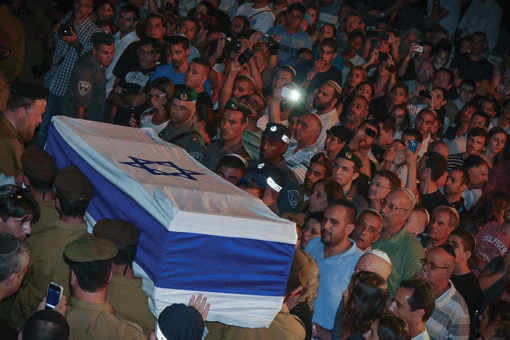 "He was a very sweet, nice kid — the mellow, calm, happy guy people want to be around," Benisti said of Carmeli.
Carmeli was raised in the resort town of South Padre Island, Texas, and after his freshman year of high school moved with his two younger sisters and their Israeli parents to Raanana, a city not far from Tel Aviv.
Alon and Dalya Carmeli were back in Texas working at their T-shirt shops on South Padre Island when they learned of their son's death and immediately returned to Israel, said Benisti, who attended Carmeli's funeral in Haifa late Monday night. The funeral drew an estimated 20,000 mourners.
Carmeli "always had an angel on his shoulder, always had a smile on his face and a twinkle in his eye," said Aaron Edelman, a Baltimore native who knew Carmeli from their Golani service.
Benisti, whose father lives in Israel and who coincidentally was raised in both Woodland Hills and South Padre Island, said he planned to attend Steinberg's funeral on Wednesday morning in Jerusalem.
Steinberg's connection to Israel was a more recent development. He first visited the country two years ago on a Birthright Israel trip.
"He fell in love with the country and the people, and he knew he wanted to be there," said Danny Derakhshannia, Steinberg's childhood friend from California.
Steinberg moved to Israel and became a "lone soldier," a term for Diaspora Jews who move to Israel to serve in the Israeli military without having close relatives in the country.
According to the Lone Soldier Center, an Israeli nonprofit, 5,700 such personnel currently serve in the Israel Defense Forces.
The center was founded in honor of Michael Levin, a lone soldier from Philadelphia who was killed in 2006 during the Second Lebanon War.
Hearing of the two Americans' deaths is "reliving everything we went through with Michael," said Levin's mother, Harriet.
Lori Trott, the principal of Saint Joseph Academy, the school in Brownsville, Texas, that Carmeli and sisters Gal and Oranit attended, said he was the first student in her 14 years there to be killed during military service. She said the school will commemorate Carmeli's life when the new term begins in early August.
A vigil in Steinberg's memory was held Sunday night at a park near where he grew up. Derakhshannia said he and Steinberg often went skateboarding and bicycling there.
"It was an emotional gathering," said Alex Cohen, another friend from the area.
Derakhshannia recalled that Steinberg — known as "Little Max" because of his short stature — would take some big hits during recreational football games but would always bounce right up.
"He was a tough, tough kid," said Derakhshannia, who knew Steinberg since they were middle-school classmates. "Max would never hold a grudge. He'd always be smiling."
Derakhshannia, who identifies himself as a non-practicing Muslim and whose own parents are emigres from Iran, called Steinberg "a true patriot."
"He didn't just stand with the Israeli people; he was standing up for what's right," Derakhshannia said, adding, "That's why he went to Israel: to help democracy there."