AJW Staff Report
The Twin Cities Jewish Humor Festival is now 10 years old. Started by Fringe Festival and Twin Cities Jewish Film Festival veteran Claire Avitabile, the first year was overly ambitious, with 27 performances.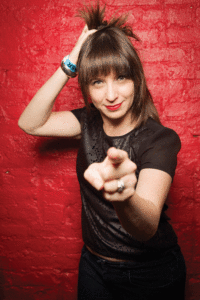 The Festival quickly adjusted to a manageable size, with six events this year. They are as follows:
Opening night comedy with Ophira Eisenberg with special guest Elise Cole
Ophira Eisenberg is a comedian, writer and host of NPR's Ask Me Another. She has appeared on HBO's Girls, Gotham Live, The Late Late Show, The Today Show, The Nightly Show, Comedy Central, and VH-1. She has been selected as one of New York Magazine's "Top 10 Comics that Funny People Find Funny" and featured in the New York Times as a skilled comedian and storyteller with a "bleakly stylish" sense of humor, and her debut memoir, Screw Everyone: Sleeping My Way to Monogamy was optioned for a feature film with Zucker Productions. She is also a regular host and storyteller with The Moth, her stories being part of their award-winning radio show, podcast and NYT best-selling book. Her comedy special Inside Joke was released by New Wave Entertainment and is available on Amazon and iTunes.
Elise Cole is an Iranian-Jewish comedian from Minnesota, and 2018 co-producer of the Minneapolis based show, People of Comedy. Show begins 7:30 p.m. Saturday, Jan. 19 at the St. Paul JCC, 1375 St. Paul Ave., St. Paul.
"The Simpsons and Other Jewish Families, An Evening with Mike Reiss"
Mike Reiss has won four Emmys and a Peabody Award during his 28 years writing for The Simpsons. He ran the show in Season four, which Entertainment Weekly called "the greatest season of the greatest show in history."
In 2006, Reiss received a Lifetime Achievement Award from the Animation Writers Caucus. Reiss has written 19 children's books, as well as Springfield Confidential, a best-selling memoir of his three decades at The Simpsons. For his comedic contributions to the charitable group Joke with the Pope, in 2015 Pope Francis declared Reiss "a Missionary of Joy."
Reiss will speak starting at 7:30 p.m., Monday, Jan. 21 at the St. Paul JCC, 1375 St. Paul Ave., St. Paul.
Scott Blakeman with special guest Mike Vogel
The festival describes Scott Blakeman as a "nice Jewish boy from Brooklyn who has performed his contemporary Jewish comedy around the world." Past venues include the Just for Laughs Festival in Montreal, the Jewish Historical Museum in Amsterdam and the Edinburgh Fringe Festival in Scotland, as well as many colleges, theaters, clubs, Temples and JCCs.
Blakeman has performed three times at San Francisco's renowned Kung Pao Kosher Comedy, is an original member of the New York political comedy show Laughing Liberally, and was the resident comedian on MSNBC's live coverage of the White House Correspondents Dinner five times.
Twin Cities comedian, licensed attorney, and father of three Mike Vogel returns to the Humor Fest for the third time. He started doing comedy in 2008 while in law school. Performance begins 7:30 p.m. Thursday, Jan. 24 at the Sabes JCC, 4330 Cedar Lake Rd., St. Louis Park.
Stand-up comedian Julie Goldman with special guest Riley Silverman, hosted by Jayce Koester of JPRIDE
Having sold out weeks early in the 2011 Jewish Humor Fest in 2011, Julie Goldman returns to the festival this year. Headlining throughout the U.S. at clubs, colleges, festivals and events, she's been described as "unapologetically un-PC" by Go Magazine, "a hilariously irreverent, butch lesbian" by AfterEllen, and Autostraddle wrote, "watching someone be outraged has never been so fun."
Goldman has been seen on Bravo's The People's Couch, co-hosting the Vanderpump Rules After Show, and on LOGO's Big Gay Sketch Show. Goldman also appears on the podcast Dumb Gay Politics with Julie & Brandy, as well as having a guest-starring role on the season premiere of HBO's Curb Your Enthusiasm.
Highlighted by VICE for her "wry observational comedy, radical openness and casually inviting demeanor," Riley Silverman has been seen on Take My Wife, Comedy Central's Not Safe with Nikki Glaser and has enjoyed multiple appearances headlining the Portland Queer Comedy Festival and the All Jane Comedy Festival.
Silverman's debut comedy album, Intimate Apparel, was a best seller on Amazon. Silverman is the head writer for the International Waters comedy panel show podcast, was a body diversity model for the fashion brand ModCloth and was listed as one of "100 Queer Women We Love" by GO Magazine, and "10 Women Comedians Who Smash the Patriarchy" by The Culture Trip.
Show begins 7:30 p.m. Saturday, Jan 26 at 7:30 pm at the Sabes JCC, 4330 Cedar Lake Rd., St. Louis Park.
ARTRageous Adventures presents a workshop titled "Comic Superhero Self-Portrait"
In this workshop family members create their own Superhero persona, including "funny" superhero traits, and design their own mask, emblem and wrist cuffs. Organizers will take photos of each participant on-site so they can draw their own portrait to display next to their photo. Each participant will also make a Superhero Comic to complete the project. Workshop is recommended for children five and older, but all are welcome. Children 12 and under must be accompanied by an adult. Workshop begins 1 p.m. Sunday, Jan. 27 at the Sabes JCC, 4330 Cedar Lake Rd., St. Louis Park.
"Pamela and Frank Gaard – A Conversation between Artists," a gallery exhibit
Frank and Pamela Gaard are pivotal figures in the Minnesota arts scene. Frank Gaard's pictures are cartoon-like depictions of life, usually in fluorescent colors. "I was trained intellectually to think of the painting as an object that I'm designing using colors and forms, but by adding the element of caricature to the image, I was playing that middle ground of abstraction. The figure is abstracted but it is still recognizable as a figure. I think that the element of abstraction in my work is where the caricature arises," he explains.
Pamela Gaard's abstract and language-based works explore time, memory and healing. These drawings, paintings and collages are meditations on everyday life — mnemonic "prayers" of emotion, experience and events often quite private in nature. Additionally, her painted portraits honor unsung heroes from the fabric of our culture — persons from all walks of life, from various backgrounds and economic status, including immigrants and the elderly, who might otherwise be unnoticed, or even unseen as legitimate. "Being a granddaughter of the schmatte (garment) trade growing up amid zippers, buttons, threads and textiles — influenced my early work as an artist. The influence of textile arts is found in my current paintings with their layered motifs and patterns, which bring me closer to understanding unresolved memories of my past," states Pamela Gaard.
Exhibit runs Jan. 3-27 with a reception beginning 3 p.m. Sunday, Jan 27 at the Sabes JCC, 4330 Cedar Lake Rd., St. Louis Park. For information about the festival visit sabesjcc.org.