By ELANA WARREN / Assistant Editor
On May 2 Politico published a leaked draft of the U.S. Supreme Court majority opinion in the case of Dobbs v. Jackson that would overturn the 1973 Roe v. Wade decision recognizing a constitutional right to abortion (with caveats related to the pregnancy trimester).
With the current laws in place, Minnesota would still protect abortion if the court were to overturn Roe v. Wade. Gov. Tim Walz vowed to protect Minnesota abortion rights as long as he is in office, calling the potential overturning "dangerous" and "dystopian."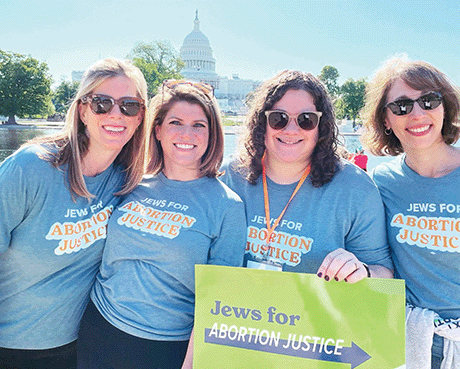 While Minnesota has restrictions regarding abortion, such as required counseling and a 24-hour waiting period prior to the procedure, a 1995 state Supreme Court Case, Doe v. Gomez, established the right to abortion in the state.
Minnesota and Illinois will continue to protect abortion, whereas other Midwest states will likely ban abortion due to "trigger laws" (meaning a state automatically will follow a new Supreme Court decision on abortion), pre-Roe laws banning abortion or state legislatures working to remove abortion protections.
Sarah Traxler, the chief medical officer for Planned Parenthood North Central States, said at a virtual press conference on May 3 that Minnesota Planned Parenthood clinics could see a 10 percent to 25 percent increase in abortion care patients from surrounding states.
The Jewish take
With abortion protected in Minnesota, local efforts for protecting abortion are aimed at keeping abortion accessible and expanding accessibility. This includes the efforts of Jewish organizations.
While abortion rights is a women's rights issue, it is also a freedom of religion issue. Rabbi Marcia Zimmerman, senior rabbi at Temple Israel in Minneapolis, said that in Judaism life begins at the crowning, the emergence out of the parent's body at birth. An unborn fetus is not considered a person — it has no soul — until it is born.
Another Jewish law is that health and life comes above all. As a fetus is not a person, Zimmerman said, it's only the pregnant person that matters in the consideration of an abortion.
The Torah has multiple statements that support this stance. One is that if a person pushes a pregnant woman causing her to miscarry but she is otherwise unhurt, the responsible person must pay a fine. However, if other damages ensue, the penalty shall be life for a life, eye for an eye, hand for a hand, and so forth (Exodus 21:22-21:25). Today that might look like suing for damages in civil court versus charges being pressed in criminal court.
Rabbi Zimmerman gave the analogy that no one would think twice about amputating a limb to save a life or livelihood. The Jewish view is that a fetus is a part of the parent's body, so, if it was necessary to save the parent, one would take out the fetus.
Local efforts
Inspired by Jewish values, the National Council of Jewish Women (NCJW) is a grassroots organization of advocates who strive to improve quality of life for women, children and families as well as protect individual rights and freedoms. The Minnesota chapter's goal is to promote "equity through service, justice through advocacy and [empower its network] as progressive change agents."
NCJW organized the Jewish Rally for Abortion Justice in Washington on the morning of May 17. Other D.C. and state rallies since the Supreme Court opinion leak have been on Shabbat, so NCJW has not joined in an official capacity.
Regarding another national rally in the works for Saturday, July 9, NCJW Minnesota Director of Communications and Programming Kristy Wesson said, "Our current policy is not to participate in events or co-sponsor them on Shabbat, although because of the magnitude of this decision and the impact that it will have on the communities we serve, I think that might be a discussion that we may participate in [the rally] that's happening July 9."
Though NCJW members hope otherwise and will keep up efforts, Wesson said she expects that the draft majority opinion overturning Roe v. Wade will stand — or that the ruling will still further impose restrictions — and likely be decided before the summer is over. Wesson is planning a vigil for community members upon the decision, but NCJW will still continue to fight for abortion rights.
NCJW Minnesota is a partner of UnRestrict Minnesota, a coalition of organizations working to protect, expand and destigmatize abortion care and other reproductive healthcare.
"We and our partner organizations that we work with and do reproductive justice work are really just trying to mobilize to keep abortion access safe in the states that it will remain safe, where it will remain accessible going forward," Wesson said.
UnRestrict Minnesota is a multiracial coalition of LGBTQ+ advocates, faith communities, clinicians, activists, doctors, lawyers and more that NCJW Minnesota has been a part of since its beginning.
"There's people coming in from all different kinds of partners that give their own lens to this work," Wesson said. "While we're just a small piece, all of the small pieces together bringing their own viewpoints and lenses … increases access and equity for everyone."
Jewish Community Action (JCA) is another one of those small pieces. Beth Gendler, JCA's new executive director and former executive director of NCJW Minnesota, announced the partnership May 3 following the leak of the draft opinion in Dobbs v. Jackson.
She wrote: "This ruling is dangerous and unprecedented, and will end federal constitutional protections for abortion, and open the floodgates for states to impinge on individuals' fundamental right to control their own body. We are devastated, we are furious, and we will fight back."
Even with Doe v. Gomez in Minnesota, there are laws and barriers that make abortion inaccessible to many populations, disproportionately marginalized communities.
"The low bar is keeping [abortion] legal," Wesson said. "Now what we have to do is expand the access so that anyone who needs abortion care is able to access it in a timely and fairly easy manner."
Taking action
NCJW Minnesota's suggestions for how to get involved in abortion justice are to donate to abortion providers and abortion funds. An influx of out-of-state abortion care seekers would mean abortion providers need even more money, more providers and more space to be as accessible as possible.
Supporters can also show up to rallies, contact legislators and support local organizations doing the groundwork. Wesson said to be loud and, of course, stay tuned and get involved with NCJW and UnRestrict Minnesota.
"There is power in using your voice and power in community," Wesson said. "I think it's really empowering to speak up and advocate for the things that you believe in."
(American Jewish World, June 2022)