Reviewed by NEAL GENDLER
Omer Friedlander's critical acclaim and awards suggest a life happier — or at least more successful — than those of the people in his vivid imagination.
Friedlander was born in Jerusalem in 1994 and grew up in Tel Aviv, and for a young man displays an uncanny ability to articulate the thoughts of others, particularly the old, plus a strong compassion and a fabulous eye for details.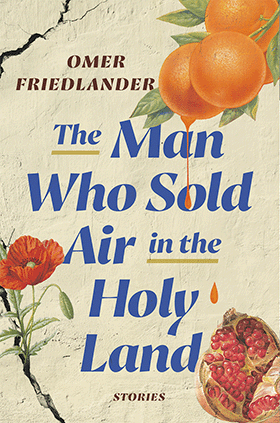 For example, the owner of a small orchard, near 87, is clearing unripe fruit clogging irrigation canals.
"My movements are slower than they used to be," he says in "Jaffa Oranges," the first of 11 unusual short stories in The Man Who Sold Air in The Holy Land. "My bones ache."
A young woman approaches. She's the granddaughter of his childhood friend Khalil Haddad, with whom he worked packing oranges from the large Haddad orchard before Israel's independence.
As they talk, he picks an orange and opens a pocketknife.
"The blade glints in the sun, and I see my own face reflected in it, splotched with cancer spots and a sprinkling of veins like the rootstock of a tree," he says. "Without noticing, I've grown old."
In "Checkpoint," a woman with a notebook and video camera has a five-to-eight a.m. shift "making sure the Palestinians aren't mistreated with casual cruelty and that the soldiers and border police are doing their jobs properly," she says.
Mostly, the soldiers and police ignore her, "the middle-aged activist working for the women-only human-rights group, mourning her son, the soldier," killed four years earlier. An aggressive settler harasses the Arabs and confronts her.
The woman tells us what her son Adam was like, how he went to the army knowing her opposition to the war, "the unbearable pain of losing him." She quotes novelist David Grossman at the funeral of his soldier son Uri — a message very difficult for another parent to read.
"Checkpoint" left me silent and staring. So did some other masterful stories. Friedlander knows how to build suspense — and then leave us dangling.
The title story gives a twist on the old Yiddish term luftmensch — a man who seems to live only on air. Friedlander's Simcha isn't quite penniless, but he's been reduced to selling sealed bottles of Holy Land air, which his young daughter, Lali, tricks tourists into buying. He fears losing partial custody to his ex-wife.
In an uncommonly sweet story — one with an ending — a Beersheva girl apparently around Bat Mitzva age has a never-to-last innocent love for a young Bedouin smuggler.
"High Heels" begins in a small store called Sandelmann's Shoes, on Mazeh Street (the Hebrew phrase ma zeh means "what's this"). It displays a pair of high-heel shoes said to have been owned by a Polish Jewish ballerina who killed a Nazi officer with the tip of a heel. One night, the store is trashed, and they're gone.
The owner's son sneaks out nights to climb construction cranes, of all things. He befriends a young man and woman who lure him onto a crane, offering to return the famed shoes if he wears them to walk out on the crane's jib.
It made my palms sweat.
"The Miniaturist" is narrated 63 years after when the story begins by a woman once close friends with Esther, a girl from a family to which hers did not speak from a long-ago rivalry as "miniaturists," creating illuminated manuscripts in Catalonia.
It's 1950. The families have left prosperous lives in Iran for Israel, where they're living as impoverished immigrants in a vast refugee camp.
"Here in the tent city, there was nothing but dust and sand," she says. The girls make their own fun, the friend drawing with hereditary talent on sand, then paper.
The artist takes ill with measles, and the narrator sneaks off to a hospital to find her. As she walks home, "a spitting drizzle started. … several times I slipped in the mud. I kept rubbing at my eyes. Wet hair plastered my forehead.
"Here and there small olive trees, twisted and withered, sprang out of the ground, like the twisted hands of an ancient people buried under the earth."
***
Neal Gendler is a Minneapolis writer and editor.
(American Jewish World, June 2022)