Guitarist Steve Katz, a founding member of The Blues Project and Blood, Sweat and Tears, will offer an exclusive performance and discussion of his memoir 7 p.m. Thursday, April 14 at the St. Paul JCC, 1375 St. Paul Ave. The event is part of the Twin Cities Jewish Book Series, presented in partnership with the St. Paul JCC and Sabes JCC.
Katz's memoir is Blood, Sweat, and My Rock 'n' Roll Years: Is Steve Katz a Rock Star? (4.8.16 AJW).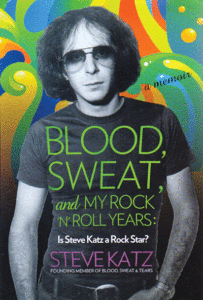 He won three Grammys (10 nominations), three Downbeat Reader's Poll Awards, three gold records, one platinum record and one quadruple platinum platter (the second Blood, Sweat and Tears album), not to mention three gold singles with Blood, Sweat and Tears. All together, he's sold close to 29 million records.
Tickets are $10. For information, visit: www.stpauljcc.org.