Till We Have Built Jerusalem: Architects of a New City, by Adina Hoffman, Farrar, Strauss and Giroux, 352 pages, $28
Reviewed by NEAL GENDLER
Don't let a tepid title and seemingly tame topic deter you from this surprisingly entertaining explanation of development in British Mandate Jerusalem.
Till We Have Built Jerusalem is Adina Hoffman's deeply researched and brightly written story of visions for a 20th-century holy city and three architects of some of its most characteristic buildings.
Erich Mendelsohn, Austen St. Barbe Harrison and Spyro Houris, very different, now are "barely remembered, and the city or cities they had in mind are vanishing as well," Hoffman says.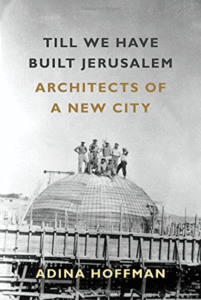 Mendelsohn, "among Weimar Germany's most-acclaimed architects," designed Hadassah's Mount Scopus hospital and medical school, Anglo-Palestine Bank, parts of Hebrew University and Weizmann Institute, Weizmann's home in Rehovot, and Haifa's Rambam hospital. Harrison, a Mandate official, designed Rockefeller Museum, Government House and the post office. And Houris — possibly Khoury in a Greek spelling — created a distinctive row of buildings on Jaffa Road near Zion Square, and elegant houses with exteriors displaying colorful Armenian tiles.
Most developed, documented and interesting is Mendelsohn, "the squat man with the soaring ideas." Designer of Einstein Tower in Potsdam and a world-class figure, he arrived with his wife in 1934, setting up shop and home in a bladeless Rehavia windmill.
"Every bit the German taskmaster," he was exacting and meticulous, "a man of unflagging ambition and scalding opinions," Hoffman says. "From the moment he set foot in Palestine, he couldn't stop denouncing his fellow Jews… ashamed by the ugliness of the Jewish settlements, the boxy apartment buildings, the slab-like synagogues," and galled by the absence of city planning.
Offered large commissions, he dreamed of being "Palestine's master builder, its trusted planner," but butted with socialist Zionists seeking function over form.
A major client in Europe, publisher Salman Schocken, commissioned an elaborate Jerusalem villa — now a near ruin — and across the street a library for Schocken's 60,000 volumes and cultural meetings.
Mendelsohn considered reclusive Harrison his peer and equal, Hoffman says. Although both mixed European and Middle Eastern forms, for the Rockefeller — then the Palestine Archeological Museum — Harrison hired British stone carver Eric Gill, perhaps as "a way of buttressing his own British sense of self and the fundamental Britishness of even his most Palestinian buildings."
Severely overworked Harrison was, in effect, chief architect for the Mandate, but after the mid-1930s, building increased rapidly, with design work given increasingly to Jews. He fled secretly, 15 years and a day after his arrival, saying he felt "like a convict escaped… from some penal settlement in South America."
Seeking Houris was like searching for traces of a ghost and "something of his city and its waning worldliness," Hoffman says. Socially prominent, "he designed buildings only for those who stood at the top of the city's social and economic ladder," be they Greeks, Jews, Catholics or Muslims. His tile-decorated "ceramic homes" are considered "to represent the quintessence of Jerusalem," Hoffman says, but his name is all but forgotten except on buildings engraved with "Spyro G. Houris, Architecte."
Hoffman, who moves between Jerusalem and New Haven, Conn., is co-author of the fascinating and award-winning Sacred Trash: The Lost and Found World of the Cairo Geniza. She writes breezily but with occasional words requiring dictionaries. Well-placed photos are plentiful, but annoyingly, identified only at book's end.
Regrettably, Hoffman occasionally slips in political opinions, and — unexpectedly for someone of her skill — misuses "begging the question," which doesn't mean demanding information but means an argument that takes as fact the thing that it's supposed to prove.
Also, she says Mendelsohn fretted about Europe's turmoil, Hitler and Lenin; perhaps Stalin, for Lenin died in 1924. And the Kotel "considered" the retaining wall of the Temple Mount? I think that's long settled.
Hoffman also mentions Gov. Ronald Storrs, whose forbiddance of stucco led to Jerusalem's required stone facings and who restored the Dome of the Rock's fading, falling tiles. On the other hand, he detested and removed Jaffa gate's signature, ornate Ottoman clock, building instead a nearby "more-plainly British tower… the architectural equivalent of a pair of sensible shoes."
***
Neal Gendler is a Minneapolis writer and editor.
(American Jewish World, 4.22.16)