By DORIS RUBENSTEIN
Ahh! Summer in Minnesota. There's nothing like it: biking, canoeing, picnicking, outdoor concerts. And art fairs. Early June through mid-August is the season until you get to the Fine Arts Center at the State Fair.
Many of these art fairs are juried, which means that those with somewhat more refined sensibilities won't be offended by crocheted pot holders that are way too crafty to compete with the fine artists in the best shows. So, who are some of the Jews exhibiting their artwork at three of the biggest shows?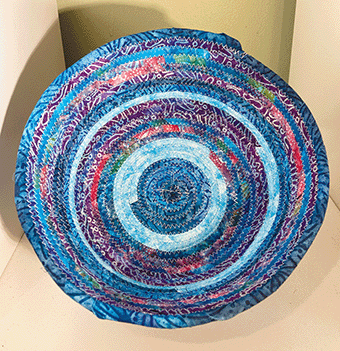 Loring Park Art Festival, Minneapolis, July 29-30
Minneapolis resident Naomi Siegal came to Minnesota to study at Carleton College, after a peripatetic childhood and youth in Topeka, Kansas, and Boston. Siegal has worked (and still works) as a massage/occupational therapist, but she heard her artistic muse whispering to her during the COVID years.
"I needed to put more color in my life," she recalled. "My work is inspired by the colors and color combinations I can create using common materials (rope, T-shirts) in unique ways.
What is it that Siegal makes? Hand-dyed rope bowls. She dyes or fabric-wraps cotton clothesline rope (her first ropes were a bargain at a hardware shop that was going out of business) and sews it into bowls, baskets, place mats and other functional goods with unique and appealing finishings. Her braided rugs are made from upcycled T-shirt fabric that she cuts into strips, hand-braids and machine-sews. Beautiful and Earth-friendly.
Powderhorn Art Fair, Minneapolis, August 5-6
Juan Fried's journey to the Powderhorn Art Fair has more twists and turns to it than the Mississippi River.
Fried's father, Janos, survived the Holocaust, but like many European Jews, he was initially denied entry to the U.S. He found hope for a life in peace in Venezuela, where he met Juan's mother. The family didn't live in the center of Jewish life in Caracas; Janos moved them to a remote area where he worked as an engineer in the oil fields.
When Juan was 10, in 1958, the family was able to immigrate to the U.S. where he graduated from Edina High School and the University of Minnesota School of Architecture. Work took him to Chicago, but he and his Minnesota-native wife eventually moved to Northfield where his mother-in-law lives.
Fried draws on his architectural training to create jewelry that reflects his life journey. On his travels, he looks for "found" pieces of metal that he repurposes to make brooches and earrings, often in a studio he maintains in Mexico. "There's no going back to Venezuela, so Mexico is the place where I try to reconnect with my Latino childhood."
His art is influenced by his childhood: his father's trauma from the Holocaust and a devastating earthquake that struck Venezuela while his family was in the oil fields. Many of his creations look like lightning bolts, but in reality, "they're the seismic patterns created by earthquakes, transformed into resin jewelry through computer manipulation and 3D printing," he explained. Fried considers these patterns as the same, whether the trauma be geologic or spiritual.
Anna Chambers-Goldberg will also be at Powderhorn. This is home turf for Chambers-Goldberg who grew up in Minneapolis, graduated from Southwest High School and was a fine arts major at Macalester College. Her first attempts at artistic expression — designing and sewing clothes — were far from her current production.
Chambers-Goldberg does oil, acrylic and watercolor paintings on a variety of surfaces: canvas, art board, different papers. Her subjects, familiar to most, are transformed through the use of photographs lighted in chiaroscuro to help guide her hand.
"I'm sort of surprised that my path has recently led me to still lifes," she confessed. But a spiritual crisis led her to start painting in a way that is uplifting to her. "I have a mission: With each painting I ask, 'Does it bring me joy, and will it bring joy to others?'"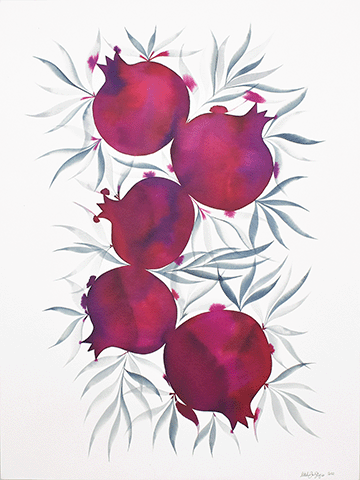 Uptown Art Fair, Minneapolis, August 4-6
Natalie Fine Shapiro does a fair share of her watercolor paintings with Jewish themes. The Minneapolis native draws on her family ties to both Temple Israel and Shir Tikvah, not to mention her grandfather from Chicago, Rabbi Mark Shapiro, and two trips to Israel. In high school at the Perpich Center for Arts Education in Golden Valley, she studied voice, but she discovered her artistic forte at the University of Minnesota.
Shapiro focuses on abstract art and botanicals. She said, "I like to use my imagination, and I don't paint very realistically. I like to explore with different shapes and colors — I can make up my own flowers and patterns. It's very liberating and creative."
Her Jewish art uses fruits, flowers and trees with meaning in Jewish tradition: pomegranates, olives, etc. She did her first ketuba (Jewish wedding contract) a couple of years ago and is now designing one for herself and her fiancé, DJ Hess, for their October wedding.
(American Jewish World, July 2023)