By MORDECAI SPECKTOR
Talmud Torah of St. Paul officials announced in late June that the Newman School, which serves students in kindergarten through fifith grade, would close. An announcement was made following a vote by the board of directors.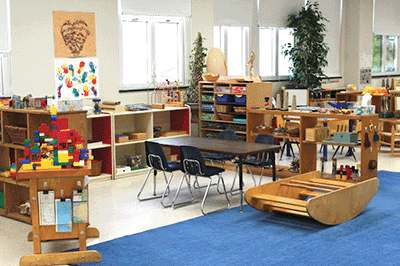 In an email response to the Jewish World, Heidi Tarshish, director of the Talmud Torah of St. Paul's Afternoon School and Midrasha, said the closure was "devastating news to all of our faculty, staff, students and to the community. Not only did the school service its own families and students, but they did so much to enrich the community. … There was so much good the teachers, students and school community did to better our community and to lift up others, within the school and outside of the school."
Tarshish added that the George Kaplan Afternoon School and Midrasha, the high school program, "as well as the adult education program, Hineni, will continue to thrive and grow in the coming year."
Declining enrollment for the day school made it unfeasible to continue for the 2023-2024 school year; only 10 students had enrolled in the Newman School.
The blow of the closure was quickly softened by the announcement that Heilicher Minneapolis Jewish Day School (Heilicher), in St. Louis Park, will accept students who were planning to attend the Newman School.
In a statement sent to the Jewish World on July 3, Heilicher officials said that they are "working closely with the Talmud Torah of St. Paul and the St. Paul Jewish Federation to facilitate the admissions process and bridge the tuition gap for transferring students during the 2023-24 school year. The St. Paul Jewish Federation has allocated approximately $45,000 to assist Newman School families who choose to enroll their children at Heilicher, helping them to seamlessly transition their children without incurring additional financial costs. Heilicher will also offer assistance in addressing transportation options and other logistical concerns that may be of concern to Newman School families."
In a June 30 email, Ted Flaum, CEO of the St. Paul Jewish Federation, explained that the Federation agreed to transfer the remaining Newman School funding allocation to Heilicher "to support the costs of onboarding these students. This grant is specifically designed to assist St. Paul families who opt to enroll their children at Heilicher."
Flaum said, "We understand the urgency of providing stability and a seamless transition for students during this period of change. The grant signifies our determination to deliver the necessary resources and unwavering support, helping to maintain the exceptional quality of education and upholding the cherished Jewish values that define our community."
Heidi Tarshish reflected on what has been lost with the closing of the Newman School.
"Even though we were a small school, like the Maccabees we were a mighty group," Tarshish commented.
"Each month, the [Newman School] students made it a priority to visit the residents at the Sholom Home, make them holiday cards and crafts, sing with them, and it was so meaningful to the students and residents. They were involved with the Jewish Family Service, in helping with projects, which serviced those in need. Every holiday, students collected and donated food and other items to the Neighborhood House, an incredible organization which helps new immigrants. Last year, our students learned to knit and made hats and scarves for new immigrants and those in need, as well. We were able to work closely with the St. Paul Jewish Federation and create a partnership with a shlicha [Israel emissary] and Israel, and more."
Tarshish added that the school's teachers "were topnotch and the education students received was both rich and deep. It was an incredible opportunity for me to be part of such a vibrant institution for the past eight years."
And Tarshish said that Jessie Lavintman, who moved to St. Paul from New York to take on the position of director of education this year, "brought even more opportunities and experiences to the school community."
She concluded, "The St. Paul Jewish community has really lost a treasure, and I hope all of the excellent day school education the students received will give them the roots to continue to love learning and giving back to the community around them."
(American Jewish World, July 2023)