Jerry Siegel, who was a leader in the field of speech pathology and penned three books of stories, died unexpectedly on Nov. 17

By ERIN ELLIOTT BRYAN / Community News Editor
Gerald M. "Jerry" Siegel wrote his first self-published book of stories, You Shoulda Been There, in 2012, relating tales of growing up in a Jewish neighborhood in Brooklyn, N.Y. Among them is the story of widowed Mrs. Levy, who risked her neck on a rickety stool to take down her Passover dishes.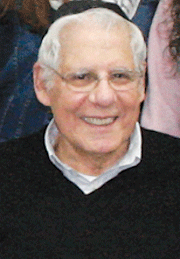 "When I can no longer make Passover, I hope I'll be gone from this earth," Siegel wrote. "You don't stop living when you get old. You don't give up doing the things you have done all your life, or else it's no life at all."
And for Siegel, what a life it was. As Rabbi Aaron Weininger, of Adath Jeshurun Congregation, noted at the funeral, "Jerry never missed a beat, because he often invented the beat."
Remembrance
 Siegel enjoyed a distinguished 45-year academic career as a pioneer in the field of speech pathology. He was a lifelong learner and student of Torah and Talmud, a competitive handball player and a talented storyteller. He loved folk music and the Yiddish language. Above all, he was a devoted husband, father and grandfather.
Siegel died unexpectedly on Nov. 17. He was 82.
"I will miss his laugh, his quick wit, great sense of humor. Like any good comedian, he could take some ordinary thing and twist it with a comment — not biting, not hard humor — just genuinely funny," Siegel's son, David Siegel, told the AJW. "And just his love of life. You walked away from a meeting with my dad, at least I always did, and I always felt like I had gained something or learned something or thought something new. Even if he didn't say much, even if he just listened, you always felt like you were a little bit better for the interaction. And that's a rare quality."
Siegel's childhood, with his brother, Joel, was spent in a close-knit community of parents, grandparents, uncles, aunts and neighbors. He briefly considered a career in radio or television — until he was enrolled in a college course designed to relieve him of his Brooklyn accent.
"In those days, you were supposed to speak with a Midwestern accent," David Siegel said. "One of the guys who taught that remedial speech therapy was a speech pathologist. That was really his introduction to the field."
David Siegel related that his father considered himself to be a "mediocre student" until he discovered speech pathology. Siegel's own father was a stutterer, as well as other relatives, and Siegel became motivated to discover the cause; it was a method by which he could help people.
During his studies, Siegel became reacquainted with Eileen Bass, the sister of one of Siegel's former friends. The two crossed paths on a subway and Siegel overcame his shyness to ask her out.
"He had a wonderful wit, humor, communication, interests," Siegel's wife, Eileen, told the AJW. "He loved theater, he acted in college and he was also in radio, so we had a nice rapport."
The couple dated for two years before marrying in 1953 — within a week of Siegel turning 21 and graduating with his master's degree from Brooklyn College. The Siegels then relocated to Iowa City, Iowa, where Siegel began postgraduate work at the University of Iowa, one of the few and top speech pathology programs in the country at the time.
"It was really a field in its infancy," David Siegel said.
Siegel earned his Ph.D. in 1957 and took a position at North Dakota Agricultural College in Fargo. In 1959, the Siegels moved to Parsons, Kan., where Siegel worked as an employee of the University of Kansas in an institution for children with mental retardation.
He also taught a class once a week at the university in Lawrence, Kan., which was about 150 miles north of Parsons. He commuted the six-hour round trip in one day.
"But he loved teaching and he loved scholarship and he loved research, and I think he wanted to pursue it and that was the way he did it," Eileen Siegel said, adding that two of their three children were born in Kansas.
In 1961, Siegel came to the University of Minnesota. The Siegels, who welcomed their third child here, first lived in North Minneapolis before moving to South Minneapolis, where they remained for more than 42 years. They lived in a condo in Edina for the last 10 years.
"He really felt at home in Minnesota," David Siegel said. "He loved the U and loved the community."
While at the University of Minnesota, Siegel pursued his love of competitive handball. He also played basketball and enjoyed watching sports. He was a longtime attendee at the Guthrie Theater and was an avid reader, developing an interest in Jewish themes later in life.
Siegel was a lover of folk music, and David Siegel recalled growing up listening to Pete Seeger, the Weavers, Judy Collins, and Peter, Paul and Mary, among others. Siegel played his guitar at his children's schools, nursing homes and later as a member of the Minneapolis Yiddish Vinkl.
After retiring in 1997, Siegel immersed himself in the Adath Jeshurun community and became interested in Torah and Talmud study.
"He found it very fascinating and he says in something he wrote that there were a lot of similarities in his approach to his research and his Talmud studies," Eileen Siegel said.
And he was a master storyteller, penning three books of stories in three years: You Shoulda Been There (8-17-12 AJW), Winning Isn't Everything: Stories, Poems, Essays, Sermons (12-20-13 AJW) and his latest, Academic and Personal Reflections on a Career in Communication Disorders, which was published in September. (All are available on Amazon.com.)
"People here referred to him as our very own Garrison Keillor with a Yiddish accent," Rabbi Harold Kravitz said in his eulogy.
Siegel passed on his love of writing through Keren Or, a creative arts forum for Jewish teens.
In the summer of 2001, the Siegels lost their 40-year-old daughter, Karen Siegel-Jacobs, following knee surgery. As a way to cope with her death, the Siegels created Keren Or, which is supported by the Karen Siegel-Jacobs Fund at Adath Jeshurun.
"Of course my parents were crushed, they were just devastated," David Siegel said. "They were struggling with how to make sense of it and how to do something productive out of it, and how to honor her legacy. She had always enjoyed writing and poetry, so they thought this would be an appropriate recognition of her and a way to try to make something productive happen out of her senseless death."
The contest showcases poetry, prose and photography of students in grades seven through 12. A supplement featuring the winners' work is published each year in the American Jewish World.
After 10 years diligently managing Keren Or, the Siegels sought out Rimon: The Minnesota Jewish Arts Council, an initiative of the Minneapolis Jewish Federation, which had previously awarded grants to the project. Rimon took over the contest in 2013.
"His work habits were so formidable," said David Harris, executive director of Rimon. "What he passed onto me, the files, were so complete and detailed, it just gave me a window into someone who is such a highly effective person. What he loved, he cared for and wanted to see it succeed, just to soar. And that's exactly what happened with Keren Or."
Thanks to the work of both Jerry and Eileen, last year Keren Or received submissions from students in 23 schools and 12 synagogues, as well as those who are unaffiliated. And Siegel and Harris had already begun conversations about expanding the contest and exploring new ideas, including providing additional resources to participants to foster their love of writing and photography.
"Jerry had a deep, deep love of writing and he wanted to share that with the public through his own writing, and he wanted to cultivate it, a love of it, because his daughter Karen had that love. He planted a seed that's growing into a tall oak," Harris said. "I'm just so happy to be part of this. And I really believe that we had a warm friendship. What a gift for me that that came out of that professional relationship."
In addition to the fund at Adath Jeshurun, the Siegels recently established the Gerald M. Siegel Student Initiative Fund at the University of Minnesota's Department of Speech Pathology and Audiology.
"That was new, I didn't know he was doing that," David Siegel said. "He would seek the limelight, if you will. He loved to give a Drash at the synagogue, which he would do once a year; and he loved to sing, so he would like to perform in that sense. But in terms of charitable works, he didn't talk much about that kind of thing, he just did it."
Both Harris and David Siegel remarked on the partnership between Jerry and Eileen, who were a wonderful complement to one another over the course of their 61-year marriage.
"My mother sometimes would get overshadowed because Jerry had a big personality, but I think she played a vital role in this thing, too," David Siegel said. "They were quite a team. I don't think he could have done the kinds of things he did without her quietly in the background… He was able to use his talents and skills because she was using hers behind the scenes."
Professionally, Siegel's legacy is established as a founder in the field of speech pathology; he earned awards from the University of Minnesota, and the Minnesota and American Speech-Language-Hearing Association. But personally, David Siegel said his father will be remembered for making connections.
"How capable he was of bringing people together and making them feel good," David Siegel said. "He had a pretty optimistic view that you could make the world a better place. You always had this responsibility for tikkun olam and somehow that wasn't a burden to him, that was just how he did it in his day-to-day interactions."
Siegel was preceded in death by his daughter, Karen Siegel-Jacobs. He is survived by his wife, Eileen; son, Joshua; son, David (Michelle); son-in-law, Matthew Jacobs; and four grandchildren.