Playwright Jenna Zark has incorporated several opportunities for audience participation in the show's 50 minutes to engage young children
By DORIS RUBENSTEIN
Let's talk latkes. How do you like them best? Grated coarse or fine? Lots of onion or just a smidgen? Sour cream or applesauce? Or how about jam? Thick or thin? Do you make them from vegetables other than potatoes?
Latkes are a big part of every Ashkenazic family's Hanuka celebration. There's no right or wrong way to make them or eat them. However they're made, they're eaten with relish (no pun intended) and joy.
Latkes are also a big part of The Chanukkah Guest, a new play by the Twin Cities' own Jenna Zark, which is based on Eric A. Kimmel's book of the same title. In fact, latkes are such a big part of the play that they were served to the audience at the show's Dec. 4 premiere at the Minnesota Jewish Theatre Company (MJTC), in the newly remodeled Hillcrest Center Theater in St. Paul's Highland Park neighborhood.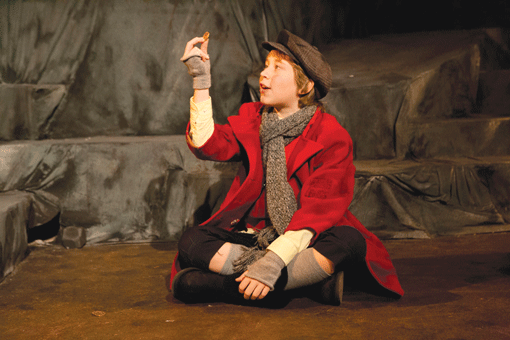 While this play is new, neither Zark nor Kimmel's work is new to MJTC. Two of Kimmel's other books already have appeared in play form there: Hershel and the Hanukah Goblins and The Magic Dreidels, the latter of which was also adapted for the stage by Zark. Hershel has been performed across the country.
Zark and Kimmel are clearly a winning combination, since MJTC Artistic Director Barbara Brooks recognized the synergy produced in The Magic Dreidels and commissioned Zark to do this newest adaptation.
Such a beloved holiday as Hanuka always evokes happy memories, and it was the memory of his "Nanny" Chaya Etel who inspired Kimmel to write The Chanukkah Guest. He modelled the main character, Bubba Brayna, after her.
"She was a great storyteller, as was her father before her," Kimmel told the AJW. "She was a real balabusta (homemaker). She told stories about her bucolic childhood in the Galician countryside near Kolomyya, which is now in the western Ukraine. Nature was her playmate and she was fascinated with bears."
Clearly, Kimmel has inherited the family gene for telling great tales. By the way, his favorite latkes? Thick and chunky, not much onion, and sour cream.
Kimmel gave Zark complete artistic leeway in adapting the book for the theater.
"I have no theater background," he admitted. "But I do have complete confidence in the Minnesota Jewish Theatre Company to do a great job!"
Did Zark see herself or her grandmother in Bubba Brayna? The answer is no, says Zark, whose "day job" is working in communications for an organization that serves older adults.
"I really loved that the central character is an older woman," Zark said. "It resonated with me because I have a professional connection with the older generation."
Nevertheless, one of the other characters does remind Zark of her son, Josh Kowitz, who is studying to become a cantor. The AJW published a story about Kowitz in 2012 when he performed in the Minnesota Opera's production of Nabucco.
Remembering her son's lively childhood, Zark incorporated several opportunities for audience participation in the show's 50 minutes to keep even the squirmiest little ones engaged in the play.
And how does Zark like her latkes? Grated on the coarse side, and either by themselves or with applesauce. She recalls that her mother, Kowitz's bubba, liked to make them on the fine side of the grater.
Kimmel was not in attendance at the premiere of this new work; he has visited the Twin Cities numerous times to do book signings, conduct writer's workshops, etc. The Brooklyn native, who now lives in Portland, Ore., has an impression of the Twin Cities as "like Oz!"
Kimmel's other inspiration for the play's central character is a cartoon personality who should be familiar to nearly all Baby Boomers: Mr. Magoo.
How does the good-natured but nearsighted gentleman influence a Hanuka tale? You and your favorite children will have to go to see The Chanukkah Guest to find out. But make sure to have some latkes ready at home after the play because it's sure to whet your appetite.
***
The Minnesota Jewish Theatre Company (MJTC) production of The Chanukah Guest by Jenna Zark will be performed through Dec. 21 at Hillcrest Center Theater, 1978 Ford Pkwy., St. Paul.
This production is appropriate for children ages 3 and older. For tickets, call 651-647-4315 or visit: www.mnjewishtheatre.org.
(American Jewish World, 12.5.14)