by MAX SPARBER
Community News Editor
There is no one path toward conversion in Judaism. It is a religion that neither evangelizes nor actively seeks converts — and sometimes pushes away potential converts, as there is a tradition in some movements to discourage and put obstacles in the way of people interested in converting.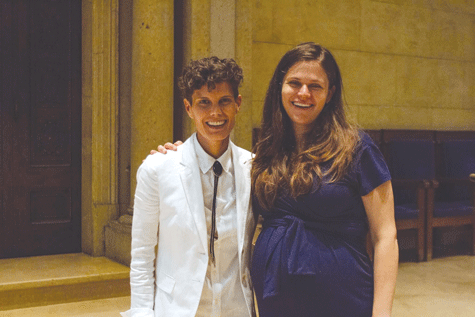 So the paths to Judaism can be many and idiosyncratic. KARE 11 meteorologist Sven Sundgaard, who was raised Lutheran, found a connection to Judaism after a trip to Israel in 2009, as reported by American Jewish World in 2014. After another trip to Israel, Sundgaard enrolled in classes at Shir Tikvah Congregation, and shortly after that began the conversion process.
Another KARE 11 newsperson, Jana Shortal, likewise found herself on a path to Judaism — presumably a coincidence, but if more local reporters start converting, we will be tempted to declare it a trend.
Shortal is one of the Twin Cities' more identifiable media personalities, immediately recognizable for her short haircut that sometimes blossoms into a pompadour, and taste in blue jeans and blazers, sometimes coupled with a bolo tie. Shortal is also out as a lesbian, which played a part in her path to Judaism.
In interview with American Jewish World, Shortal explained that she grew up in a small, largely Catholic community in Illinois. "It was very rural, very isolated," Shortal said. "I had never really met any Jewish people."
Shortal went on to study broadcast journalism at the University of Missouri, going on to work as a reporter at KOMU-TV in Missouri. After a few more jobs as an on-air reporter, she was hired by KARE 11 in 2003.
While at KARE, Shortal covered the battle for same-sex marriage that culminated in Governor Mark Dayton signing a same-sex marriage bill in May of 2013, which made it legal throughout the state to issue same-sex marriage licenses.
"It was difficult to cover," Shortal said of protests at the capitol building. "Really divisive. There were a lot of people protesting, but there was also a lot of support. There was a lot of shouting and yelling."
During the protests, Shortal noticed a small group of clergy there in support of same-sex marriage. They were "all faiths," according to Shortal. "They would pray with people, give people a break if they needed it," Shortal says, adding "I was fascinated by that."
It was very different than what Shortal had experienced growing up in a small, rural, Catholic environment. "I had been taught that God hates me," Shortal said, "so this was cool to see."
Among the clergy were Rabbi Michael Adam Latz of Shir Tikvah Congregation and Rabbi Marcia Zimmerman of Temple Israel, and Shortal found herself curious about their presence.
"It caused me to do some research on my own time," Shortal said. She read about Judaism online, learning some of the basics of the religion.
Later, Shortal went to Temple Israel to do a story about Yom Kippur. "That experience was very spiritual and moving," Shortal said. "I had a feeling like, 'Something is happening.'" Because she was working, Shortal set her feelings aside, but shortly afterward made an appointment with Rabbi Michael Adam Latz of Shir Tikvah Congregation. "We exchanged emails, and then I met him for coffee," Shortal said. "I was super nervous. I didn't want to go in there and say, 'I want to be a Jew.' I wanted to say, 'I'm curious. Will you let me be curious?'"
Rabbi Latz invited Shortal to come to Torah study classes; and Shortal was struck by how Jews interpret scripture, especially in the Shir Tikvah class.
"It was so aligned with my personal belief system," Shortal said. "We would study these texts and lessons and everybody got to say what it meant to them, how it applied now. Nobody was right, nobody was wrong. There was no hierarchy or patriarchy." Instead the class "opened a space to dive into faith."
Shortal was struck by how similar this was to her responsibilities as a reporter, where it is important that she represent stories as having many different sides, and many different viewpoints, without privileging one over the other.
She was also struck by Judaism's focus on social justice. "It resonated with every single part of me," Shortal said. "It blew my mind. And it felt like home to me."
Shortal decided to go through the conversion process, and converted to Judaism in June 2017. She describes her experience as having been welcomed into the Jewish community. "It's really remarkable," she said. She receives regular invitations to speak at Jewish events, and is, in her words, "humbled" to be asked. She is often asked to come to Shabbat dinner or to go out to coffee.
"The community has embraced me so kindly," Shortal said. "I just didn't expect that.
"I have been here for 15 years and this is my home now, this is my community," she adds, "but I have never felt more of a community than I do now."
***
Jana Shortal will speak at the Minneapolis Jewish Federation's Pearl Society's 2018 Women of Intention event, celebrating women who have been nominated for their work in the community. The event takes place 7:30 p.m. Thursday, June 14 at Rush Creek Golf Club, 7801 County Road 101, Maple Grove. For information visit jewishminneapolis.org/woi.
(American Jewish World, 6.1.18)