by MAX SPARBER
Community News Editor
Like many musical groups, Jewish a cappella group Six13 has a lot of videos of their performances and music videos online. Unlike most, theirs includes one in which the group is introduced by President Barack Obama.
Speaking of the group, Obama enthuses that Six13 "just did an amazing performance for Michelle [Obama] and I of a Hamilton remix … if you ever have a chance to get the mix tape, you should buy it."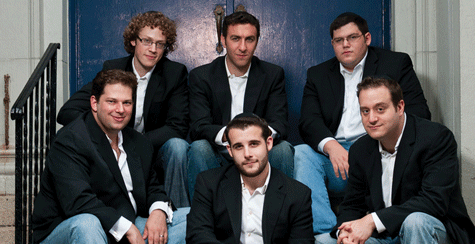 With that, the group launches into one of their signature songs, largely a rewrite of the song "Alexander Hamilton" from Lin-Manuel Miranda's eponymous musical about the founding father, but here telling the story of the origin of Hanuka.
In an interview with American Jewish World, Mike Boxer, one of the founding members of the group and its principal songwriter and arranger, explained the context for Obama's quotes. The White House has a history of menora-lighting ceremonies dating back to 1979 and has generally had a guest performer. "It's usually a choir or a cappella group," Boxer said.
The appeal of having these groups is quite practical: They are simple. "Quite honestly, from my experience, there are so many parts to the event that they look to the a cappella group because there is no equipment, there's nothing to set up," Boxer said.
Six13 formed in 2003 at Binghamton University in New York, a school with a history of a cappella performers — Boxer was a member of the Binghamton Crosbys, a longstanding contender in the International Championship of Collegiate A Cappella, an international a cappella competition that the Crosbys won the year Six13 was founded.
Six13 combines a cappella performance, in which human voices are arranged to produce the equivalent of the sound of a full band, with a longstanding tradition in Jewish entertainment — that of writing novelty Jewish versions of popular contemporary songs. "When we do a parody of an existing song, everybody takes a stab at rewriting lyrics," Boxer explains.
But the group also performs original songs that are not satiric, but instead often an a cappella version of Jewish choral music. Boxer estimates that there are eight of these original songs for every two satires they produce, and Boxer is the most frequent author and arranger of these new songs.
He describes the parodies as frequently functioning as "marketing vehicles" — they tend to be popular, sometimes wildly so (the group has amassed more than eight million views on YouTube), and Boxer describes these songs as acting like an entrée. A certain percentage of fans move beyond them to discover the group's original, non-satiric material.
The group performs frequently, generally racking up 50 or more engagements per year, including private performances at B'nai Mitzvas, weddings, and other life-cycle events. They also frequently perform at Jewish events, and Boxer explained that the group tailor its set list to the event. "We have the stuff that we know if going to appeal to general audiences," he said. "We have an idea of who will be attending. We'll perform certain songs if the audience is mostly kids, swap out songs depending on whether it is a Reform or Orthodox audience."
Six13 will perform June 13 at Adath Jeshurun Congregation as part of its annual benefit. "We have not been to Minnesota before," Boxer says. "We're excited to be branching out into new territory. Cantor Joanna Dulkin (Adath's cantor) has really engaged us. She's really talented and fantastic. We're really excited about going there."
***
Six13 will perform as part of Adath Jeshurun Congregation's annual benefit, which begins 6 p.m. Wednesday, June 13 at the ​ Moe & Esther Sabes Campus of Adath Jeshurun Congregation, 10500 Hillside Lane W., Minnetonka. For information visit adathjeshurun.org.
(American Jewish World, 6.1.18)