The Ghost Warriors: Inside Israel's Undercover War against Suicide Terrorism, by Samuel M. Katz, Berkley Caliber, 371 pages, $27
Reviewed by NEAL GENDLER
Yamas may be the most potent Israeli anti-terrorism unit of which you've never heard. But don't feel bad.
"Few in Israel know what the Yamas did during the [second] intifada," says Samuel M. Katz, whose Ghost Warriors recounts daring operations of this undercover unit of the Israel Border Police.
Its multiethnic members used disguise, cunning and courage to penetrate Arab cities, villages and refugee camps, finding, seizing — sometimes killing — terrorist leaders. A Wikipedia entry claims that, until recently, Israel denied Yamas' existence.
"The successful pursuit of terror suspects depended on the ability to move invisibly inside Palestinian areas, often for prolonged stakeouts," Katz says. Disguises were so good that a Palestinian Authority paving crew once had a Yamas stakeout team help direct traffic.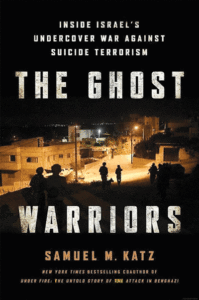 In the eight-year intifada that began in 2000, Yamas' members were tasked 24/7, many days with multiple operations — some organized to the smallest detail, others thrown together while speeding to grab a suddenly spotted suspect.
The incursions were small — sometimes as few as two Yamas men were visible while maybe a dozen others, for backup, sweltered close by in windowless vehicles. The idea was to get the suspect into an unmarked Yamas car without causing a disturbance.
Sometimes the arrest was too obvious, bystanders quickly summoning a deluge of gunfire that required the backups — even the army — to extricate the undercover team. Sometimes an alert suspect would open fire and quickly be shot dead.
"Israeli military doctrine demanded short and clean wars," Katz says. But the Al-Aqsa intifada "was ugly, protracted and showed no signs of ending," giving Israel no choice but to reduce the terrorist leadership "one high-value target at a time."
Ghost Warriors is organized according to the three Yamas zones: Gaza, Jerusalem and the West Bank.
Although police, Yamas answers to Shin Bet, Israel's domestic counterintelligence and counterterrorist agency. Yamas wasn't the only source of anti-terrorist raids, and Katz includes an array, among them Yamam, the border police counterterrorism and hostage-rescue unit; the Army's crack units Duvdevan and Sayeret Mat'kal (in which future prime ministers Ehud Barak and Benjamin Netanyahu served); and the Navy's Flotilla 13.
Those forces worked separately, together or as support for Yamas, but "only the Yamas operated day in and day out inside enemy territory."
Mercifully, there are glossaries of people and of organizations; the latter would be better placed at the beginning for those who don't habitually read tables of contents.
Katz's detailed writing is clear, if demanding close attention and occasionally too dramatic, as in: men "whose reputations were as hard as steel and as sharp as a razor." And while its operators were exceptional, Katz says "they were built from a special DNA composite."
Not yet, anyway. Members included Bedouins, Circassians, Christian Arabs and Druze.
Katz uses the oxymoron "one of the only" (only is only), calls the Kotel the "Wailing Wall," alternates between 12 and 24-hour time, and calls some Jerusalem suburbs "areas seized by Jordan in the 1967 war." They were seized from Jordan. Ya'mas and Ya'ma'm, as Katz spells them — Web sites do not — are acronyms that Katz properly precedes with "the" when used as nouns.
Katz uses "border guard" throughout, evidently a literal translation of the Hebrew name on the bottom of shoulder patches that also say "Israel police" in Hebrew at the top. Israeli newspapers in English use "border police."
Katz says some in Yamas were conscripts; Israelis can serve their IDF enlistments in the border police, as did Hadar Cohen, 19, who was killed Feb. 3 during guard duty at Jerusalem's Damascus Gate. But only 1 percent of Yamas applicants get in — so few that during the intifada, some officers didn't get home for weeks, often operating with little to no sleep.
"The Yamas war was one of great personal sacrifice," aging men rapidly, Katz says. "Even those who received what for Israel is a chest full of ribbons would give the medals back in a heartbeat in exchange for the time they can never have back with their wives and children."
***
Neal Gendler is a Minneapolis writer and editor.
(American Jewish World, 2.26.16)