My Promised Land: The Triumph and Tragedy of Israel, by Ari Shavit, Spiegel and Grau, 445 pages, $28
Reviewed by NEAL GENDLER
Israeli journalist Ari Shavit is pessimistic about achieving the peace he craves.
In My Promised Land, Shavit describes Israeli displacement of Arabs with double understanding: first, of its necessity in building the state of the Jews, and second, of the deep sense of injustice of those displaced by it. He has great pride in what Zionism has accomplished and great empathy for those who lost their communities and homes because of it.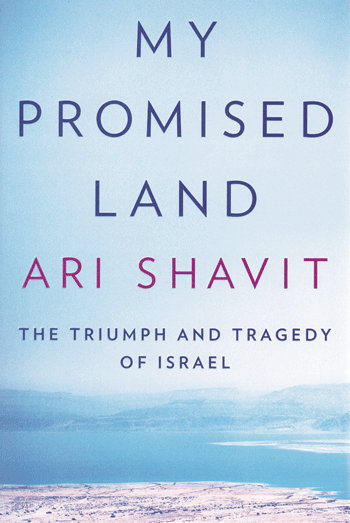 And unlike many, he separates the issues of occupation and of peace, saying the Israeli Left naïvely expected peace would follow occupation's end. While Israeli control of Judea and Samaria is "a moral, demographic and political disaster," he says, the Israeli Left "counted on a peace partner that was not really there."
Shavit, who writes for the left-wing daily Haaretz and other publications, challenges dogmas of both left and right and sees "no quick-fix solutions to the Israeli-Palestinian conflict." Part of Israel's peace movement as a student and soldier, "only when I turned 30 and began listening seriously to what Palestinians were saying did I realize that the promise of peace was unfounded."
Shavit says that "rather than face a tragic reality imposed upon us from without, we chose to create a simplistic narrative of Right verses Left" that says: "It's not the Arabs' fault, it's the Jews'."
Unlike carping outsiders, Shavit writes with a love of Israel, a native's understanding, and a belief in Israel's fundamental propriety. He eschews extremes and lets people and facts speak for themselves, positively and negatively. The result is gentle, balanced insight that should be required reading for those who think they know better than Israelis what Israel should do.
"Israel is the only nation in the West that is occupying another people," he says. "On the other hand, Israel is the only nation in the West that is existentially threatened… Most observers and analysts deny this duality." Shavit returns to it often, and he says that "without incorporating both elements into one worldview, one cannot grasp Israel or the Israeli-Palestinian conflict."
Shavit's book, like Yossi Klein Halevy's Like Dreamers, is a rare work of brilliance in explaining Israel's political, intellectual and emotional bipolarity. Sensitively written in beautiful English, My Promised Land is not a history textbook but "a personal journey through contemporary and historic Israel, recounting the larger Israel saga by telling several dozen specific Israeli stories that are significant and poignant."
The telling touches on almost all of Israel's historic and present achievements and problems, including what Shavit sees as a loss of Israel's early purposeful discipline — beginning in the hubris after the 1967 victory and aggravated by the 1973 war that felt like a defeat.
His criticisms can bite, such as his observation that early Israel denied the Diaspora, denied the Holocaust and failed to see the land's Arabs, even if they "had no cogent national identity" when Zionism began. Israel rescued the Jews of Arab countries, but disregarded their social order and dignity, which "scorched the identities and scalded the souls it was to have saved."
Shavit includes a piece he wrote for Haaretz about Israel's failures in the 2006 Lebanon war — criticizing Israelis' loss of might and focus — in terms needing to be heard by blame-Israel-first gangs such as the American Studies Association.
"The politically correct discourse that reigned supreme over the last decade was disconnected from reality," he says. "It focused on the issue of occupation but did not address the fact that Israel is caught in an existential conflict fraught with religious and cultural land mines. It paid too much attention to Israel's wrongdoing, and too little to the historical and geopolitical context within which Israel has to survive."
Because of that context, "what is needed to make peace between the two peoples of this land is probably more than humans can summon," Shavit says. "They will not give up their demand for what they see as justice. We shall not give up our life."
If you read no other book about Israel, read this one.
***
Neal Gendler is a Minneapolis writer and editor.
(American Jewish World, 1.17.14)