By MORDECAI SPECKTOR
Two Israelis charged with multiple felony counts of unlawfully employing young Israelis at a Mall of America store and kiosks have pleaded guilty.
A Nov. 25 trial date had been set for Yosi Rachamim, 31, and Yehiel Shpitser, 30. However, both men waived "prosecution by indictment" in November, and pleaded guilty to two felonies, "conspiracy to knowingly hire 10 or more unlawful aliens" and "knowingly hiring 10 or more unlawful aliens."
As the AJW previously reported, the two Israelis operated YA & YA USA, Inc., which sells hair and beauty products from five kiosks and a store at the Mall of America.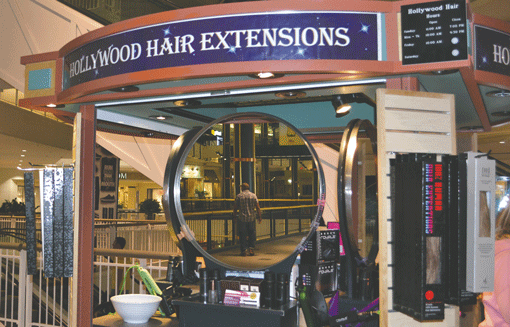 The original indictment alleged that from Sept. 21, 2009 through June 19, 2010, Rachamim and Shpitser conspired to recruit young Israelis entering the U.S. on tourist visas to illegally work for YA & YA. The Israeli employees were housed at the Pebble Brook Apartments in Bloomington in apartments leased by Avraham Nadivi, the CEO of YA & YA, according to the grand jury indictment.
Israelis Adam Vaknin, 32, and Nadivi, 31, also were indicted in the case, but they are in Israel and now out of the reach of federal authorities.
The U.S. Attorney for Minnesota prosecuted the case against the four Israelis, following an investigation by the U.S. Customs and Border Protection, the Immigration and Customs Enforcement (ICE)-Homeland Security Investigations (HIS), and the HSI-led multi-agency Document and Benefit Fraud Task Force.
Rachamim and Shpitser likely will be sentenced in February, at the earliest, according to Deborah K. Ellis, of the Ellis Law Office in St. Paul, who is the attorney for Rachamim. She told the AJW last week that her client could receive a short prison sentence, in the range of six to 12 months.
Prior to sentencing, reports will be issued, and the defendants will have an opportunity to respond.
"There's a probation officer that prepares a presentence report," Ellis explained. "Once we get that report, there's some other timeframes that kick in."
In response to a question about whether the two Israelis, who apparently have resident alien status in the United States, would be deported back to Israel after serving prison time, Ellis said that a goal in the negotiations with the U.S. attorney was "to put them in the best position possible for any potential immigration proceedings that would follow."
Ellis noted that there are various classes of felonies — "aggravated felonies and there are felonies that involve moral turpitude" — so Rachamim's conviction might "not automatically end up in a deportation."
Ellis pointed out that Rachamim, who is living in California, was allowed by U.S. District Judge David S. Doty to travel to Israel, in late November, to attend his younger sister's wedding. Upon his return in December, he was required to surrender his passport to a pretrial services agent with the federal court.
"His goal all along has been to stay in this country," Ellis commented about her client.
In a related case, Lihi Aliza Elgrably, an Israeli employed by YA & YA, pleaded guilty in late November to one felony count of "possession of an immigration document procured by false statement."
In July 2013, she was charged with one count of visa fraud. Elgrably's indictment alleged that from January 27 to February 15, 2010, she submitted a petition to adjust her immigration status and allegedly withheld information about her employment with YA & YA.
Like the YA & YA executives, Elgrably will be sentenced upon completion of a presentence investigation and report.
(American Jewish World, 1.17.14)