Targeted killing takes out Hamas' military chief in Gaza, bombings hit suspected terror sites (VIDEO)

By MARCY OSTER
JERUSALEM (JTA) — In the wake of its targeted killing of Hamas' military chief in the Gaza Strip and strikes on terror targets, Israel began moving infantry units south and called up reservists.
Ahmed Jabari and a passenger were killed by an Israeli missile late Wednesday afternoon when the car in which they were driving was hit in what Israeli military officials called a "surgical strike." The passenger was reported to be Jabari's son, according to Yediot Achronot, though it was not confirmed by other sources.
Following the strike, the Israel Defense Forces bombed about 20 underground launch sites and ammunition warehouses in the Gaza Strip. The targets were pinpointed by Israeli military intelligence, according to the IDF. Military sources said the sites had been located over several months and many were in civilian areas.
Eight Palestinians, terrorists and civilians, reportedly have been killed in the Israeli strikes and 30 have been wounded.
The assassination and strikes on terrorists' long-range missile capabilities are the start of Operation Cloud Pillar against Gaza terror, the IDF said.
Israeli residents of the border areas were instructed to remain in bomb shelters until further notice. Meanwhile, school was canceled for Thursday in southern Israeli communities located up to 25 miles from the Gaza border.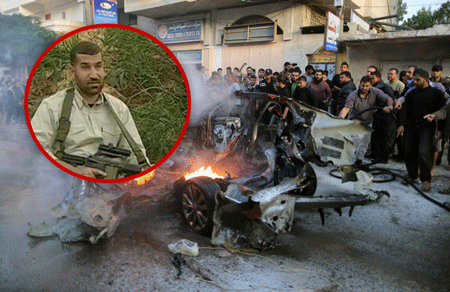 Palestinians gather around the remains of the car that Ahmed Jabri (shown in circle), the chief of Hamas' military wing, was driving in the Gaza Strip before he was killed by an Israeli missile (Photo: Wissam Nassar / FLASH90 / AlQuds TV / JTA)
Hamas' armed wing, the Izz al-Dinn Al-Qassam Brigades, reportedly said in a statement following the attack, "The occupation has opened the gates of hell on itself."
Shortly after the assassination, at least two rockets were fired toward Ashkelon and several toward Beersheva. Iron Dome has intercepted at least 10 rockets fired from Gaza toward Beersheva since 8 p.m.
Also, Israel mobilized several infantry units and called up reserve troops. Israel last entered Gaza with ground troops during the month-long Gaza war that began in December 2008.
The strike came after four days of rocket fire from Gaza terrorist groups on southern Israel. More than 150 rockets are reported to have been fired from Gaza, causing damage to homes and factories.
Jabari was directly responsible for carrying out terrorist attacks against Israel for the past several years, the Israel Defense Forces said in a statement. He was filmed escorting captured Israeli soldier Gilad Shalit, who was held hostage in Gaza for more than five years, when he was handed over to Egypt last year on his way back to Israel.
"The purpose of this operation was to severely impair the command and control chain of the Hamas leadership, as well as its terrorist infrastructure," the statement said. "This was a surgical operation in cooperation with the Israeli Security Agency that was implemented on the basis of concrete intelligence and using advanced capabilities."
"Israel is not interested in engaging in war, but Hamas' provocation in the past days has made it imperative that we act sharply and decisively, Defense Minister Ehud Barak told reporters Wednesday night.
He said the goals of the operation include strengthening the warning to Gaza terror groups to halt attacks on Israel; to thwart the rocket attacks; and to hurt the Hamas terror organization.
Barak declared an "elevated level of preparedness" for the Home Front area, representing a 25-mile radius around Gaza.
"Hamas and the other terror organizations chose to escalate its attacks in recent days," Prime Minister Benjamin Netanyahu said during the news conference. "Israel has sent Hamas a clear message that it is prepared to defend its citizens."
Not long after Jabari was killed, Israeli President Shimon Peres called President Obama to update the newly re-elected U.S. leader on the situation.
"Our intention is not to raise the flames, but already for days, day and night, they are shooting rockets at Israel," Peres told Obama, according to a statement from Peres' office. "Women cannot fall asleep. I was today there with the children. You know, there are limits. So I want you to know and I wanted to explain our motives."
In a security message to U.S. citizens in Israel, the United States embassy in Tel Aviv urged U.S. citizens to "exercise caution and take appropriate measures to ensure their safety and security in light of the escalating level of violence in Gaza and southern Israel."
Here is video of the strike, which was released by the IDF:

***

Three Israelis killed by rocket from Gaza, U.N. Security Council meets over Gaza attacks
By MARCY OSTER
JERUSALEM (JTA) — Three Israelis were killed when a rocket fired from the Gaza Strip hit their apartment in southern Israel.
The rocket that struck the Kiryat Malachi apartment on Thursday morning — one of at least 140 rockets fired from Gaza since the assassination late Wednesday afternoon of the Hamas military chief in Gaza, Ahmed Jabari — also injured a baby girl and a 4-year-old boy. A second building in Kiryat Malachi also was hit.
Rockets rained down on communities in southern Israel overnight into Thursday. A school in Ofakim and a home in Ashdod were hit, along with a factory near Ashkelon.
Some 90 rockets have been intercepted by the Iron Dome anti-missile defense system, according to the IDF.
Overnight Wednesday, the Israel Defense Forces bombed about 100 medium- and long-range rocket launch and infrastructure sites throughout Gaza, according to the IDF spokesman.
"This has significantly damaged the rocket launch capabilities and munitions warehouses operated by Hamas and other terror organizations," the IDF said in a statement. "The aim of targeting these sites is to impair the rocket launching capability of terror organizations in the Gaza strip and damage their further build-up."
Israel's Air Force also bombed several rocket launching squads as they prepared to fire rockets toward southern Israel, according to the IDF.
Fifteen Palestinians have been killed and more than 100 injured in the Israeli strikes, the Palestinian Maan news agency reported Thursday.
Israel also has mobilized several infantry units and called up reserve troops. Israel last entered Gaza with ground troops during the monthlong Gaza war that began in December 2008.
The strike on Jabari followed four days of rocket fire from Gaza terrorist groups on southern Israel. More than 150 rockets reportedly were fired from Gaza during that time, causing damage to homes and factories.
The Israeli daily Haaretz quoted Israeli peace activist Gershon Baskin as saying that hours before he was assassinated, Jabari had received a draft of a permanent truce agreement with Israel, and that senior Israeli officials were aware of the draft.
On Thursday morning, the United Nations Security Council held an emergency meeting on Israel's ramped-up Gaza operation at the request of Egypt, Morocco and the Palestinian Authority. The envoys of Israel and the Palestinians offered presentations at the meeting.
The Security Council failed to endorse a plan of action, agreeing only to issue a statement saying that the emergency meeting took place.
"We have demonstrated maximum restraint for years, but the Israeli government has a right and a duty to respond to these attacks," Israeli U.N. envoy Ron Prosor told the council. "Israel will not play Russian roulette with the lives of our citizens."
Palestinian envoy Riyad Mansour referred to "Israel's malicious onslaught, using the most lethal military means and illegal measures against the defenseless Palestinian civilian population."
The U.S. ambassador to the U.N., Susan Rice, defended Israel's right to defend itself. On Wednesday night, President Obama called Netanyahu and voiced support for Israel's right to self defense while urging Netanyahu to avoid civilian casualties.
Meanwhile, Egypt withdrew its ambassador to Israel over the Gaza strikes. Israel's ambassador to Cairo, Yaakov Amitai, also was called back to Jerusalem out of fear for his safety in the face of expected protests.The embassy staff was evacuated Wednesday.
Israel's Security Cabinet on Wednesday night authorized the call-up of reserve units, per the discretion of Defense Minister Ehud Barak.
The Cabinet authorized the IDF to "continue vigorous action against the terrorist infrastructures operating from the Gaza Strip against the civilian population in Israel in order to bring about an improvement in the security reality and allow a normal life for the residents of the State of Israel."
"Alongside the military effort, Israel will, to the best of its ability, work to avoid harming civilians while honoring the humanitarian needs of the population, in keeping with the rules of international law," the directive said.
In a statement issued Thursday evening to the foreign press, Netanyahu said that world leaders have an understanding of Israel's need and right to defend itself.
"There is no moral symmetry; there is no moral equivalence, between Israel and the terrorist organizations in Gaza," Netanyahu said. "The terrorists are committing a double war crime. They fire at Israeli civilians, and they hide behind Palestinian civilians. And by contrast, Israel takes every measure to avoid civilian casualties. I saw today a picture of a bleeding Israeli baby. This picture says it all: Hamas deliberately targets our children, and they deliberately place their rockets next to their children. Despite this reality, and it's a very difficult reality, Israel will continue to do everything in its power to avoid civilian casualties."
The current operation in Gaza has been dubbed Pillar of Defense, a reference to the cloud that followed the Israelites in the desert according to the Bible. The pillar of clouds shielded and protected the Israelites.