Gett marks the third and final chapter of a trilogy from filmmaker siblings Shlomi and Ronit Elkabetz
By MICHAEL FOX
The marvelously claustrophobic and deeply damning Israeli courtroom drama Gett: The Trial of Viviane Amsalem actually consists of three trials.
Seeking a divorce after some 30 years, Viviane aims to cast her husband Elisha as the defendant. However, the government-funded religious court vested with authority over Jewish divorces won't grant a gett without the husband's consent — and the triumvirate of Orthodox rabbis insists it has limited power to pressure him.
As a result, it often feels as if Viviane (rivetingly played by Ronit Elkabetz) is on trial. And because the process seems arbitrary and unfairly skewed in favor of the husband (the taciturn, unwavering Simon Abkarian), the film explicitly puts the system itself on trial.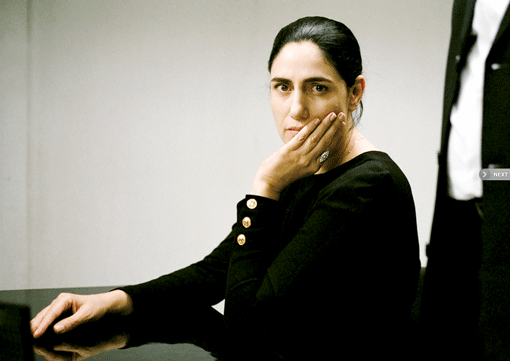 "Our work is very political," declares Shlomi Elkabetz, who co-wrote-and co-directed the film with his sister Ronit. "Gett is a protest film."
Gett: The Trial of Viviane Amsalem opens April 3 at the Landmark Edina Cinema.
The Elkabetzes come from a Moroccan Sephardic background, and were born in Beersheba and raised around Haifa.
"We did not have any connection whatsoever to the cultural centers in Israel [growing up]," Elkabetz said during a visit to San Francisco last fall. "We did not have any access, not by our family members and not by the surroundings of the places we grew up in."
As outsiders who had to push and elbow their way into Israel's Ashkenazi-dominated cultural hierarchy, they take great satisfaction in Gett's Ophir Award for best picture and selection as Israel's official submission to the Oscars in the Best Foreign Language Film category. (It didn't receive a nomination.)
The film's structure and setup is simple and powerful: Viviane wants a divorce, and her husband says no.
"Just like that there is huge suspense, because we identify with the wish of Viviane to be free," Elkabetz says. "The dream of the modern world is freedom. She wants something that all of us want."
The corollary to rooting for Viviane is that the other characters assume the cloak of villains. But the filmmakers made a concerted effort to imbue Gett with nuance and ambiguity, which makes for a more interesting, provocative and richer work.
"[Ronit and I] don't judge Viviane, we do not judge Elisha, not the judges, we do not judge [Viviane's] advocate," Elkabetz says. "Everybody has his place for performing their interior life and making it exterior in that little theater of the court. Everybody is respected by us, the storytellers."
Gett marks the third and final chapter of an exceptional trilogy that began, in the very first scene of To Take a Wife (2004), with Viviane's seven brothers discouraging her from rocking the boat and seeking a divorce. Shiva (Seven Days), set a few years after Viviane has left Elisha and released in 2008, reunites the extended family for a funeral.
Shiva also won the Ophir (Israel's Oscar) for best picture, so the attention and respect of their peers is not a brand-new experience for the Elkabetzes. One gets the feeling that Shlomi and Ronit (familiar to moviegoers from The Band's Visit), a gay man and a woman, respectively, are fueled by the role of underdogs.
For his part, Shlomi wants to make accessible films that provoke audience reactions and, ideally, promote societal change. Intense and often intensely absurd, the beautifully crafted and acted Gett hits every mark.
"If I go to all this trouble, I want people to be aware of the film," Elkabetz says. "Part of my attraction in cinema is to try to make cinema that does not give up filmmaking. I'm not trying to flatter anyone but to be strict and radical and at the same time to be popular. Is it possible? I don't know."
Elkabetz laughs, at himself and the test he has set for himself. Consider it Gett's fourth trial.
***
Gett: The Trial of Viviane Amsalem opens April 3 at the Landmark Edina Cinema, 3911 W. 50th St.
Michael Fox review films for the American Jewish World, from San Francisco.
(American Jewish World, 3.27.15)