Thousands of Palestinian refugees in Syria cling to life in the midst of civil strife
(Editor's note: This article was received as the American Jewish World was going to press with the April 10 edition. Al Jazeera recently reported that only 6,000 people are left in the Yarmouk refugee camp, according to the Syrian government.)
By MOSHE GIT
The Yarmouk Palestinian refugee camp south of Damascus is now being obliterated both by ISIL (also known as the Islamic State and ISIS), which is advancing toward the capital city, and by Syrian dictator Bashar al-Assad's army, which is bombing and shelling the area to thwart ISIL's drive.
Meanwhile, ISIL is doing what it knows best how to do, i.e., trampling on all those who don't follow its specific extremist brand of Islam.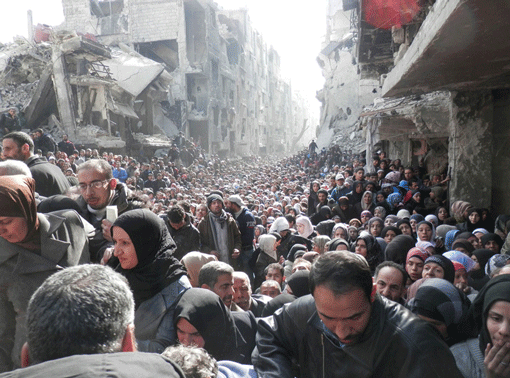 Prior to the recent hostilities, Yarmouk was home to more than 160,000 Palestinian refugees. As a result of the 1948 war with Israel, thousands of Palestinian Arabs became refugees in Syria. In mid-1949, Syria's president, Husni al-Za'im, offered Israel, in return for minor territorial concessions, a peace deal in which Syria would permanently absorb 300,000 refugees. (This would have significantly curtailed the still festering Palestinian refugee problem, as the total number of refugees in the region was then about 700,000.)
However, David Ben-Gurion, Israel's prime minister, ignored the offer. In 1957, Syria created the Yarmouk camp, to which many of the Palestinian refugees scattered around Syria were moved.
When the "Arab Spring" turmoil began, about four years ago, the residents of the Yarmouk camp became involved in the fighting between pro-Assad and anti-Assad factions. To eliminate the opposition, the Syrian government bombed the camp. Most of the inhabitants were killed or dispersed.
Now only about 17,000 are left: the infirm, the disabled, the very young and the aged, and other unfortunates. They are in need of food, water, shelter and medical help. As desperation mounts, more than a million and a half of their brethren, who are citizens of Israel, watch helplessly. Hamas and the Palestinian Authority are haggling about aiding their compatriots, but do nothing.
Israel, which is just a few miles away, could reach Yarmouk and in a swift airlift operation — as happened during Operation Moses, in 1984, when 8,000 Ethiopian Jews were brought to Israel — evacuate those refugees and bring them to Israel.
This is a win-win situation. Israel would help resolve a dire human crisis. The world would be astounded; the Palestinians could change their attitude toward Israel, and the Arab countries wouldn't be able to continue to claim that Israel disregards the Palestinians.
Such an operation wouldn't be easy, since Israel would have to stage a rescue under the noses of ISIL and Assad; but given the size and might of the Israeli military and the proximity to Israel's border, it is doable.
The remaining Yarmouk refugees could be absorbed by Israel, which has already taken in many more refugees and infiltrators from African countries — and Israel owes it to its Arab citizens. After all, Israel brought in, and is still bringing in, Jews from eastern Ukraine, to save them from the current strife over there.
Such a humanitarian mission also would help Israel erase the shame that still taints its record: its passive facilitation, under the command of then Defense Minister Ariel Sharon, of the mass murder of Palestinian refugees (according to some sources, about 3,500 people) in the Sabra and Shatila camps south of Beirut, Lebanon, about four decades ago. Israel let Christian militiamen enter the camps, while knowing that the militia was extremely hostile to the Palestinians.
This could be Israel's finest hour, but it isn't likely to happen. Unfortunately, Israeli leaders don't think outside of the box.
***
Moshe Git lives in Minnetonka.
(American Jewish World, 4.24.15)