Three generations of Lears are transforming the Sabes JCC Annual Benefit on May 17 and sharing its 'Better Together' message
The Sabes JCC Annual Benefit won't be your typical benefit. Then again, Steve Lear isn't your ordinary chairperson.
"We wanted this year's event to be different, and to reflect a new vision for a vibrant and exciting J that will serve our local community in a new era," said Sabes JCC CEO Joshua Wert. "We believe the future of our community is all about partnerships. So, we approached Steve to be the honoree of the event, in recognition of the many programs he has initiated in the community, as well as his tireless efforts to promote collaboration among the Twin Cities Jewish organizations."
Lear refused the title of honoree, offering instead to serve as chairperson for the event. After some compromise, the JCC convinced him to accept the recognition of "Innovator of the Year," an appropriate accolade for this creative community leader.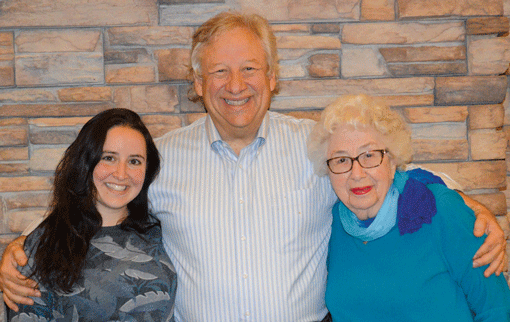 In his role as chairperson, Lear envisions an event that will celebrate the theme "Better Together," recognizing current community collaborations and encouraging increased organizational cooperation in the future.
The Annual Benefit will be held on Sunday, May 17 at the Hyatt Regency Minneapolis.
What exactly does "Better Together" look like?
"I see 'Better Together' as collaboratively having the ability to have greater impact and serve more people," Lear said. "And the reaction has been very positive."
Close to two dozen agencies and synagogues have signed on as members of the event's Honorary Committee and many also recorded videos supporting the "Better Together" concept.
"I believe it will lead to an increased sense of pride in our greater community," Lear said. "We'll have more fun. We will be in a position to be better prepared to face potential challenges in the future. If we embrace the 'Better Together' concept, I believe our opportunities are limitless."
Lear's contributions to the Twin Cities Jewish community date back several decades, starting in the 1980s when he served as a BBYO advisor, was on the BBYO board, and was instrumental in moving BBYO to the Sabes JCC, a mutually beneficial collaboration that remains intact to this day.
In the 1990s, he founded NECHAMA–Jewish Response to Disaster following a trip to Des Moines to help flood victims. Nearly 20 years and countless deployments later, NECHAMA thrives as a major hands-on Jewish disaster response organization, assisting hundreds of victims of natural disasters each year.
In 2002, Lear initiated "Israel and the Middle East: The Challenge of Peace," a multimedia program presented by the Speaker's Bureau of the Jewish Community Relations Council of Minnesota and the Dakotas (JCRC). With nearly a dozen trained volunteers serving as presenters, the Speaker's Bureau reaches out to local churches, community centers, schools and groups to increase understanding of the complex issues facing Israel and the Middle East, giving between 150 and 200 presentations a year and educating thousands of individuals.
Lear has also served on the boards of the Minneapolis Jewish Federation, NECHAMA, the JCRC and the Jewish Community Foundation; his connection to and support of the Sabes JCC goes back decades.
In keeping with the theme "Better Together," Lear recruited his mother, Reva Lear, and his daughter, Drea Lear, to serve as co-chairs.
"Anyone who knows my mom will understand how she epitomizes the 'better together' attitude," Lear said. "She's the most inclusive person I know."
Drea Lear is the associate director of Herzl Camp, serves as vice president of secondary education at Adath Jeshurun Congregation, and teaches at the Talmud Torah of Minneapolis.
"Drea is a real community builder," Lear said of his daughter. "In her professional and community roles, she has a knack of bringing people together to address issues and maximize potential."
The evening promises to be out of the ordinary.
"We're aiming for a relaxed atmosphere that will encourage schmoozing, exploration and connection," Lear said.
Along with plenty of food, there will be art, dancing and music, as well as many special moments. Absent will be the long speeches and the traditional sit-down dinner. The evening will conclude with lively entertainment provided by Stereo Kitchen, a popular local '80s cover band featuring several community members.
"I am so grateful that the Sabes JCC board of directors and staff are willing to step out of the box and try something new and different," Lear said. "This event reflects their enthusiastic commitment to lead the way for a new vision for the future. The event we are creating promises to showcase the vibrancy and promise of our community."
***
The Sabes JCC's "Better Together" Annual Benefit will take place on Sunday, May 17 in the Great Lakes Ballroom at the Hyatt Regency Minneapolis, 1300 Nicollet Mall. Doors will open at 5 p.m.
Tickets are $125, and all proceeds will support the community building programs of the Sabes JCC (special ticket prices available for Young Adults).
For information, e-mail Tamar Fenton at: tfenton@sabesjcc.org.
— Sabes JCC
(American Jewish World, 4.24.15)