The sixth annual observance of anti-Israel activism, "Israel Apartheid Week," is in full swing across the United States and around the world; a schedule of IAW events has been planned in Duluth, Minnesota.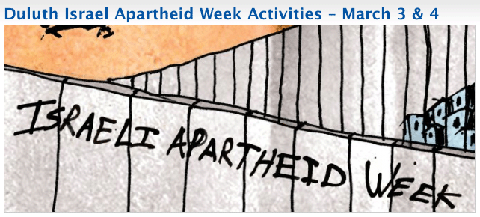 Jewish pundits are weighing in about the consequences of these activities. Should Jews actively confront what they see as anti-Zionist and sometimes anti-Semitic expressions? Or are these manifestations of little consequence and best ignored?
Blogging on New Voices, the digital version of the "National Jewish Student Magazine," Sam Melamed points out that IAW is actually a 14-day event; and he would like to brand it as "Two Weeks of Bashing Bibi and His Cronies in Israel's Military-Security Complex, But NOT Jews In General, While Also Shedding Light on Legitimate Palestinian Grievances." Looking at Israel's treatment of Palestinians on the West Bank, Melamed concludes that calling "Israel an Apartheid state is not without provocation."
In point/counterpoint fashion, Ben Sales gainsays Melamed's blog post. He writes: "The fact is that Sam is wrong in his characterization of both IAW, as well as of Israel as an apartheid state. Sam writes that IAW is not anti-Zionist, but IAW's website states that 'Prominent Palestinians, Jewish anti-Zionists, and South Africans have been at the forefront of this struggle [emphasis mine].' In addition, the IAW logo illustrates the land of Israel/Palestine in completely Palestinian colors, flanked by two Palestinians. In its own words, IAW is anti-Zionist."
(There seems to be a variation in the nomenclature here: "Israeli Apartheid Week" or "Israel Apartheid Week.")
Brenda Katten, writing in The Jerusalem Post on Sunday, takes on the label of "apartheid state," as applied to contemporary Israel:
My first visit to South Africa was in 1987, when I was invited by WIZO South Africa to address various groups throughout the country. I will never forget the horror I felt when in Durban seeing large notices saying "black only beach," "white only beach." This was just the beginning of coming face-to-face with a regime that separated every aspect of life for its citizens. Separate transport, separate health clinics, separate schooling – it went on and on.
Today, I live in Herzliya Pituah, close to the marina. We often wander down to there to enjoy the wonderful view of boats as well as to enjoy all the facilities of a seaside resort. There is never an occasion when we do not see a cross section of what makes up Israel's multifaceted population. Whether the haredi section of the community or the Muslim and Christian Arab sector — all are enjoying what this seashore city has to offer and doing so together. This is something of which we can be exceedingly proud.
Katten, co-chair of Europeans for Israel and public relations chair of World WIZO, also is disturbed by the "increasing number of Jewish students who are taking on board the overwhelming anti-Israel rhetoric with which they are being confronted. They simply do not have the tools or the knowledge to cope with this situation. When the chair of the Israel Society at Cambridge University sees fit to cancel a visit of Israeli historian Benny Morris for fear of upsetting the Islamic Society, the time has come to recognize the seriousness of the challenge."
And you might be surprised, or not, about the listing of Israelis who are participating in IAW events in the U.S. and Europe. Haaretz reports, for example, that Israeli activist and filmmaker Shai Carmeli-Pollak is screening his 2006 documentary Bil'in Habibti, about Israel Defense Forces violence, at Boston-area universities. Also, Jeff Halper, the Israel-based professor of anthropology who is co-founder and coordinator of the Israeli Committee Against House Demolitions (and a native of Hibbing, Minn.), was scheduled to speak on "Israeli Apartheid: The Case For BDS [boycott, divestment and sanctions]" at Glasgow University.
The participation of several Israelis in the anti-Zionist events is "atrocious," David Katz, a member of Britain's Jewish Board of Deputies who grew up in South Africa and has long fought the comparison between that country's racial segregation and Israel's ethnic divisions, told Haaretz. "They are free to do as they please, but it's atrocious," he said of the participating Israelis. "I think they don't understand the analogy they are making… which is insulting to those who suffered under apartheid.
"It's like calling things 'holocaust' which are not the Holocaust or terming something 'genocide' which is not genocide," said Katz. — Mordecai Specktor