Reviewed by Neal Gendler
Suspend disbelief and you can enjoy the Shoah-related tension that builds in A.J. Sidransky's novel, The Interpreter.
In a clever tale of unlikely coincidences and altered identities, Vienna-born Kurt Berlin, 23, has been pulled from combat in the Philippines, promoted from corporal to lieutenant, and sent to Brussels to interpret during interviews of captured Nazis.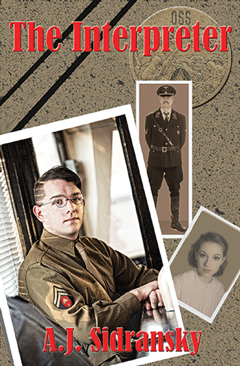 It's an uncomfortable situation for a Jew, worsening as he faces gigantic SS officer Joachim von Hauptmann, hater of Jews and Communists, who has enjoyed killing since turbulent 1920s Hungary.
His SS rank equivalent to Wehrmacht captain, Hauptmann was in charge of rounding up Jews in Brussels, to which teenage Kurt had been sent in 1939, awaiting Kindertransport to Britain. While waiting, Kurt and half-Jewish Elsa were sheltered by an older couple named Mandelbaum.
The teens fell deeply in love. Kurt's parents arrived, beginning an agonizing wait until his father's connections and diamonds set the three on a risky journey to Portugal, then America. The escape experiences are based on those of a real Kurt Berlin, husband of a Sidransky cousin.
Elsa didn't escape, and now, in May 1945, Kurt intends to find her or confirm that she died when the convent hiding her was destroyed for sheltering Jews.
Translating dispassionately between a U.S. colonel and a Nazi is emotionally difficult, and it gets worse when Hauptmann discloses his Jew-killing history and that he'd ordered the convent's destruction. Discomfort turns to fury as Kurt realizes that the OSS interrogators are hiding Hauptmann from justice. They will ignore his war crimes and make him a U.S. citizen — which his refugee parents still aren't — if he'll work as an anti-Communist spy.
This fiction is based on shameful truth. The OSS/CIA recruited Nazis as spies, whitewashing their wartime atrocities. Creators of Germany's V-2 rockets — made with slave labor that killed thousands — were leaders in the U.S. space program. Many more Nazi murderers lied about their past to get admitted by claiming fear of Communist persecution.
Interpreter is the fourth novel by Sidransky, whose first two novels were contest finalists and his third, Forgiving Mariela Camacho, won the David Award from the Deadly Ink! Writer's Conference for best mystery of 2016.
In The Interpreter, Sidransky ratchets up tension in chapters describing the family's 1940 flight — with improbable meetings and narrow escapes while traveling to Lisbon disguised as Nazis. The 1945 chapters alternate, as Kurt decides justice must come to Hauptmann. Coincidentally, Hauptmann is the German word for captain, making him "Captain Captain."
Interpreter's plot may be improbable, but except for the gruesome parts, it's fun to read and a worthwhile popular means of exposing how U.S. officials let Nazis escape justice.
***
Neal Gendler is a Minneapolis writer and editor.
(American Jewish World, March 2020)