If All the Seas Were Ink: A Memoir,
by Ilana Kurshan, St. Martin's, 299 pages, $26.99 hardcover
Reviewed by NEAL GENDLER
If, like me, you first think that a book about a young divorcee studying a page of Talmud a day would be a bore, I have a surprise for you.
To my astonishment, most of Ilana Kurshan's If All the Seas Were Ink was so engrossing I hardly could put it down.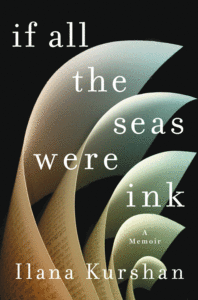 The Talmud, 1,500 years old, is a 2.5-million-word, 5,894-page, Hebrew and Aramaic compendium of Jewish law, lore and discussion about laws' meanings and applications. Kurshan calls it "a text for those who are living the questions rather than those who have found the answers." And when she began its study — long considered inappropriate for women — her life was full of questions.
Not yet 30 and in an emotional wilderness, she was employed but feeling very solitary in Jerusalem, to which she and her groom swiftly had moved from America after wedding. She was grieving her failed marriage of less than a year, feeling "pain and shame."
One morning, Kurshan was running Jerusalem hills with a friend who'd begun studying Talmud by the daf yomi method. Daf yomi, "daily page," really is a daily folio: both sides of each large sheet, "with no square inch lying fallow." Completion requires seven and a half years.
Hesitating, Kurshan started listening to a daily 55-minute daf podcast while running. That drew her in until she not only was doing daf yomi, but taking classes, some from famed scholar Aviva Zornberg.
Kurshan is a fabulous writer; her clarity and simplicity propel you along almost unaware that you're reading.
The fascination is in how she describes her life, study slowly reviving intellectual and social engagement — and in how often the Talmud's myriad, meandering topics contrast with or relate to her evolving life and emotions.
For example, "I was unmarried throughout the entire year and a half in which I learned the tractates in Seder Nashim, which deal with the relationships between husbands and wives," and who may marry whom.
A two-year relationship with Omri began while she was reading tractate Tannit, on fasting in times of drought, just when she felt parched by her solitude, she says. "I met Omri just before I started the mishna at the end of Tannit about courtship rituals in the land of Israel."
Clever and witty, she describes a class discussion of Rava's wife, who chose her own husband. "While I knew the story wasn't about me," she says, "mine was the only womb in the room. … I felt as conspicuous as Virginia Woolf traipsing across the all-male precincts of Oxbridge."
Kurshan, a Harvard and Cambridge graduate, grew up in her rabbi father's egalitarian Conservative congregation. She was an editor and literary agent in New York. Adept in Hebrew, she quickly found work in Jerusalem as a translator and foreign-rights agent.
Her lifestyle seems modern Orthodox, but she's fiercely egalitarian — for a time wearing tefillin. The marital split perhaps was foreshadowed the day her husband said it was time to pray the evening service together and she said she'd rather continue reading Don Quixote. In Jerusalem, she helped create and lead an egalitarian congregation, and on both sides of the ocean she's led Musaf on Yom Kippur.
Spinsterhood dread ended after meeting Daniel, a Zornberg classmate she'd not noticed. By book's end, they're married and have three children. One error: She calls the Kotel the last wall of the Temple. It is the western wall of the Temple mount.
Her Talmud proficiency triumphs as she's being wheeled into a delivery room, about to give birth to twins. A kipa-wearing, bearded anesthesiologist urges an epidural, arguing that the shechina, the divine presence, will suffer with her pain. Determined to feel the births fully, she uses a Talmud story about the giving of the Torah to shoo him away.
Having completed daf yomi, she's begun it again.
"I'd spent my whole life reading books," Kurshan says, "but here was a book I could imagine spending my whole life reading."
***
Neal Gendler is a Minneapolis writer and editor.
(American Jewish World, 9.08.17)