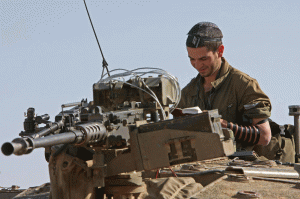 (Editor's note: Last week the Israeli newspapers Haaretz and Maariv published some testimonies of Israeli soldiers who fought in the recent war in Gaza. The publication of these disturbing stories ignited controversy in Israel, and major news outlets in the United States and abroad reported on the soldiers' accounts of killings. The following story appeared in the weekend edition of Haaretz and was published in the March 27 edition of the AJW in an abridged form.)
By AMOS HAREL / Haaretz
Less than a month after the end of Operation Cast Lead in the Gaza Strip, dozens of graduates of the Yitzhak Rabin pre-military preparatory program convened at Oranim Academic College in Kiryat Tivon. Since 1998 the program has prepared participants for what is considered meaningful military service. Many assume command positions in combat and other elite units of the Israel Defense Forces (IDF). The program's founder, Danny Zamir, still heads it today and also serves as deputy battalion commander in a reserve unit.
War in Gaza Aftermath
The previous Friday, Feb. 13, Zamir had invited combat soldiers and officers who graduated the program for a lengthy discussion of their experiences in Gaza. They spoke openly, but also with considerable frustration.
Following are extensive excerpts from the transcript of the meeting, as it appears in the program's bulletin, Briza, which was published on March 18. The names of the soldiers have been changed to preserve their anonymity. The editors have also left out some of the details concerning the identity of the units that operated in a problematic way in Gaza.
Danny Zamir: "I don't intend for us to evaluate the achievements and the diplomatic-political significance of Operation Cast Lead this evening, nor need we deal with the systemic military aspect [of it]. However, discussion is necessary because this was, all told, an exceptional war action in terms of the history of the IDF, which has set new limits for the army's ethical code and that of the State of Israel as a whole.
"This is an action that sowed massive destruction among civilians. It is not certain that it was possible do have done it differently, but ultimately we have emerged from this operation and are not facing real paralysis from the Qassam [rockets]. It is very possible that we will repeat such an operation on a larger scale in the years to come, because the problem in the Gaza Strip is not simple and it is not at all certain that it has been solved. What we want this evening is to hear from the fighters."
Aviv: "I am squad commander of a company that is still in training, from the Givati Brigade. We went into a neighborhood in the southern part of Gaza City. Altogether, this is a special experience. In the course of the training, you wait for the day you will go into Gaza, and in the end it isn't really like they say it is. It's more like, you come, you take over a house, you kick the tenants out and you move in. We stayed in a house for something like a week.
"Toward the end of the operation there was a plan to go into a very densely populated area inside Gaza City itself. In the briefings they started to talk to us about orders for opening fire inside the city, because as you know they used a huge amount of firepower and killed a huge number of people along the way, so that we wouldn't get hurt and they wouldn't fire on us.
"At first the specified action was to go into a house. We were supposed to go in with an armored personnel carrier called an Achzarit [literally, "cruel"] to burst through the lower door, to start shooting inside and then… I call this murder… in effect, we were supposed to go up floor by floor, and any person we identified — we were supposed to shoot. I initially asked myself: Where is the logic in this?
"From above they said it was permissible, because anyone who remained in the sector and inside Gaza City was in effect condemned, a terrorist, because they hadn't fled. I didn't really understand: On the one hand they don't really have anywhere to flee to, but on the other hand they're telling us they hadn't fled so it's their fault… This also scared me a bit. I tried to exert some influence, insofar as is possible from within my subordinate position, to change this. In the end the specification involved going into a house, operating megaphones and telling [the tenants]: 'Come on, everyone get out, you have five minutes, leave the house, anyone who doesn't get out gets killed.'
"I went to our soldiers and said, 'The order has changed. We go into the house, they have five minutes to escape, we check each person who goes out individually to see that he has no weapons, and then we start going into the house floor by floor to clean it out… This means going into the house, opening fire at everything that moves , throwing a grenade, all those things. And then there was a very annoying moment. One of my soldiers came to me and asked, 'Why?' I said, 'What isn't clear? We don't want to kill innocent civilians.' He goes, 'Yeah? Anyone who's in there is a terrorist, that's a known fact.' I said, 'Do you think the people there will really run away? No one will run away.' He says, 'That's clear,' and then his buddies join in: 'We need to murder any person who's in there. Yeah, any person who's in Gaza is a terrorist,' and all the other things that they stuff our heads with, in the media.
"And then I try to explain to the guy that not everyone who is in there is a terrorist, and that after he kills, say, three children and four mothers, we'll go upstairs and kill another 20 or so people. And in the end it turns out that [there are] eight floors times five apartments on a floor — something like a minimum of 40 or 50 families that you murder. I tried to explain why we had to let them leave, and only then go into the houses. It didn't really help. This is really frustrating, to see that they understand that inside Gaza you are allowed to do anything you want, to break down doors of houses for no reason other than it's cool.
"You do not get the impression from the officers that there is any logic to it, but they won't say anything. To write 'death to the Arabs' on the walls, to take family pictures and spit on them, just because you can. I think this is the main thing in understanding how much the IDF has fallen in the realm of ethics, really. It's what I'll remember the most."
"One of our officers, a company commander, saw someone coming on some road, a woman, an old woman. She was walking along pretty far away, but close enough so you could take out someone you saw there. If she were suspicious, not suspicious — I don't know. In the end, he sent people up to the roof, to take her out with their weapons. From the description of this story, I simply felt it was murder in cold blood."
Zamir: "I don't understand. Why did he shoot her?"
Aviv: "That's what is so nice, supposedly, about Gaza: You see a person on a road, walking along a path. He doesn't have to be with a weapon, you don't have to identify him with anything and you can just shoot him. With us it was an old woman, on whom I didn't see any weapon. The order was to take the person out, that woman, the moment you see her."
Zvi: "Aviv's descriptions are accurate, but it's possible to understand where this is coming from. And that woman, you don't know whether she's… She wasn't supposed to be there, because there were announcements and there were bombings. Logic says she shouldn't be there. The way you describe it, as murder in cold blood, that isn't right. It's known that they have lookouts and that sort of thing."
Gilad: "Even before we went in, the battalion commander made it clear to everyone that a very important lesson from the Second Lebanon War was the way the IDF goes in — with a lot of fire. The intention was to protect soldiers' lives by means of firepower. In the operation the IDF's losses really were light and the price was that a lot of Palestinians got killed."
Ram: "I serve in an operations company in the Givati Brigade. After we'd gone into the first houses, there was a house with a family inside. Entry was relatively calm. We didn't open fire, we just yelled at everyone to come down. We put them in a room and then left the house and entered it from a different lot. A few days after we went in, there was an order to release the family. They had set up positions upstairs. There was a sharpshooters' position on the roof. The platoon commander let the family go and told them to go to the right. One mother and her two children didn't understand and went to the left, but they forgot to tell the sharpshooter on the roof they had let them go, and it was okay and he should hold his fire and he… he did what he was supposed to, like he was following his orders."
Question from the audience: "At what range was this?"
Ram: "Between 100 and 200 meters, something like that. They had also came out of the house that he was on the roof of, they had advanced a bit and suddenly he saw them, people moving around in an area where they were forbidden to move around. I don't think he felt too bad about it, because after all, as far as he was concerned, he did his job according to the orders he was given. And the atmosphere in general, from what I understood from most of my men who I talked to… I don't know how to describe it…. The lives of Palestinians, let's say, [are] something very, very less important than the lives of our soldiers. So as far as they are concerned they can justify it that way."
Yuval Friedman (chief instructor at the Rabin program): "Wasn't there a standing order to request permission to open fire?"
Ram: "No. It exists, beyond a certain line. The idea is that you are afraid that they are going to escape from you. If a terrorist is approaching and he is too close, he could blow up the house or something like that."
Zamir: "After a killing like that, by mistake, do they do some sort of investigation in the IDF? Do they look into how they could have corrected it?"
Ram: "They haven't come from the Military Police's investigative unit yet. There hasn't been any… For all incidents, there are individual investigations and general examinations, of all of the conduct of the war. But they haven't focused on this specifically."
Moshe: "The attitude is very simple: It isn't pleasant to say so, but no one cares at all. We aren't investigating this. This is what happens during fighting and this is what happens during routine security."
Ram: "What I do remember in particular at the beginning is the feeling of almost a religious mission. My sergeant is a student at a hesder yeshiva [a program that combines religious study and military service]. Before we went in, he assembled the whole platoon and led the prayer for those going into battle. A brigade rabbi was there, who afterward came into Gaza and went around patting us on the shoulder and encouraging us, and praying with people. And also when we were inside they sent in those booklets, full of psalms, a ton of psalms. I think that at least in the house I was in for a week, we could have filled a room with the psalms they sent us, and other booklets like that.
"There was a huge gap between what the Education Corps sent out and what the IDF rabbinate sent out. The Education Corps published a pamphlet for commanders — something about the history of Israel's fighting in Gaza from 1948 to the present. The rabbinate brought in a lot of booklets and articles, and… their message was very clear: We are the Jewish people, we came to this land by a miracle, God brought us back to this land and now we need to fight to expel the gentiles who are interfering with our conquest of this holy land. This was the main message, and the whole sense many soldiers had in this operation was of a religious war. From my position as a commander and 'explainer,' I attempted to talk about the politics – the streams in Palestinian society, about how not everyone who is in Gaza is Hamas, and not every inhabitant wants to vanquish us. I wanted to explain to the soldiers that this war is not a war for the sanctification of the holy name, but rather one to stop the Qassams."
Zamir: "I would like to ask the pilots who are here, Gideon and Yonatan, to tell us a little about their perspective. As an infantryman, this has always interested me. How does it feel when you bomb a city like that?"
Gideon: "First of all, about what you have said concerning the crazy amounts of firepower: Right in the first foray in the fighting, the quantities were very impressive, very large, and this is mainly what sent all the Hamasniks into hiding in the deepest shelters and kept them from showing their faces until some two weeks after the fighting.
"In general the way that it works for us, just so you will understand the differences a bit, is that at night I would come to the squadron, do one foray in Gaza and go home to sleep. I go home to sleep in Tel Aviv, in my warm bed. I'm not stuck in a bed in the home of a Palestinian family, so life is a little better.
"When I'm with the squadron, I don't see a terrorist who is launching a Qassam and then decide to fly out to get him. There is a whole system that supports us, that serves as eyes, ears and intelligence for every plane that takes off, and creates more and more targets in real-time, of one level of legitimacy or another. In any case, I try to believe that these are targets [determined according to] the highest possible level of legitimacy.
"They dropped leaflets over Gaza and would sometimes fire a missile from a helicopter into the corner of some house, just to shake up the house a bit so everyone inside would flee. These things worked. The families came out, and really people [i.e., soldiers] did enter houses that were pretty empty, at least of innocent civilians. From this perspective it works.
"In any case, I arrive at the squadron, I get a target with a description and coordinates, and basically just make sure it isn't within the line of our forces. I look at the picture of the house I am suppose to attack, I see that it matches reality, I take off, I push the button and the bomb takes itself exactly to within one meter of the target itself."
Zamir: "Among the pilots, is there also talk or thoughts of remorse? For example, I was terribly surprised by the enthusiasm surrounding the killing of the Gaza traffic police on the first day of the operation: They took out 180 traffic cops. As a pilot, I would have questioned that."
Gideon: "There are two parts to this. Tactically speaking, you call them 'police.' In any case, they are armed and belong to Hamas… During better times, they take Fatah people and throw them off the roofs and see what happens.
"With regard to the thoughts, you sit with the squadron and there are lots of discussions about the value-related significance of the fighting, about what we are doing; there is a lot to talk about. From the moment you start the plane's engine until the moment you turn it off, all of your thoughts, all of your concentration and all of your attention are on the mission you have to carry out. If you have an unjustified doubt, you're liable to cause a far greater screw-up and knock down a school with 40 children. If the building I hit isn't the one I am supposed to hit, but rather a house with our guys inside — the price of the mistake is very, very high."
Question from the audience: "Was there anyone in the squadron who didn't push the button, who thought twice?"
Gideon: "That question should be addressed to those involved in the helicopter operation, or to the guys who see what they do. With the weapons I used, my ability to make a decision that contradicts what they told me up to that point is zero. I dispatch the bomb from a range within which I can see the entire Gaza Strip. I also see Haifa, I also see Sinai, but it's more or less the same. It's from really far away."
Yossi: "I am a platoon sergeant in an operations company of the Paratroops Brigade. We were in a house and discovered a family inside that wasn't supposed to be there. We assembled them all in the basement, posted two guards at all times and made sure they didn't make any trouble. Gradually, the emotional distance between us broke down — we had cigarettes with them, we drank coffee with them, we talked about the meaning of life and the fighting in Gaza. After very many conversations the owner of the house, a man of 70-plus, was saying it's good we are in Gaza and it's good that the IDF is doing what it is doing.
"The next day we sent the owner of the house and his son, a man of 40 or 50, for questioning. The day after that, we received an answer: We found out that both are political activists in Hamas. That was a little annoying — that they tell you how fine it is that you're here and good for you and blah-blah-blah, and then you find out that they were lying to your face the whole time.
"What annoyed me was that in the end, after we understood that the members of this family weren't exactly our good friends and they pretty much deserved to be forcibly ejected from there, my platoon commander suggested that when we left the house, we should clean up all the stuff, pick up and collect all the garbage in bags, sweep and wash the floor, fold up the blankets we used, make a pile of the mattresses and put them back on the beds."
Zamir: "What do you mean? Didn't every IDF unit that left a house do that?"
Yossi: "No. Not at all. On the contrary: In most of the houses graffiti was left behind and things like that."
Zamir: "That's simply behaving like animals."
Yossi: "You aren't supposed to be concentrating on folding blankets when you're being shot at."
Zamir: "I haven't heard all that much about you being shot at. It's not that I'm complaining, but if you've spent a week in a home, clean up your filth."
Aviv: "We got an order one day: All of the equipment, all of the furniture — just clean out the whole house. We threw everything, everything, out of the windows to make room. The entire contents of the house went flying out the windows."
Yossi: "There was one day when a Katyusha, a Grad, landed in Beersheva and a mother and her baby were moderately to seriously injured. They were neighbors of one of my soldiers. We heard the whole story on the radio, and he didn't take it lightly — that his neighbors were seriously hurt. So the guy was a bit antsy, and you can understand him. To tell a person like that, 'Come on, let's wash the floor of the house of a political activist in Hamas, who has just fired a Katyusha at your neighbors that has amputated one of their legs' — this isn't easy to do, especially if you don't agree with it at all. When my platoon commander said, 'Okay, tell everyone to fold up blankets and pile up mattresses,' it wasn't easy for me to take. There was lot of shouting. In the end I was convinced and realized it really was the right thing to do. Today I appreciate and even admire him, the platoon commander, for what happened there. In the end I don't think that any army, the Syrian army, the Afghani army, would wash the floor of its enemy's houses, and it certainly wouldn't fold blankets and put them back in the closets."
Zamir: "I think it would be important for parents to sit here and hear this discussion. I think it would be an instructive discussion, and also very dismaying and depressing. You are describing an army with very low value norms, that's the truth… I am not judging you and I am not complaining about you. I'm just reflecting what I'm feeling after hearing your stories. I wasn't in Gaza, and I assume that among reserve soldiers the level of restraint and control is higher, but I think that all in all, you are reflecting and describing the kind of situation we were in.
"After the Six-Day War, when people came back from the fighting, they sat in circles and described what they had been through. For many years the people who did this were said to be 'shooting and crying.' In 1983, when we came back from the Lebanon War, the same things were said about us. We need to think about the events we have been through. We need to grapple with them also, in terms of establishing a standard or different norms.
"It is quite possible that Hamas and the Syrian army would behave differently from me. The point is that we aren't Hamas and we aren't the Syrian army or the Egyptian army, and if clerics are anointing us with oil and sticking holy books in our hands, and if the soldiers in these units aren't representative of the whole spectrum in the Jewish people, but rather of certain segments of the population — what are we expecting? To whom are we complaining?
"As reservists we don't relate seriously to the orders of the regional brigades. We let the old people go through and we let families go through. Why kill people when it's clear to you that they are civilians? Which aspect of Israel's security will be harmed, who will be harmed? Exercise judgment, be human."
— Haaretz