By JTA STAFF
(JTA) — "Make Hummus, Not War."
That was the message behind a recent event that brought local Jews, Muslims and other Arabs together in Argentina's bustling capital city of Buenos Aires.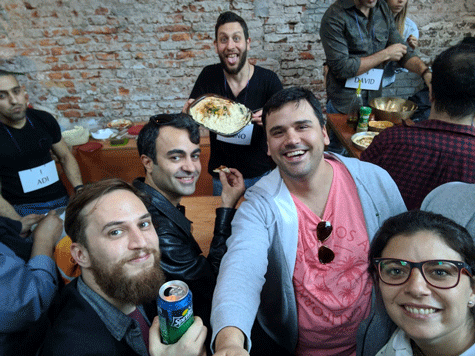 Recently, 20 amateur chefs participated in a hummus-making competition at the Tetuan Moroccan Grill restaurant in the trendy Palermo Soho neighborhood. About 300 people showed up to see judges award a winner of what was unofficially dubbed The First World Championship of Hummus.
The event was less about competition and more about bringing people of different cultures and religions together through the food they all love.
But there was a winner: Myriam Kabbara, who runs an Islamic school in Buenos Aires.
"We all want to respect each other," said Turkey native Beynazur Ors, whose colorful hummus contained beet and red cabbage.
Her husband, Burak, agreed.
"We all want another event like this, more time to cook and eat together," he said.
Though it may have been the first hummus competition of its kind in Buenos Aires, the evening germinated over the course of informal get-togethers with members of the Latin American Jewish Congress and local Muslim youths. The group started three years ago simply getting coffee or tea together, but soon they invited each other to Passover and Iftar dinners. The hummus contest was an offshoot of the group, but while members of the Latin American Jewish Congress attended, there was little institutional presence.
There has been a heated debate over the years as to whether hummus is an Arab or Israeli invention — or, maybe more accurately, an ancient Jewish creation, since Israel was officially founded in 1948, long after the chickpea dish had become a Middle Eastern staple. But such discussions were not on the table Sunday.
"Instead of importing conflicts, we are exporting coexistence," Luciano Safdie, who like the event's other organizers wore a "Make Hummus, Not War" T-shirt, said at the end of the night.
The judges were Matias Cedarbojm, a former Jewish contestant on Argentina's version of MasterChef; Gustavo Massud, owner of an Arab restaurant in Buenos Aires called Al Shark; and Argentine chef Victor Manuel Garcia.
Joan Noejovich, a local Jewish man, made it to the the semifinals.
"I prepared a Druze recipe with ingredients all imported from Israel," he said.
His version fared better than one prepared by an Israeli expat from Jerusalem named Adi, who didn't want to give his last name.Massud, who noted that his restaurant's customers typically are half Arabs and half Jews, loved Noejovich's hummus but said in the end he voted for Ors because it had "the flavor of food made by a mother."
Kabbara, the night's champion on paper, had a blast at the event.
"I enjoyed the spirit," she said. "I never had a problem with Jewish people, and I think it is very good to show that we Jews and Muslims can be friends."