In her feature-film debut as a writer and director, Jill Soloway has created the portrait of a Jewish woman that will inspire discussion about feminism's future
By MICHAEL FOX
Fifteen-plus years after breaking into television as a writer and producer, Jill Soloway hasn't forgotten that her motivation was more than garden-variety ambition.
"I very consciously went into my career with the notion of the sort of Heartbreak Kid Jewish-wife-as-harridan stereotype that I wanted to do something about," she says.
The angry mother in the sky in Woody Allen's segment of New York Stories was another comedic sore-point of reference that fueled Soloway's fire.
"Part of my responsibility and vision as a Jewish woman is to simply put more images into the culture of Jewish women who aren't the nagging and ugly wife," Soloway asserts.
To that end, she created Rabbi Ari, who appeared in a couple episodes of Six Feet Under in 2002 and was inspired by the new wave of young, cool and attractive female rabbis in Los Angeles at the time.
With Afternoon Delight, her feature-film debut as a writer and director, Soloway delivers a funny, incisive and adult portrait of an affluent, alienated 30-something Jewish mother. Anything but a nag, Rachel (portrayed by Kathryn Hahn) passively puts up with a sexless marriage (to an app designer played by Josh Radnor), self-involved friends (their involvement in Jewish fundraisers notwithstanding) and her self-centered therapist.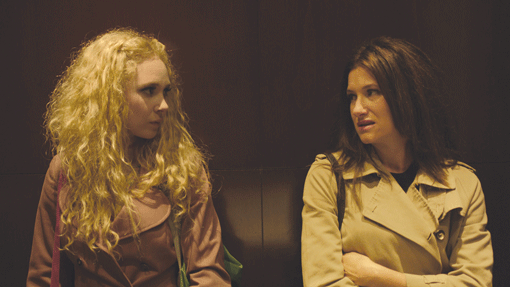 When Rachel busts the bounds of her unsatisfying routine by bringing home a young stripper in an act of tikkun olam, she gets her husband's attention — and a lot more.
Afternoon Delight, which garnered Soloway the Directing Award in the dramatic competition at the Sundance Film Festival in January, is the rare film that features sexual situations and the lighting of Shabbat candles.
"I like to call the movie 'funcomfortable,'" Soloway says with a laugh. "That's my tone. That's what I offer."
The unflinching comedy opens Friday, Sept. 6 at the Landmark Uptown Theatre in Minneapolis.
"There are two audiences who I really feel like are going to love the movie, Jews and women," Soloway said in an interview at a San Francisco hotel during her visit with the film to the San Francisco Jewish Film Festival.
"There's the old-school feminists who are anti-porn, and the modern feminists who are pro-sex worker, pro-porn, pro-choice. I'm interested in people who want to keep these discussions alive about where feminism's future is, which, to me, is a very Jewish activity — questioning, talking, arguing."
Soloway has crafted a nifty provocation with Afternoon Delight, with most moviegoers likely to have a visceral reaction to Rachel's impulsive and pivotal decision to help McKenna, the sex worker.
However, Soloway says, Rachel's scheme "is comedic to me: 'I'm Jewish, and I have to give back to the world, and that's part of my responsibility, I take care of others, so I'm going to go back to this strip club and get this girl and make sure she's OK.'"
Soloway admits to a long-held fascination with sex workers, and credits a couple of San Francisco pros with their contributions to the script and to McKenna's look and attitude.
"I know it's not politically correct to think that a stripper needs to be rescued, but the many times I've met strippers in my life, they all want to be TV writers," Soloway says with a chuckle. "They don't want to be strippers, and I love helping them to get into the TV business."
While it would be incorrect to describe Afternoon Delight — which Soloway calls a "coming-of-middle-age" film — as autobiographical, it is assuredly an amalgam of the Chicago native's passions: Judaism, feminism, sex, comedy and spirituality.
"Every Friday night, I'm hoping I can spend the next 24 hours not online, not ambitious, not talking about work," Soloway says. "I challenge myself with the idea of separating a day out to be comfortable being instead of doing."
With a rueful laugh, she admits, "I only pull it off sometimes."
***
Afternoon Delight opens Friday, Sept. 6 at the Landmark Uptown Theatre in Minneapolis. It is rated R "for strong sometimes graphic sexual content, language and some drug use."
(American Jewish World, 8.30.13)
Below is the trailer for the film: