Sabes and St. Paul JCCs offer two exhibits that showcase excellence in the arts, and the diversity of choice and flavor
By DORIS RUBENSTEIN
For those of us who are longtime residents, we know that "Twin Cities" is a misnomer for our community: they are two siblings who at times can harbor significant rivalries.
In the case of our sister JCCs, the two art shows currently on exhibit are not competing, but are examples of the "separate but equal" doctrine of excellence in the arts and show the diversity of choice and flavor that adds to the quality of life here.
Text/Context/Subtext showcases the composite artistic efforts of 17 local Jewish artists cooperating as the Jewish Artists' Laboratory over a period of eight months. The art reflects the group's facilitated study and discussions on Jewish topics, led by local leaders, thinkers and artists, as well as two artists-in-residence, Jordy Feiger and Shana Cohen.
Since the limits of this publication don't allow for extensive reviews of the work of all the 17 artists included in Text/Context/Subtext, a random selection of art and artists may tantalize the reader enough to see the entire show.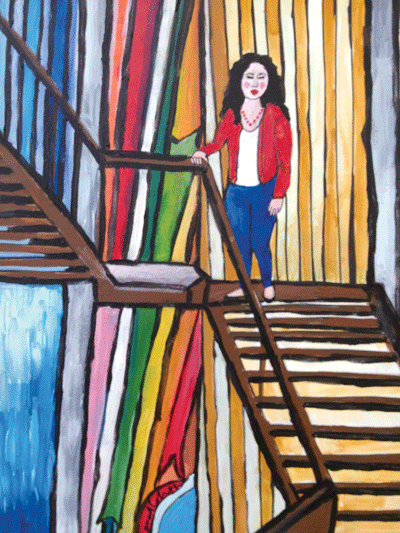 Anat Szendro Sevilla may have been inspired by Warhol's repetitive portraits of Marilyn Monroe, Jackie Kennedy and others when she envisioned "What Does Longing Look Like?" Szendro Sevilla has updated the medium to create a set of digital photo collages lifted from Skype conversation screens. The mood and emotion change, as in Warhol's paintings, according to the color imposed on the image; this includes (or excludes) blocking some images through the use of "holes" or "bubbles," thus leaving us longing for the missing part or person.
Rani Halpern is well-known locally for her delicate ketuvot made with delicately cut-out paper designs and intricate calligraphy. In the case of "Yom Rishon—The First Day," the calligraphy is contained within violent, chaotic strips of cut and twisted paper. Into the mass of dark coils, an arrow of light — in the form of the highly stylized letter Bet, the start of B'reishit — is shot. The colors and shapes contrast, yet fit together into a whole: the first day.
Bonnie Heller's acrylic on canvas "Bless These Hands, but Wash Them First" celebrates in vibrant colors the joy of cooking and eating Jewish foods in a family setting. The eyes of each family member, whether diving into a piece of cake or struggling to open a jar of pickles, look piercingly into the eyes of the viewer, inviting you to join them. You can almost hear the artist's baubie calling to you, "Ess, ess mein kind! (Eat, eat my child!)"
The variety of media in Text/Context/Subtext is extensive: ceramics, rock, paper and even a suitcase are used to demonstrate the numerous ways that the artists can use the subject matter of their studies — and, similarly, the many directions that the gallery visitor can come to understand and appreciate these Jewish subjects. The exhibit runs through Sept. 22 in the Tychman Shapiro Gallery at the Sabes JCC, 4330 Cedar Lake Rd. S., St. Louis Park.
Meanwhile, across the river at the St. Paul JCC, Beth Baron's Return to Resilience show contains enough creativity to compete with the 17 artists over in St. Louis Park. To restrict the definition of Baron's work to "hand-stitched embroideries," as described in a short press release, is a huge understatement about the exhibit. Both the media employed and the philosophy behind the works demand a broader understanding of what is behind her art.
Baron employs a wide variety of mostly "found" materials in her work: scraps of cloth, bits of lace, pictures and photographs. There is embroidery, stitchery, appliqué and beading to bind the materials and ideas together. Indeed, the entire exhibit is a testament to Baron's feeling that stitching can be meditative and conducive to both physical and emotional healing.
Baron uses abstract and representational art, two and three dimensions, subtle and striking combinations of fabrics, threads and beads that lead to and blend with each other in such a way as to show the process of healing and the power of resilience — all within a Jewish context and sensibility.
What truly demands closer inspection are those pieces composed largely of Band-Aids. And these are not Band-Aids fresh out of the box; these, too, are "found" materials.
Baron demonstrates the versatility of this medium in several pieces. A long chain of Band-Aids stitched with the Hebrew and English words of the memorial prayer El Maleh Rahamim reminded me of the strips of binding cloth found in ancient Egyptian and Nazca graves. The starburst she creates from these little strips and dots reflects Baron's belief that she has transformed them from a mundane product into a symbol of healing.
Return to Resilience is on view through Oct. 18 in the Gallery Walk at the St. Paul JCC, 1375 St. Paul Ave.
(American Jewish World, 8.30.13)