Reviewed by NEAL GENDLER
Odds are the Ephrussi — to use the author's charming plural — were the richest Jewish family of which you've never heard.
Author Edmund de Waal, son of an Anglican priest, is a successful British ceramic artist and sixth-generation Ephrussi who knew his family once had been Jewish, "and staggeringly rich," not unlike the Rothschilds, into which one of them married.
But that was a century ago, before intermarriages, the Soviet revolution and two world wars diffused fame, depleted fortunes and brought deaths. The 1938 Nazi absorption of Austria stripped the Vienna-based patriarch almost overnight of everything but one suitcase and the clothes on his and his wife's backs.
De Waal brings the leading branches of this once-powerful family back to life in a recounting so vivid it's almost like watching a film.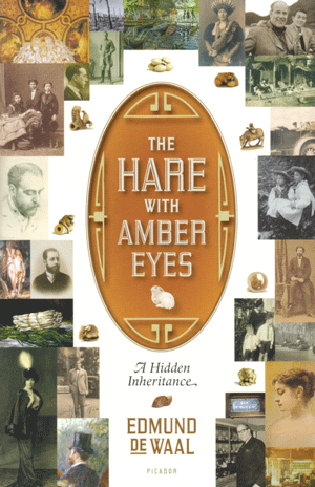 The wealth began in Odessa, where Berdichev-born Chaim Ephrussi — who later de-Judafied his first name to Joachim, then to Charles Joachim — made his fortune "by cornering the market in buying wheat." By 1860, the family was the world's largest grain exporter.
"Doing a Rothschild," de Waal says, Ephrussi sent his six children by two wives "to be deployed as financiers or married into suitable Jewish dynasties." Sons Leon and Ignace — originally Leib and Eizak — thrived in Paris and Vienna.
Both died by 1899, and de Waal turns to his fascinating focuses, Leon's son Charles in Paris and Ignace's son Viktor in Vienna. Suave and scholarly Charles was free to become a collector and historian of art and a patron and friend of writers and artists, including Proust, Degas and Renoir, who paints him in a top hat in the background of his "Luncheon of the Boating Party." But Viennese Viktor must abandon his scholarly life for business after his father's death.
The Ephrussi had Gilded Age gelt galore, living in grand style with enormous, abundantly well-appointed and staffed homes. De Waal describes their lives and surroundings in such rich detail, including paintings on the walls — it's like peeking through keyholes.
The cousins are high society — for Jews — but beneath the cosmopolitan surfaces churns Europe's toxic river of Jew-hatred. Charles loses social standing and friends — including Renoir and Degas — for supporting framed Jewish Captain Alfred Dreyfus. Victor endures a blame-the-Jews flood after the collapse of the Habsburg Empire; the war costs him his huge holdings in Britain, France and Russia; a fortune in Austrian bonds, and half of Ephrussi Bank.
The book's very necessary family tree traces the Paris Ephrussi only to 1924. Viktor and his wife escape to Czechoslovakia in 1938, and he later reaches daughter Elisabeth in Britain, dying in 1945.
And what of this amber-eyed hare? It's one of 264 netsuke, small Japanese carvings in wood or ivory, acquired by Charles during a late-1800s French frenzy for all things Japanese. In 1899, Charles sent them and their large display case to cousin Viktor as a wedding present.
The netsuke remained for surviving Ephrussi because Anna, faithful servant to Viktor's high-style wife Emmy, snatched them a few at a time from under the noses of German officials inventorying and removing the family's multitudinous possessions. Anna remained in the house during the war, the netsuke concealed in her mattress, surprising a returning Elisabeth with them in 1945.
They returned to Japan in 1947 with Elisabeth's brother Ignace, who'd left for America before the war. Discharged from U.S. Army intelligence, he took a job with, of all things, a grain-exporting company. It posted him to Tokyo, where De Waal saw them on visits to great-uncle "Iggy."
De Waal now is the keeper of the netsuke. His investigation of their provenance led to the book. It's a good read, once past a bit disjointed and egotistical beginning; some transitions are abrupt; the author too often uses French or obscure words, and, alas, there's no index.
The Hare, published last year in Britain, has received international acclaim but — the book's publicist says — little notice in the United States. It deserves much more.
***
Neal Gendler is a Minneapolis writer and editor.