Kosher frozen yogurt
Bill Marker is the owner of Chilly Billy's, a new self-serve frozen yogurt shop located in Dinkytown, on the edge of the University of Minnesota's Minneapolis campus. The shop, which is not a franchise, offers multiple flavors of frozen yogurt (all of which are certified kosher by the Orthodox Union) and approximately 50 different toppings.
"I thought it was a fun idea," said Marker, who opened the store in April. "You can do it yourself and pay for as much or as little as you want."
Customers begin the process by choosing a cup size and filling it with the yogurt of their choice. A greeter is on hand to answer questions and offer free samples. Chilly Billy's has five yogurt machines that dispense 10 different flavors as well as five different swirls.
Chilly Billy's sells yogurt from YoCream, of Portland, Ore., which Marker described as the "highest quality in the country." Among the flavors offered are vanilla, chocolate, peach mango, cookies and cream, island banana and cake batter, which is the most popular.
Eight of the 10 flavors that are currently offered are gluten-free, and other options, such as no sugar added or non-dairy, are also available. Marker noted yogurt is "way healthier" than ice cream — easier to digest, a good source of calcium, and lower in calories, fat, cholesterol and sodium.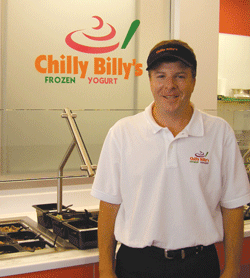 To complement the yogurt, the toppings bar offers everything from fresh fruit and candy bar pieces to gummies and cheesecake bits. There is also hot fudge and caramel, whipped cream and honey to top off your selection, the cost of which is determined by weight (45 cents per ounce).
In addition to frozen yogurt, Chilly Billy's serves coffee and cappuccino, cookies, soda and juice.
The store has 15 employees, all of whom are U of M students.
Marker comes from a sales background and owns the business with his wife, Amy. He is a native of Hopkins and played in the B'nai B'rith Softball League for 20 years.
Chilly Billy's is located at 314 15th Ave. S.E., Minneapolis. For information, call 612-843-4278 or visit: www.chillybillysfrozenyogurt.com. Chilly Billy's also has a Facebook page.
A new deli
There is exciting news on the Jewish food front. Tobie Nidetz, a restaurant consultant, and David Weinstein, a real estate lawyer, are partners in Rye Delicatessen and Bar, which will take the long-empty Auriga restaurant space at 1930 Hennepin Ave. S., north of Franklin Avenue.
Nidetz, who is from Chicago originally, runs Foodguy Restaurant Consulting and blogs at: foodguy.typepad.com. He told the AJW that the new eatery will not be a New York City-type deli: "We had to kind of reinvent the deli," he commented.
Rye will "pull from the great wealth of Jewish traditional food," with locally sourced ingredients. "We are brining our own corned beef," Nidetz said.
The deli is slated to open in late October or early November, and food development is well underway.
"This is kugel and babka weekend," said Nidetz, who added that they will be focusing on chocolate babka.
Architect mourned
Twin Cities architect Leonard Parker died peacefully on July 25 at the age of 88. Among his most recognized projects were the Minneapolis Convention Center, the University of Minnesota's Law School and Hubert Humphrey Institute, Minnesota Public Radio and the Minnesota Judicial Center.
According to the Star Tribune, Parker graduated from the University of Minnesota and MIT, and worked with Eero Saarinen, the architect of the St. Louis Gateway Arch, before establishing the Leonard Parker Associates (TLPA) in 1958. Parker also taught at the University of Minnesota's Architecture School.
TLPA merged with the national firm Durrant in 2004, and reopened as Parker Design International in 2006.
Minn. music force dies
Ira Heilicher, a force in Minnesota's music scene since the 1960s, died Aug. 2 at the age of 65, according to the Star Tribune. As a result of his death, Minneapolis' Oktoberfest Fall Festival, which Heilicher created, has been canceled for 2011.
In the early 1960s, while still in high school, Heilicher started a band booking agency, though he still worked hard to sign acts to Soma Records, the label started by his father, the late Amos Heilicher. Among the acts Heilicher brought to the label was the Twin Cities garage band the Castaways, whose "Liar Liar" reached No. 12 on Billboard in 1965.
Heilicher also co-founded and ran the Great American Music Co. in 1978, which became a retail chain of 17 stores. He was also involved with the Circus Pizza chain, and co-owned bars and shopping centers.
JDub to close
JDub, the innovative Jewish music and events promoter best known for launching the career of Hasidic reggae singer Matisyahu, is closing, JTA reported. The decision was "entirely financial," according to a statement released July 12 by the nine-year-old nonprofit based in New York.
In addition to launching Matisyahu into stardom and the Balkan Beat Box, a Jewish fusion group popular on the club circuit, JDub branched out beyond the music world in 2005, beginning with co-founding the Six Points Fellowship for Emerging Jewish Artists. In 2009, JDub adopted jewcy.com, a youth-oriented Jewish Web site, and has consulted for nearly three dozen other Jewish organizations including Hillel International and Birthright Israel Next.
JDub, which has sold 1.6 million records, said it will wind down its operations slowly and try to find homes for its programs and assets.
Changes at Haaretz
The board of directors at Haaretz has appointed Aluf Benn as the paper's editor in chief. Benn, a veteran correspondent and commentator at Haaretz, replaces Dov Alfon, who is leaving the paper to establish a new digital enterprise in cooperation with the Haaretz Group.
Benn, 46, began his career as a reporter for the weekly Ha'ir. He joined Haaretz 22 years ago, and his articles and columns have been published in leading international publications, including the New York Times, the Guardian, the Washington Post and Foreign Affairs.
Benn received a master's degree in business administration from the Kellogg-Recanati International Executive MBA Program, run jointly by Northwestern University in Chicago and Tel Aviv University.
The American Jewish World has a limited syndication agreement to reprint Haaretz news reports and opinion articles.
(American Jewish World, 8.19.11)