By MAX SPARBER
Community News Editor
A Vox article from last year asked why there are so few Hanuka movies, and settled on one theory: the holiday is not festive enough ("all Jewish holidays are oriented around austerity and guilt," they wrote).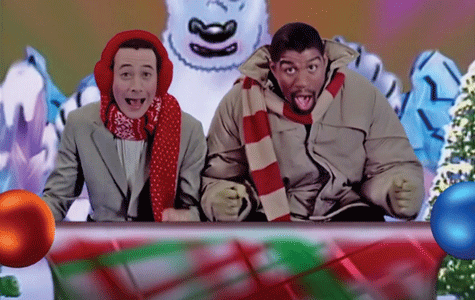 Perhaps, although I expect the answer is simpler: It's because Jews are too busy making Christmas movies. You'd be hard-pressed to find a Christmas movie that doesn't have significant Jewish involvement (even "It's a Wonderful Life" had uncredited rewrites by Dorothy Parker), and even the most Jewish-identified actors in Hollywood make Christmas movies, such as Seth Rogen, who made The Night Before in 2015 with fellow Jewish actors Joseph Gordon-Levitt, Lizzy Caplan, Ilana Glazer and a cameo by James Franco as himself.
So where do we find Hanuka in this season?
Hidden in Christmas films, mostly. You'll see an example of it in the widely derided Frozen short currently playing before the Pixar film Coco, in which the characters from Frozen (voiced by Jewish actors Idina Menzel and Josh Gad) try to locate Christmas traditions in their kingdom. At one point, Gad's character, a snowman, knocks at the door of a house where children are playing dreidel.
Even Jingle All the Way, the Twin Cities lensed, Arnold Schwarzenegger-starring Christmas movie about the nightmare of holiday shopping, includes characters wishing each other a Happy Hanuka, and it may be the least Jewish Christmas movie ever made. As far as I can tell, the only Jewish cast member is Laraine Newman, and she is barely in the film.
Here are some additional examples of Hanuka making a guest appearance in a Christmas movie:
American Werewolf in London (1981)
This horror comedy by Jewish director John Landis is never explicit that its two main character — Americans in London who have been attacked by a werewolf — are Jewish. But it doesn't need to be, as everything about them reads as Jewish, from their casual use of slang to their obsession with summer camp girls with Jewish names. The film is set in England about Christmastime, although the film isn't notably Christmasy.
There is one moment, however, that both confirms the characters' Jewishness and the fact that it is Hanuka: One of the boys has a nightmare of being attacked by werewolves dressed like SS officers, and as they ransack his family home, we see a prominently displayed menora.
Christmas at Pee Wee's Playhouse (1988)
A satire of television Christmas specials, which have a long history of pretending to document a Christmas party at a celebrity's home, Christmas at Pee Wee's Playhouse is far loopier than most.
The star, Jewish actor Paul Reubens, dithers around his Playhouse, barking orders at Frankie Avalon and Annette Funicello as various oddball celebs, including Jewish performers Zsa Zsa Gabor, Joan Rivers and Dinah Shore, swing by with fruitcake.
Briefly, the camera moves away from the main story to pass through a hole in the wall, where, for some reason, a family of dinosaurs live — recurring animated characters from the Pee Wee Herman television show. They have decorated for Hanuka, are spinning a dreidel and one opens Hanuka gelt. And then it's back out to the Playhouse, where Christmas continues.
Elf (2003)
A case can be made that the main family in the 2003 Christmas film Elf is a mixed marriage. After all, the father is played by Jewish actor James Caan and his son is played by Jewish actor Daniel Tay, and anyone familiar with the experience of a mixed home that celebrates Christmas is likely to recognize the family's not-fully-committed approach to the holiday.
This is upset when a previously-unknown son, played by Will Ferrell, shows up claiming to be from the North Pole, and claiming to know Santa (oddly, also played by a Jewish actor: Edward Asner.)
The film was written by a Jewish writer, David Berenbaum, and directed by a Jewish director, Jon Favreau, and the latter appears in the film as a pediatrician. Favreau's character is unambiguously Jewish, including having a menora displayed in his office.
Switchmas (2012)
A little-seen film that nonetheless has developed a bit of a cult following, Switchmas literally tells the story of a Jewish boy attempting to escape Hanuka in Florida by swapping airplane tickets for Christmastown, Wash.
The film is primarily about Jews who are obsessed with Christmas, including the boy's father, who is attempting to make a Christmas-themed science fiction film. But it does follow the adventures of a non-Jewish boy, the original owner of the Christmastown ticket, who ends up celebrating Hanuka in Florida with Elliot Gould.
(American Jewish World, 12.01.17)