Three Floors Up, by Eshkol Nevo, Other Press, 283 pages, $16.95 trade paperback
Reviewed by NEAL GENDLER
Recognizable characters and situations make Eshkol Nevo's newest novel, Three Floors Up, an economical yet masterful invention of three households in a suburban Tel Aviv building.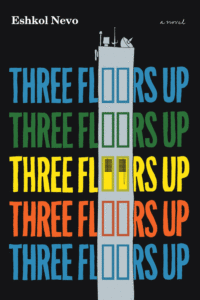 Each household has its own section, a story told by a single member.
On the first floor, restaurant designer Arnon Levanoni and his lawyer wife, Ayelet — still amorous — have two young daughters. The older, precocious Ofri, is very much a daddy's girl. Yaeli has an attention-consuming breathing problem.
Arnon tells his story to an old friend, a successful writer.
Neighbors Herman and Ruth, an older couple from Germany with a teenage temptress granddaughter, will babysit Ofri on short notice for what they may not realize is half the going rate.
One evening, anxious to get to spinning class while Ayelet and Yaeli are delayed by traffic, Arnon leaves Ofri with Herman. Ruth is out. Herman and Ofri disappear. While neighbors and police search, Arnon finds them in Ofri's favorite grove. Herman, who has mild dementia, got lost, then started crying. Ofri has his head on her lap, comforting him.
Did Herman, always asking Ofri for a kiss, do something to her? Investigators find no evidence, but Ofri won't say what happened and her behavior changes.
And Arnon acts ruinously.
dOn the second floor, successful businessman Assaf Gats and freelance graphic designer Hani have a bickering young son and daughter. Hani is called "the widow" because Assaf usually is out of the country.
Hani is writing to her childhood pal Netta, now living in the United States. Hani is unhappy with Assaf's absences — though he calls daily — with his not sharing child care, and with her crumbling self-confidence and dwindling career.
Assaf is away when his estranged brother, Eviatar, appears, seeking shelter. He has done a Bernie Madoff and tried to cover losses by borrowing from loan sharks whose thugs are looking for him, as are the police.
During his stay, the unmarried brother is the father figure Assaf isn't, amusing and caring for the children better than Hani can. She finds that arousing.
Her letter includes a defense of Assaf, saying that he'd likely respond that she, the graduate of Hebrew University High School, "was supposed to make a higher salary and take business trips abroad." Instead, his imagined voice says, "this yokel from Nahariya" has surpassed her. "So he "should at least be a terrible father. Then she can feel superior to him about something."
By letter's end, she's not sure whether now-disappeared Eviatar was real or imaginary.
On the third floor, recently retired district judge Devora Edelman is sorting possessions ahead of moving into Tel Aviv when she finds their old answering machine with her late husband Michael's greeting.
She feels a great need to talk to him, but not at a gravestone. Instead, she calls the machine and in two-minute bursts, records her one-sided conversation. She begins by telling him of that summer's tent-city, social-justice protests by the young.
Her efforts to get a ride to the Tel Aviv protest hint at outcomes of the first two stories.
In a packed crowd of demonstrators, she faints, is taken to a tent to recover and the next day for a shower at a nearby apartment.
It belongs to widower Avner Ashdot, retired from Mossad. He says their paths have crossed but not how. He later offers to buy her suburban apartment and sell her one in Tel Aviv. She's surprised that he knows she wants to move, and as the story develops, is increasingly unnerved that he knows so much about her.
Her estranged, troubled son Adar is one of several twists not to be given away, but Nevo's clever solution to Avner's knowledge of Devora falters if you think too hard.
Nevo, author of five Israeli best-selling novels, is a member of Israel's Cultural Excellence Foundation and owns Israel's largest private creative-writing school.
His stories and characters — other than Avner — feel real. Written simply but imaginatively, translated fluidly by Sondra Silverston, each story is an evening's reading because you won't want to stop.
***
Neal Gendler is a Minneapolis writer and editor.
(American Jewish World, 12.01.17)