The Israeli illustrator couldn't draw very well, so he began making portraits out of assorted objects and found his unique artistic niche
By MORDECAI SPECKTOR
Hanoch Piven introduces himself to the 2013 TEDx Jerusalem audience like this: "My name is Hanoch and I play. I play with objects. I've been making portraits with objects for a long, long time."
Indeed, the Israeli artist began creating collage portraits of famous individuals with found objects, including fruits and vegetables, more than 20 years ago.
In the 1990s, after graduating from the School of Visual Arts in New York, he got assignments from many of the leading magazines and newspapers in the United States and abroad.
Piven's whimsical collage portraits have been published in Time, Newsweek, Rolling Stone, Haaretz, Maariv, The London Times, and many other periodicals.
As part of Culture Blvd IV, Piven will present his "Seeing Faces" lecture 7:30 p.m. Sunday, Jan. 18 at the Sabes JCC. He also will lead a hands-on, drawing with objects workshop from 1 to 3 p.m. that day.


The Culture Blvd series — "An exploration of Israeli culture through art" — is under the auspices of the Minneapolis Jewish Federation's Israel Center. And Piven's events here are presented in partnership with the 2015 Twin Cities Jewish Humor Festival (see Page 11).
Piven talked with the AJW last week via telephone from his home in Jaffa, Israel. A native of Uruguay, Piven came to Israel with his family at the age of 11. He also has an apartment in Barcelona, Spain.
"I was told that it's going to be very, very cold in January there," says Piven, as we launch the interview with weather reports from Minneapolis (no snow, 35 degrees F.) and Israel (much warmer).
Thinking of last year's brutal winter, I recommend that he bring a warm coat, gloves and a hat to Minnesota.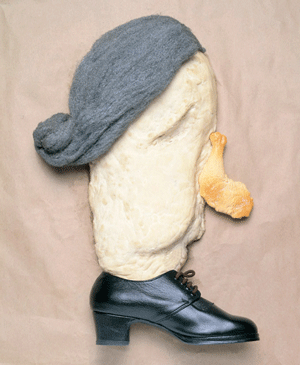 Piven's evening appearance will feature "sort of an opening lecture… more like a presentation of my work, and what I feel I can extract from my work that is relevant to other areas in life."
And, referring to the afternoon hands-on workshop, Piven explains, "We will work, with families, we will create some kind of self-portrait… which doesn't necessarily need to be something that looks like them, but since they will be using everyday objects, it will be something that represents them."
The workshop will provide an opportunity for families to bond through a creative exercise.
"It's really ideal, because objects have meaning, it's really an ideal medium to explore identity," says the artist, who is "51 and a half" years old.
For more than 10 years, Piven has been conducting these creative workshops, in schools and in Jewish venues around the world.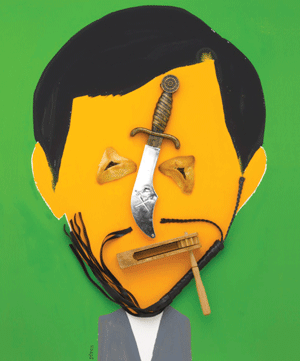 After a good long run as a magazine illustrator, he says, "I do that less than before, it interests me less than before…. I disconnected a bit. Also, the magazine world is not what it used to be, in terms of amount, the body of work that is available."
Piven now spends his time "on teaching and on creating work that has some kind of educational relevance, or educational value. For instance, I'm working now — that's actually what I'm doing today — I'm working on a TV program for Israeli educational TV, it's a program that teaches creativity to children through my work, through creation with objects. It's the second season that we're doing."
For those who understand Hebrew, the show is available for online viewing, according to Piven, who also has written several children's books, in English and Hebrew. His latest book, Let's Make Faces, was published by Atheneum in 2013.
Piven also mentions that he has created apps for iPhone and iPad.
"So this is kind of the place where I slowly evolved," he comments. "I'm less interested in journalistic work now."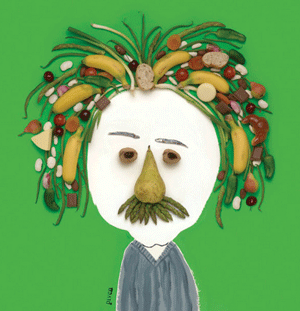 He still gets magazine assignments, but "much less than before." Israeli press outlets are still interested in publishing his work, Piven notes.
"Somehow the whole political satire that used to be very interesting for me when I was younger is less interesting for me now. It doesn't really have an impact at the end of the day," he reflects. "You can laugh at politicians, but it's meaningless."
And this is coming from a brilliant caricaturist.
For example, Piven's portrait of Golda Meir employs steel wool for hair, bread dough for her face, a chicken thigh and drumstick for her nose, and an orthopedic shoe for her body. Not so flattering a picture.
Or take the portrait of the former Iranian president Mahmoud Ahmadinejad, which Piven created for the Israeli daily Maariv, in 2008. The firebrand politician's face evokes the Purim holiday: his eyes are made from hamantashen, his mouth is a grogger, a dagger forms his nose and a whip end is used for his beard.
So, I'm a little surprised to hear that people commission Piven to create portraits.
The artist chuckles and says, "Yeah, I mean, you know, when I do a private commission, I sort of get a bit of a feel who is the person I'm asked to depict."
Usually it's a friend of the subject who commissions the portrait as a gift, he points out.
"In those cases, I am definitely a bit more sensitive than in my treatment of politicians," says Piven.
And he adds, regarding the caricature commissions, "It pays the bills."
***
Hanoch Piven will speak on "Seeing Faces" 7:30 p.m. Sunday, Jan. 18 at the Sabes JCC, 4330 Cedar Lake Rd., St. Louis Park. He also will lead a drawing with objects workshop from 1 to 3 p.m. that day; children under 10 must be accompanied by a registered adult. For tickets ($12 advance, $14 at door), call 952-381-3499, e-mail: tickets@sabesjcc.org, or go to: sabesjcc.org/whats-happening.php. For information, call Eilat Harel at 952-417-2321, or e-mail: eharel@mplsfed.org.
The American Jewish World is a media sponsor of Culture Blvd IV, which is presented by the Israel Center of the Minneapolis Jewish Federation.