Dave Driskell, an Indonesian CrossFit coach, provoked ire from social media after posting a photo of himself at Berlin's Memorial to the Murdered Jews of Europe
By GABE FRIEDMAN
(JTA) — What happens when an intense CrossFit guru unknowingly stumbles across a Holocaust memorial? He does a handstand on it, of course.
Dave Driskell, a CrossFit coach whose thick beard would not look out of place in Brooklyn but who actually lives in Bali, Indonesia, was passing through Berlin last week and found the city's Memorial to the Murdered Jews of Europe. He uploaded a picture of himself doing a handstand on one of the memorial's concrete slabs for his nearly 70,000 Instagram followers and immediately invoked ire from the world of social media.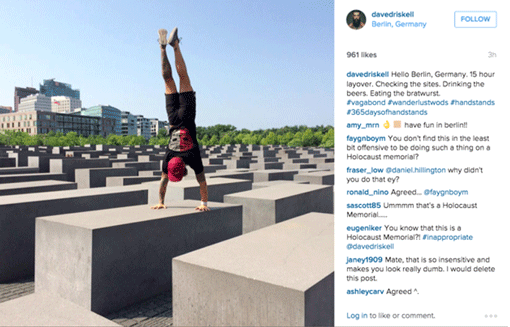 "Hello Berlin, Germany. 15 hour layover. Checking the sites. Drinking the beers. Eating the bratwurst. #vagabond #wanderlustwods #handstands #365daysofhandstands," Driskell wrote, according to Buzzfeed. The post was later deleted.
For those who are not CrossFit enthusiasts, the "wod" in "#wanderlustwods" means "workout of the day."
Many people used the hashtag #inappropriate to chastise the self-described "Vagabond/Model," the Huffington Post reported.
Driskell, who regularly travels the world to promote the CrossFit-style training (which involves short, high-intensity workouts), quickly Instagram-apologized after being informed that the site of his latest stunt was a Holocaust memorial.
"I posted the picture using the wifi from a local cafe and then went back to exploring the city. It wasn't until later tonight at the airport that I realized my error in understanding what this structure was," Driskell wrote in the post. "Anyone who knows me, knows this is the complete opposite of what I would want."
Driskell's mistake calls to mind NBA basketball player Danny Green's selfie from last fall at the same memorial. Green, a member of the San Antonio Spurs, used "lol" and #Holocaust in his caption. Needless to say, that didn't go over well online either.