Reviewed by NEAL GENDLER
It's difficult to review a book so insightful, sensitive and sensible that you want to quote almost all of it.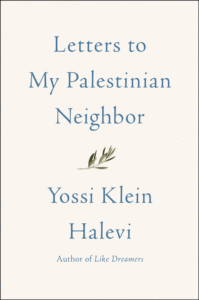 In Letters to My Palestinian Neighbor — downloadable in Arabic for free — Yossi Klein Halevi attempts "to explain the Jewish story and the significance of Israel in Jewish identity to Palestinians who are my next-door neighbors."
I cannot imagine anyone doing it better.
Halevi, author of the 2003 Like Dreamers, writes with a psychologist's insight, a cousin's compassion and an ex-reporter's clarity. His thoughts are expressed brilliantly and beautifully.
He isn't writing to an individual, although he had Palestinian Arab friends before journeying into the territories became life threatening; he traveled there frequently for his fascinating 2001 At the Entrance to the Garden of Eden, seeking to find spiritual kindred among Christians and Muslims.
Then, he heard Palestinian Arabs' grievances, avoiding debate. Now, "I hope you will hear me when I tell you I have no intention of denying your claim or your pain." But "to solve our conflict, we must recognize not only each other's right to self-determination but also each other's right to self-definition."
He really is a neighbor — his Jerusalem home is the last before the security wall. He can hear people on the other side.
Neither Jews nor Arabs are likely to convince the other of their contradictory narratives, "but we need to challenge the stories we tell about each other," he says. "To you, we are colonialists, Crusaders. And to us, you are the latest genocidal enemy seeking to destroy the Jewish people."
But "the Jews succeeded where the Crusaders and the Ottomans and the British failed because we didn't merely come here. We returned." He calls Zionism a movement of repatriation, "restoring a native people to its home."
Like Ari Shavit in My Promised Land, Halevi accepts Palestinian Arabs' sense of injustice but explains calmly and clearly the necessity of Israel for Jews, "who lived as a religious minority by the coercion of circumstance," never ceasing anticipation of again becoming a sovereign nation.
"The United Nations didn't 'give' the Jews a state," he says. "Our claim to the land comes from our very being."
Tragically, he says, two peoples claim the same space, the remainder after Britain lopped off 77 percent of its Palestine Mandate to create Transjordan. "There may well be no way to bridge our opposing narratives," Halevi says. "I honor history — up to the point where it no longer inspires but imprisons. Accommodating both our narratives, learning to live with our contradictory stories, is the only way to deny the past a veto over the future."
That won't be easy, though it seemed possible before negotiations in 2000 and 2008 in which Israeli and American proposals were rejected by Arafat and then Abbas, neither making a counterproposal. "When the decisive moment came to end the conflict, we saw our leaders saying 'yes' and Palestinian leaders saying 'no.' Now, ordinary Israelis "regard those leftists who still insist Palestinian leaders want peace as delusional."
Those leaders "gradually convinced Israelis that their diplomacy was in fact war by other means." Withdrawal to the 1949 armistice line, at one point nine miles from the sea, "might not merely diminish but destroy me."
For the religious Halevi, as for many Jews, Israel's occupation of its biblical heartland, Judea and Samaria — the so-called West Bank — creates troubling conflict between intellect and emotion.
While intellectually supporting "a two-state solution, emotionally I cringe at the prospect of cutting this tiny, beloved land into two sovereign states," likening partition to "inflicting a self-imposed wound on the Jewish people." Yet "I see no alternative."
His idea of a peace agreement "should frankly accept the legitimacy of each side's maximalist claims even as it proceeds to contract them … Partition is an act of injustice to both Palestinians and Israelis." But for each side to achieve "some measure of justice, each side needs to impose on itself some measure of injustice," Halevi says.
"The enemy of justice for both sides is absolute justice for either side."
I hope Arabs will read this book. Jews should, too.
***
Neal Gendler is a Minneapolis writer and editor.
(American Jewish World, 6.1.18)