St. Louis Park native David Goldstein's play, Skiing on Broken Glass, opens Oct. 29
By JOEL RIPPEL
Like most playwrights, David Goldstein hopes critics and the audience like the upcoming Guthrie production of his play, Skiing on Broken Glass.
"But regardless of the reaction," Goldstein told the AJW, "I've gotten this great opportunity. I'm going to be 62. I have health issues. It's incredible at this stage of life, to be produced at the Guthrie."
Incredible, and unique.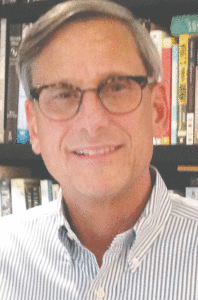 "I will be one of the very few local playwrights to be produced in the Guthrie's 50-year history," said Goldstein, a St. Louis Park High School graduate, "and probably the only Jewish playwright who is a native Minnesotan."
Performances of Goldstein's work, which will be directed by Joe Dowling, the Guthrie's artistic director, will begin Oct. 29. Opening night is Nov. 1 and the play will run through Nov. 17.
Goldstein described the road to having his work produced by the Guthrie as, "an odyssey."
Several years ago, Goldstein was diagnosed with cancer.
"The type of cancer (multiple myeloma) is unpredictable," said Goldstein. "At the time of the diagnosis, the lifespan of those with the cancer is four to six years."
When he received the news, Goldstein was practicing law.
"I had worked for companies like Honeywell and Jostens," said Goldstein. "I could have continued to do that work. And I would have had a career where I had made some money, but I hadn't done a lot of other things. My doctor told me I should do some of the things I wanted to do."
Goldstein retired from his legal job and, with his partner, travelled to Italy and Antarctica.
"And I started writing again," said Goldstein. "I have a degree (in theater) from the University of Minnesota. I had worked in the theater as an actor, composer, lyricist … before going to law school."
In 2010, Goldstein, who lives in Minneapolis, wrote Skiing on Broken Glass.
"I entered it in the lottery for the (2010) Fringe Festival," said Goldstein. "It got selected for the festival. It was really well received. The [Minneapolis] Star Tribune critic – the only critic to review it – gave it a nice review."
The play also piqued the interest of a prominent audience member.
"Joe Dowling came to see it because he was a friend of mine," said Goldstein, who had served on the Guthrie's board of directors. "The next day he called me and said we should get together and talk.
"He told me to add a couple of characters and another scene or two. He told me to send it to him. I did and I didn't hear from him for a long time. Then I saw him and he asked, 'Did you send me that?' and I said yes. He told me to send it again and I did.  Again, I didn't hear anything from him. After six months, I figured he wasn't interested and I just decided to produce it myself."
But before signing with a theater to produce the play, Goldstein called Dowling.
"I wanted to get his advice," said Goldstein. "We got together and he told me he didn't think the theater (that) I was considering was right for the play. And then he said, 'what would you think if the Guthrie produced it?'"
That caught Goldstein by surprise.
"When I started breathing again, I said that would be great," said Goldstein. "Then he said, 'What would you think if I directed it?' I think I needed several thousand dollars worth of dental work after my jaw hit the floor. So, after a 2½ year odyssey … it started in 2010 and ended this June when it was announced."
During that time, Goldstein had done other writing. He also directed a music video, which won several awards and was shown at 15 film festivals.
And, Goldstein has resumed doing some legal work – working several days a month as a small claims judge for Hennepin County.
"I'm like (TV) Judge Judy, only nicer," said Goldstein, whose family has belonged to Beth El Congregation for more than half a century.
With the Guthrie production of his work imminent, Goldstein said, "I've been asked if I'm nervous. I'm not nervous in the sense that if it doesn't do well I'll never work in theater again. I'm enjoying every moment. I've had a great life."
(American Jewish World 10.25.13)