AJW Staff Report
A "Global Symposium" hosted by the American Jewish Joint Distribution Committee (JDC) and Jewish Federations from around the Midwest drew around 200 attendees on Monday.
The audience gathered at the Hyatt Regency in downtown Minneapolis heard updates on the situation of Jewish communities in Ukraine, Hungary, South America, Israel and other locales.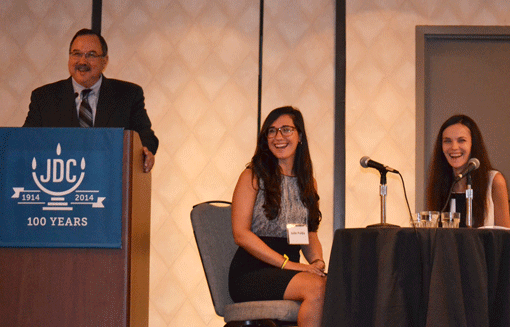 Following a talk by Rabbi Jeremy Fine, of Temple of Aaron Synagogue in St. Paul, Alan Gill, CEO of the JDC, talked about the choices facing Jews in countries where anti-Semitism is on the rise.
Gill talked about difficult situations for Jews in Hungary and France, and added, "Today we are very focused on helping our Jews in Ukraine."
Of course, Gill mentioned the conflict between Israel and Hamas, where "shells are flying, accusations are flying and people are dying."
He also mentioned the heroic work of Aliona Druzhynina, a volunteer with JDC Ukraine, during the Maidan revolution in Kiev. He said that Druzhynina, who attended the symposium in Minneapolis, put on a helmet and flak jacket and helped deliver "food, medicine and hygienic" supplies to elderly Jews in Ukraine earlier this year.
During her talk, Druzhynina talked about delivering "food packages to the most exposed elderly in the city of Kiev" and insulin to JDC Hasadim clients in eastern Ukraine. "My friends in Donetsk are under the bombing," she said.
A breakout session attended by the AJW focused on the situation in Hungary, where the right-wing ruling party has been flirting with supporters of Jobbik, an extreme right-wing, xenophobic and anti-Semitic party, which has garnered 20 percent of the vote since emerging five years ago.
Symposium participants heard from András Borgula, founder and artistic director of Golem Theater in Budapest. He discussed the dilemma of Jewish groups in Hungary that were offered $1 million to fund Holocaust commemoration activities, after the government created the Institute of Hungarian History (Veritas), which is propounding a revisionist history of the Shoah that ignores Jews.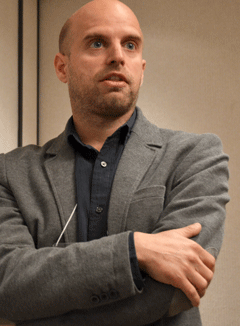 Borgula explained that Veritas ignores the complicity of Hungarian fascists in the Holocaust; the institute characterizes the first mass murder of Jews in Europe, at Kamenets-Podolsky, as a "police action against aliens."
Borgula said that he turned down a $20,000 government grant to his theater for Holocaust commemoration, 70 years after the end of World War II.
The symposium was hosted by the JDC, Minneapolis Jewish Federation, Jewish Federation of Greater St. Paul, along with the Milwaukee Jewish Federation, the Jewish Federation of Greater Kansas City, and Jewish Federations of North America (JFNA), the umbrella group of the federation system.