Anne Frank: The Biography, by Melissa Müller, Picador, 480 pages, $18
Reviewed by NEAL GENDLER
German author Melissa Müller set out to find Anne Frank, the person beneath the legend, to create "as authentic a picture of Anne's brief life as I could," including the family and social environment that shaped her.
She succeeds beautifully, giving us a rich picture of Anne before and during her 25 months in the cramped "annex." We learn of Anne's world of friends, family and school; of her efficient, doting father Otto, and of how Otto's business colleagues risked their lives to protect and sustain the four Franks and four others in the annex.
Müller's original Anne Frank: The Biography was published in 1998. With subsequent access to additional sources, she created a revised edition, out in hardcover last year, containing more than 30 percent new material. I cannot imagine a more-definitive biography; many of Müller's primary sources have died.
Seeking to answer questions raised by the diary, Müller refused "to be content with half answers and further mere idealization of Anne." So we see a child described at various periods as very active, mercurial, inquisitive, humorous, adventurous, strong-willed and obstinate, rebellious, an "uninhibited performer," thoroughly spoiled, "delicate and given to extremes of mood" and an indifferent student.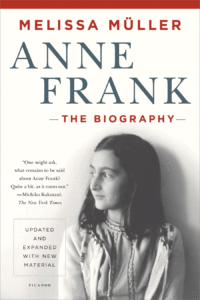 While "not disrespectful to adults, she always spoke her mind, whether or not her opinions were solicited, and she vehemently objected and complained when she believed she was right."
Müller's de-sanctification of Anne gives this book its power. The multidimensional picture from those who knew Anne portrays a recognizable child whose loss we grieve.
Annelies Marie Frank was born in Frankfurt, Germany, on June 12, 1929. Her well-liked father, Otto, operated his family's small bank and a company making a throat-lozenge ingredient. We learn less of his wife, Edith, and older daughter, Margo, who was beautiful, studious, obedient, retiring and healthy.
"Despite her high spirits, Anne was easily upset," prone to illness and often bedridden, Müller says, quoting Edith as saying: "The nervous little thing has to have plenty of rest."
The Depression and anti-Jewish laws ruined Otto's businesses. Seeking opportunity and safety, he moved the family to Amsterdam and created a company selling pectin. Shortly before Germany invaded Holland, he and Edith turned down a cousin's offer to take the girls to England. Otto fruitlessly applied for U.S. visas.
Anne was almost 11 when Germany attacked Poland, and her world constricted after Germany conquered Holland and banned Jews from almost every public activity.
Otto "Aryanized" his business through transfer to his top staff, retaining stock that provided money for black market food. Chief procurer was his exceptional secretary, Miep Gies, who unhesitatingly had agreed to take responsibility for the family and regularly braved arrest if caught carrying large quantities of food.
The move to the annex, presciently stocked with furnishings and non-perishable food, occurred on July 6, 1942, after Margo received an order to report for labor.
Otto created a daily regimen to avoid noise, and educated his daughters with daily study from books and publications brought by his trusted employees. At night, the eight could descend into the business' rear rooms to move around and to hear Allied newscasts.
Betrayed, they were arrested Aug. 4, 1944, sent to Holland's Westerbork transit camp, then to Auschwitz. Russian arrival freed Otto on Jan. 27, 1945, but his family had been moved to pestilent Bergen-Belsen, where Edith died in January and Margo, then Anne, succumbed to typhoid in March.
Anne's diary, saved by Gies, included additional, loose pages and Anne's revisions as she — and her writing — matured. After the war, Otto revised and withheld some portions; Müller uses material from the diary's three versions plus 74 lines kept secret until 1997.
Müller's spellbinding 398 pages are an easy read in silk-smooth translation by Rita and Robert Kimber. Included are a 1998 note by Gies, a genealogy, floor plan, source notes, an unusually excellent index and plenty of photos, the most stunning of them an unfamiliar one on the cover: a pensive and mature looking Anne you ache to reach in and pull to safety.
***
Neal Gendler is a Minneapolis writer and editor.
(American Jewish World, 8.1.14)