The film is not a Jewish parable so much as a story of discovering and accepting one's place in the world
By MICHAEL FOX
The most surprising and refreshing aspect of Simon and the Oaks, a terrific-looking Swedish saga of a cultured Jewish family and a rural non-Jewish family before and after World War II, is what's left out: the war years.
The recent wave of Scandinavian directors examining the moral and immoral actions of their countrymen during the Nazi occupation in films such as Black Book, Flame and Citron and Max Manus is long overdue. Nonetheless, one wearies of the sight of Nazi uniforms, and longs for fresh angles on that fraught period.
That's exactly what we get in Lisa Ohlin's adaptation of Marianne Fredriksson's 1985 bestseller about two boys who are an endless disappointment to their fathers.
The frustrated lads, for their part, ponder how to escape their "wrong" families. Their travails and journeys to adulthood are made even more complicated by Jewish lineage in a climate of anti-Semitism.
The film nicely balances period realism with poetic metaphors, but is less adept at resisting melodramatic impulses in the last few reels.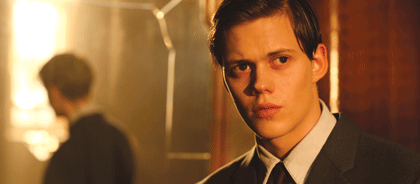 Bill Skarsgård stars as Simon in Simon and the Oaks, which opens Oct. 26 at Landmark's Uptown Theatre. (Photo: The Film Arcade)
Simon and Isak meet in 1939, and bond instantly. Simon is the rare working-class kid in an upscale grammar school, while Isak is a German Jew who's bullied daily by anti-Semitic classmates. When Simon visits Isak's home, a sprawling art- and book-filled apartment, he discovers a world he aspires to belong to.
The Nazi invasion of Poland precipitates Isak's mother's nervous breakdown, and the traumatized boy — with the consent of his father, an affluent, self-confident bookseller — comes to live with Simon's family on the outskirts of Gothenburg.
Isak discovers an aptitude for working with tools, which endears him to Simon's father. Meanwhile, Isak's dad takes Simon to a concert, introducing him to classical music.
But it's not precisely an introduction, for there's a secret in Simon's past: He was not born to the parents who've raised him since he was an infant. His real father was a music professor as well as — well, you can probably guess.
Both families weather the war seemingly without further incident, for the film picks up their stories in the spring of 1945. At this point, Isak all but disappears as the revelation and rippling aftershocks of Simon's identity become the filmmaker's overriding focus.
On one level, Simon and the Oaks is not a Jewish parable so much as a story of discovering and accepting one's identity, roots, legacy and place in the world. But for Simon, the shock of discovering he's part of a group designated and denigrated as "the other" since he was a child raises the stakes even higher.
Neither he nor we know how to respond to Isak's female cousin, who surfaces after the war as a psychologically scarred survivor of Auschwitz. Iza's scenes are the rawest and most shocking in the film.
The director, Lisa Ohlin, was born in New York in 1960; her parents separated shortly thereafter and her father returned to Sweden. Her mother died when she was five, so Ohlin moved to Sweden to live with her father. It wasn't until she was a teenager that she learned that her mother was Jewish, and had fled Germany in 1939.
"I know how it is when you feel like you don't belong somewhere, very much like how Simon feels in the film," Ohlin told the New York-based, Swedish-American newspaper Nordstjernan. "I was different; I didn't look like a Swede nor did I feel like one."
One of the most expensive productions in the history of Swedish cinema, Simon and the Oaks earned a slew of Guldbagge Award nominations from the Swedish Film Institute and wins for supporting actress and supporting actor. However, Ohlin was disappointed with one aspect of its domestic release.
"We still have a lot of anti-Semitism in Sweden, and so little has changed," she told Nordstjernan. "It is still an untouchable subject and we don't talk about it in the fear of triggering it. I thought the film would create a debate, but not much has happened."
***
Simon and the Oaks opens Oct. 26 at Landmark's Uptown Theatre, 2906 Hennepin Ave., Minneapolis. (The venue was changed from the Edina Cinema after the AJW went to press on its print edition.)

(American Jewish World, 10.26.12)