By MORDECAI SPECKTOR
Israeli singer-songwriter David Broza has not played the Twin Cities in nearly 10 years. His last show here was part of the 2003 "Heartbeat of Israel" series, originated by former Minneapolis-area shaliach Itai Tenenbaum (itaitours.com).
Broza, a certifiable superstar in the Jewish state, will return to the North Country for a Nov. 11 performance at the Dakota Jazz Club in downtown Minneapolis. Don't miss it — the chance to hear the renowned singer and guitarist might not come again for another decade.
I last saw Broza in concert in 2008, at the Eliav-Sartawi Awards for Middle Eastern Journalism, an event in Jerusalem sponsored by the Washington, D.C.-based group Search for Common Ground. The troubadour was the featured performer, and Wa'alat, a talented band of Arab Israeli musicians opened the show, then later joined Broza for a closing number.
Last week Broza talked to the Jewish World by phone from his home in New York City, and the conversation ranged over his poetic influences, being branded the "Bob Dylan of Israel" and his current projects. He splits his time between the Big Apple and Tel Aviv, and is often on the road concertizing around Europe and North America. His Nov. 11 gig at the Dakota comes amid a tour of cities in the U.S. and Canada.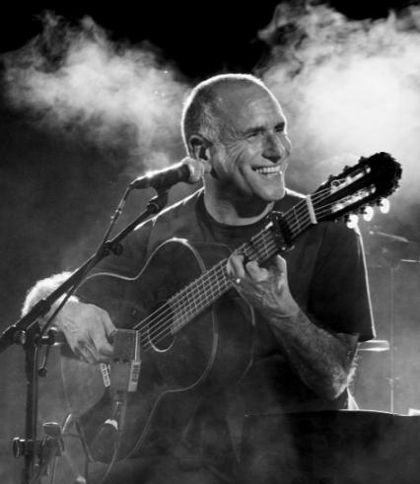 He is a dynamic, captivating performer in concert and musicians in-the-know will mention Broza's fleet, flamenco-tinged guitar playing. He picked up the flamenco technique during his teen years in Madrid, Spain — his businessman father moved the family there. More recently, Broza spent several years in Madrid again, where he wrote music for three albums. His body of work, since he started recording in 1978, features songs in Hebrew, English and Spanish.

Broza's most recent album is titled Safa Shlishit (Third Language), and it is comprised of 15 enchanting songs he composed over a span of two weeks. He said that he works as a tunesmith from 10 in the morning to six in the evening.
Safa Shlishit was "financed through Kickstarter [.com], I went on the crowd-funding procedure," he explains. "There are not many outlets to sell CDs through anymore; but at the show, people can buy CDs."
As Broza notes, the music industry has changed over recent years; but when there were records in the bins, Israelis bought his albums like falafels. His hits include "Yihye Tov (Things Will Get Better)," "Mitachat Lashamayim (Under the Sky)," and many more.
I heard Broza sing the latter tune at the 2008 Jerusalem show, and remember the audience singing along with the chorus, and thinking that it must be one of his hits. "It's one of them," Broza replies. "I have like 25 of 'em — but it's one of the big ones, from 20 years ago"
The lyrics for "Mitachat Lashamayim" were written by Meir Ariel, "one of Israel's greatest poets and singer-songwriters, who passed away 12 years ago," says Broza. "He wrote that to my music… I played him the song and he loved the melody, and said, 'Let me write some words to it.'"
Throughout his career, Broza has set music to renowned poetry. In 2010, he recorded Night Dawn: The Unpublished Poetry of Townes Van Zandt. The album based on the writing of Van Zandt, the late poet, singer-songwriter and performer from Texas, was met by critical acclaim. However, it did not really elevate the Israeli star's profile in the U.S.A.
I told Broza my story, from 10 years ago, about seeing the most famous female Israeli singer in a Tel Aviv café. My lunch companion, an Israeli lawyer, pointed her out in the corner. "She's like the Madonna of Israel," he said. I had no idea who she was. "Rita," he said.
I replied, "Rita who?"
Likewise, I offer that David Broza is famous in little Israel, but in the big U.S.A., it's "David who?"
"It was — it's not anymore that way," the 57-year-old singer quickly responds. "I'm certainly not a pop icon, I don't want to be — it's not my world."
Broza mentions that Bruce Lundvall, the former president of Columbia Records, signed him to a contract with Manhattan Records, in 1989. "He signed me based on the fact that I wrote music for poetry, and he loved all that, even though poetry was a four-letter word for the industry at the time and nobody wanted to touch it."
There was a big marketing push, Broza recalls, and "not much came out of it, but the albums that came out were phenomenal."
Lundvall told the singer-songwriter that he did not fit under any handy marketing rubric, so he would be categorized as "unique." And Broza acknowledges that he is of the "art world."
Broza muses that he could have stayed in his homeland, and lived the life of a "wealthy Israeli pop artist," chilling in the shade by his backyard pool.
"I never was into that," he says. "I was always into exploring how far does the music actually reach. So, I would rather sit in southern Indiana, in a small venue, a tiny little club and play to a mix of rednecks and hillbillies and anybody who lives in that area, and expose them to "Bedouin Love Song," and to "Mitachat Lashamayim," and then to Theodore Roethke, and then to Walt Whitman, and to Lorca."
Broza says that he is working on several projects now, including writing music for poems by Pablo Neruda, the late Chilean poet.
"It's a continual struggle," Broza notes, regarding the elusive quest for fame, or at least artistic recognition in America.
At the same time, Broza points out that his body of work over the past 35 years has been recognized to the point that he can share stages with top rank performers, including Bob Dylan, Paul Simon and Sting.
Of course, I ask about Dylan, the famous troubadour from Hibbing, Minn. Broza is sometimes billed as the "Bob Dylan of Israel." But he demurs on that comparison: "That's too good… Dylan is brilliant, I'm amazed… I love reading him, I love listening to him… He's affected every step of my life, as far as an artist goes."
Broza has opened for Dylan. "We did double bills in Israel, in '94," he recalls. At one show, Dylan initiated a chat and complimented his guitar playing.
I suggest that Broza is a better guitarist than Dylan. "Everybody has their way," he replies modestly. "I wish I had his way with words and melody writing…. Thank God, I have something to stand for with my art."
And in another local Jewish connection, Broza mentions that he and St. Louis Park native Peter Himmelman are good friends and have collaborated over the years. "With Peter, I've worked a lot. As a duo, we wrote stuff and we used to call it 'Israeli Gears,'" he says, without explaining the play on Cream's album titled Disraeli Gears.
For his part, Himmelman told the AJW that Broza "schooled" him on Israeli poetry, culture and history. "He blew me away with his gorgeous melodies and his unequaled Spanish-infused guitar styling."
Himmelman added, "David has a song, a Hebrew song, 'B'nei Marom,' that is the most beautiful song I've ever heard. This isn't hyperbole. When I hear the song, I cry."
***
David Broza will perform 7 p.m. Sunday, Nov. 11 at the Dakota Jazz Club and Restaurant, 1010 Nicollet Ave., Minneapolis. For tickets, call 612-332-1010, or go to: dakotacooks.com.
(American Jewish World, 10.26.12)