Tested by Zion: The Bush Administration and the Israeli-Palestinian Conflict, by Elliott Abrams, Cambridge, 288 pages, $30
Reviewed by NEAL GENDLER
"The remarkable assumption that the issues in the Israel-Palestinian conflict are actually pretty simple to resolve is simply a fallacy," says Elliott Abrams, who specialized in Middle East affairs for eight years in George W. Bush's White House. "It was never accurate that 'everyone understands what the final deal will look like'… The 'obvious' solution was unacceptable to both sides."
Abrams was a deputy assistant to Bush, then deputy national security adviser under Steve Hadley, who replaced Condoleezza Rice when she became secretary of state in Bush's second term.
"This book is not a defense of all we did," Abrams says. "The usual criticism of Bush's policy… was that we tilted toward Israel. I am inclined to plead guilty."
Reasons included Bush's desire to promote democracy and his expressed belief, recounted to Abrams by defense official Douglas Feith, that the United States and Israel "stood shoulder to shoulder in the same war" against terrorism. Bush despised Yasser Arafat as a terrorist preventing progress.
Abrams, now a senior fellow for Middle Eastern studies at the Council on Foreign Relations, says things I didn't expect. For example: Vice President Richard Cheney, from Jew-sparse Wyoming, became "one of the most pro-Israel officials in the Bush administration." Abrams contradicts the "gray eminence" image of a puppeteer Cheney manipulating a hapless Bush, instead calling Bush engaged, in command of issues and facts, and very much in charge — if perhaps too influenced by Rice in his last two years.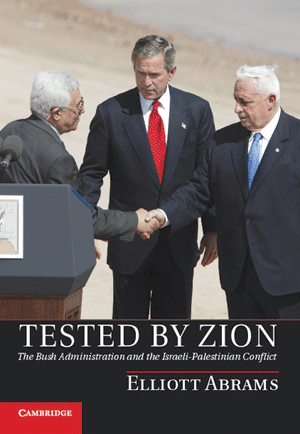 In Bush's second term, at least, "hardly a day went by when Israeli and Palestinian issues were not discussed with the president," Abrams says.
He debunks the belief that in 1998 then-Gov. Bush and then-Minister Ariel Sharon forged a close relationship during a brief helicopter tour of Israel. The ride was too short, Abrams says, but Bush gained uncommon understanding of Israel's vulnerability. Abrams depicts Bush often talking so forcefully to Sharon that he's almost giving him orders.
Abrams is the man who, facing felony indictment, pleaded guilty to misdemeanor counts of withholding information from and lying to Congress about the Iran-Contra affair when he worked for President Ronald Reagan. (Abrams later was pardoned.) Although never a Bush admirer, I cannot fail to appreciate his strong support of Israel, and I've tried to review Abrams' book on its own terms, not vouching for its veracity but presuming accuracy until proven otherwise.
U.S. Middle East policy came primarily from the White House in Bush's first term. When Rice replaced Colin Powell as secretary of state, the policy's center of gravity moved with her. Midway through her term, Abrams says, she grew impatient with Israel and increasingly demanded a conference to bring about a peace settlement.
"In the end," Abrams quotes Rice as saying, "the Palestinians walked away from the negotiations."
Abrams shows us diplomacy's hidden innards of very blunt talk, trade-offs, and even shouting and table pounding. The peculiar U.S. compulsion to settle the Israeli-Arab conflict sometimes led to trying to dictate terms and even the wording of each side's documents. Unusual and appropriate context setting is provided by including terrorist attacks and their effect on plans and negotiations.
Tested by Zion is interesting and easy to read, if perhaps too detailed. It's deceivingly long, Cambridge succumbing to academic publishing's weakness for buyer-repelling tiny type. Speeches and conversations quoted — I hope — are set even smaller. A concern is that few quotations are within quote marks. Newspeople sometimes do this for clarity or brevity, but telling us. I didn't see a disclosure. On the positive side, the book is indexed and notes are placed conveniently, at chapter ends.
Abrams neither goes out of his way to blame the Palestinian Authority for failure to reach a settlement nor holds Israel entirely blameless; he usually lets facts speak. For example, increasingly unpopular and embattled Prime Minister Ehud Olmert offered the PA terms likely beyond the Israeli consensus. But PA President Mahmoud Abbas "never said yes to anything Olmert proposed," Abrams says, adding: "I thought then and still believe Abbas will never sign any deal."
***
Neal Gendler is a Minneapolis writer and editor.
(American Jewish World, 3.1.13)